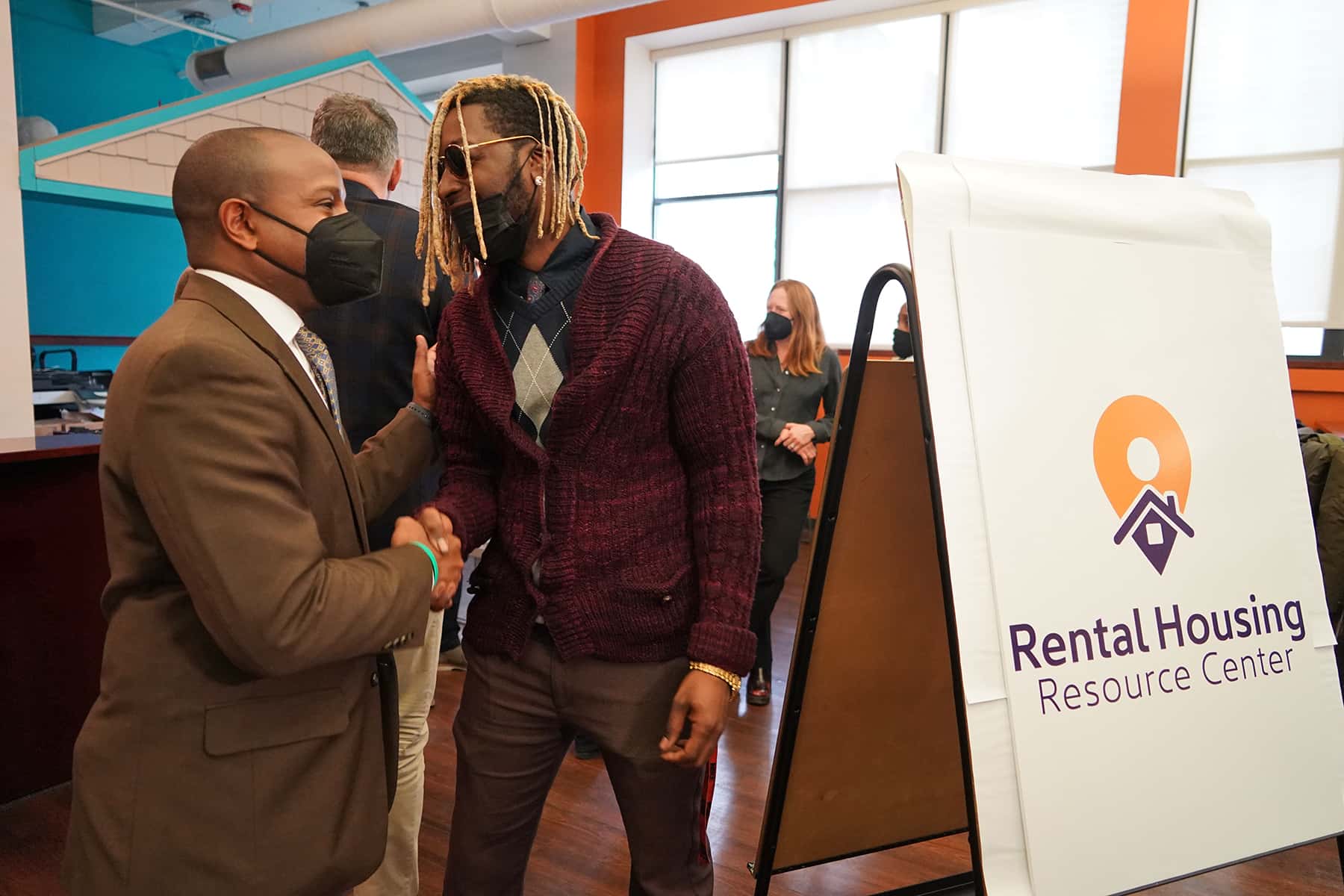 Mayor Cavalier Johnson visited the Milwaukee Rental Housing Resource Center (MKE RHRC) on February 21 to promote their services and highlight the need to combat housing insecurity in the city.
The Mayor also explained about the City's partnership with the Rental Housing Resource Center, and announced that Milwaukee Public Library branches would begin distributing informational materials to residents that explained the resources, education, and services available through MKE RHRC that could help prevent evictions and increase housing stability.
Housing insecurity remains a major issue among families across the Milwaukee community. The Mayor said he personally recognized the significant barriers that existed when residents could not access the housing assistance and support that they needed.
"It's critical that residents in every corner of Milwaukee are aware that help and resources are available to them," said Mayor Johnson. "We know that we can do more to get the word out about the help that's available here. That's why all 13 Milwaukee Public library branches will begin distributing materials about the services at the Rental Housing Resource Center."
Mayor Johnson said that residents can walk into any of the library branches and get access to the Resource Center's supporting materials. The Mayor has previously shared his experiences with housing insecurity, and how destabilizing that was for his own growth, development, and education growing up in the city. Mayor Johnson transferred to six different elementary schools, getting plucked from the classroom almost every single year, and not being able to stay in the same school until middle school.
"I'm grateful for this partnership and for the work of everyone here who created the vision for the center, and dedicated the resources needed to make it a reality to serve the people right here in our community," added Mayor Johnson. "I will continue working to ensure people facing housing insecurity can receive the help they need, so that we create stronger neighborhoods and move Milwaukee forward together."
The MKE RHRC is a collaborative network of local housing organizations, government entities, and stakeholder groups that support residents through a variety of rental housing related issues. The City of Milwaukee was a strong partner in creating the MKE RHRC to help people understand their rental housing rights, find legal and mediation services, and access rental assistance, training and education.
"Many of the challenges that our residents are facing are rooted in a lack of access to housing, resources, and support," said Lafayette L. Crump, City of Milwaukee Commissioner of City Development. "When people don't have the security of a roof over their head, it really impacts their quality of life. We tend to forget that, those of us who are fortunate to have that aspect of stability in our daily lives. How can anyone without that security get ahead and succeed? We know we have to do more to support residents and families when they are experiencing that level of housing insecurity. And that's why I'm so proud of the work that the City has done in helping with the creation of the Milwaukee Rental Housing Resource Center."
MKE RHRC provides many resources to residents, including access to Milwaukee's Right to Counsel program, which the City funded with $1.8 million from the federal American Rescue Plan Act to reduce evictions and housing-related crises by connecting eligible tenants with access to attorneys to advocate for them.