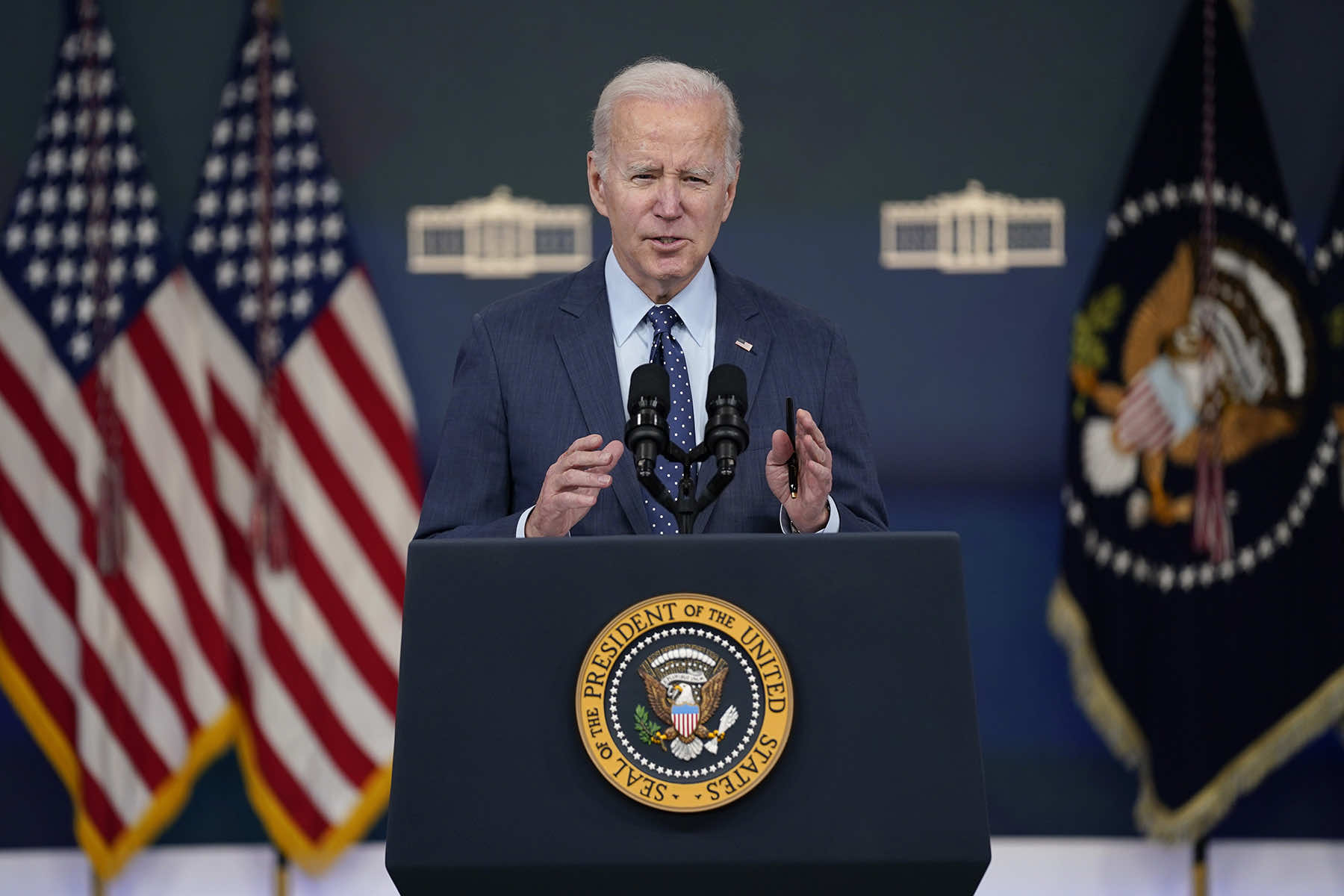 "Show me your budget," President Joe Biden is fond of saying, "[and] I'll tell you what you value." Biden introduced his 2024 budget on March 9 at the Finishing Trades Institute in Philadelphia, Pennsylvania.
Biden's 182-page, $6.9 trillion budget plan advances a vision of the United States based on the idea that the government should invest in workers, families, and infrastructure to increase the purchasing power of those on the "demand side" of the economy. It offers a stark contrast to the theory of the Republicans since the 1980s, that the government should cut taxes and slash government spending to free up capital for those at the top of the economy—on the "supply side"—with the idea they will use that money to invest in new business that will then hire more workers.
So-called supply-side economics was championed as a plan that would enable everyone, from workers to financiers, to thrive together as the economy boomed, but it never produced the kind of growth its promoters promised. Instead, when combined with dramatically increased defense spending, it exploded deficits and added dramatically to the national debt.
At the same time, wealth moved upward dramatically. A 2020 Rand Corporation study found that from 1975 to 2018, about $50 trillion moved from the bottom 90% of Americans to the top 1%. The Biden administration has set out to address this inequity by reimposing the rules that used to prevent corporations and the wealthiest Americans from gaming the system, and by making it easier for working men and women to make ends meet.
So far, Biden's policies have created record numbers of jobs and kept unemployment numbers low, and his budget builds on those policies. Director of the Office of Management and Budget Shalanda Young told reporters that the budget plan was based on four values: "lowering costs for families, protecting and strengthening Social Security and Medicare, investing in America, and reducing the deficit by ensuring that the wealthiest in this country and big corporations begin to pay their fair share, and cutting wasteful spending on Big Pharma, Big Oil, and other special interests." And, she added, "It does all of that while ensuring that no one earning less than $400,000 per year will pay a penny more in new taxes."
Biden has called for rolling back Trump's 2017 corporate tax cut, bringing the corporate rate up from 21% to 28% (it was 35% before the 2017 cuts). Biden proposed to raise the tax on capital gains for people earning at least $1 million a year from 20% to 39.6%. He wants a 25% minimum income tax rate for households worth at least $100 million, that is, the wealthiest 0.01% of taxpayers, who currently pay a rate of 8%. The plan calls for reversing the Trump tax for those making more than $400,000 a year, putting the top income tax rate to 39% from 37%. Other increases are all in this same vein: increasing revenue from the wealthiest Americans.
Biden's budget document is not just about funding the government; it is a signal of the principles he might carry into the 2024 presidential contest. It offers Biden's own blueprint for improving the lives of children, their caregivers, and other ordinary Americans, then undercuts Republican complaints about such investments by emphasizing that Biden's plan—unlike anything the Republicans have offered—will cut the deficit over the next decade.
House speaker Kevin McCarthy (R-CA) promptly tweeted that Biden's budget is "completely unserious. He proposes trillions in new taxes that you and your family will pay directly or through higher costs. Mr. President: Washington has a spending problem, NOT a revenue problem."
But McCarthy and the Republicans have not been able to agree on any of the cuts they claim they want to make, and so have not released a budget of their own. Biden has repeatedly asked them for one. Biden said: "I want to make it clear. I'm ready to meet with the Speaker anytime — tomorrow, if he has his budget. Lay it down. Tell me what you want to do. I'll show you what I want to do. See what we can agree on. What we don't agree on, let's see what we vote on."
Without a budget plan of their own to offer, House Republicans appear to be trying to steal the president's thunder. They told Tony Romm of the Washington Post that they are getting ready for the House Ways and Means Committee to begin consideration of a bill to prioritize the national debt in preparation for a national default.
House Republicans continue to insist they will not vote to raise the debt ceiling to pay for expenses already incurred — many of them under Trump — thus forcing the U.S. into default for the first time in our history.
They are suggesting they could rank the debts in order of importance, but as Brian Riedl, an economist at the Manhattan Institute, told Romm, the computer systems were written with the assumption the country would, in fact, pay its debts, and they do not have programs that would let them prioritize payments to one group or another.
In any case, the White House has refused to negotiate over paying the nation's bills. It remains eager to discuss the budget with Republicans and to negotiate over it — which is how the process is supposed to proceed — but insists the Republicans cannot hold the nation hostage by threatening a default that would spark an international financial crisis and destroy the American economy.
Indeed, the willingness of the Republican Party to default on the country's debt shows how thoroughly radicalized it has become. Even the Republican leaders who do not embrace the racism, sexism, religiosity, nihilism, and authoritarianism of the hard-core MAGA Republicans appear to believe they cannot win an election without the votes of those people. And so the extremists now own the party.
A number of reporters, including Nicholas Riccardi and David Bauder of the Associated Press and Nicholas Confessore and Jim Rutenberg of the New York Times, are using documents from the Dominion Voting Systems defamation suit against the Fox News Network to show how both Trump and then–Senate majority leader Mitch McConnell (R-KY) appealed directly to Fox News founder Rupert Murdoch for political support on the Fox News Channel (FNC). Murdoch passed the requests on to FNC executives, and FNC hosts promptly began to do as they were asked.
This pipeline from the Republican Party to the FNC included support for Trump's tax cuts ("Once they pass this bill we must tell our viewers again and again what they will get," Murdoch wrote), private sharing of Biden's 2020 ads with Trump's campaign, and attacks on Biden. ("Just made sure Fox banging on about these issues," Murdoch advised. "If the audience talks the theme will spread.") That support included pumping up Senator Lindsey Graham (R-SC) in his own race ("Could Sean say something supportive? We can't lose the Senate if at all possible," Murdoch wrote).
But by 2020 they had created an audience that depended on that narrative, and when they threatened to abandon FNC if it told the truth that Biden won the 2020 election, FNC hosts pushed the lie that Trump won out of fear they would lose their viewers. The ecosystem that established a virtual political reality is now increasingly under assault.
Bryon M. Large, presiding disciplinary judge of the Colorado Supreme Court, publicly censured Trump lawyer Jenna Ellis for misconduct after she "repeatedly made misrepresentations on national television and on Twitter, undermining the American public's confidence in the 2020 presidential election."
Ellis agreed that she had "made…misrepresentations while serving as counsel for the Trump campaign and personal counsel to President Trump." Top among them was her insistence that the 2020 presidential election was fraudulent, including her statements that "we know the election was stolen from President Trump and we can prove that," "the election was stolen and Trump won by a landslide," and so on.
In Congress, Republicans are holding hearings designed to shore up their narrative, but they are not delivering the smooth sound bites the party needs. The Select Subcommittee on the Weaponization of the Federal Government, chaired by Jim Jordan (R-OH), held another hearing, this one focused on the idea that the government pressured Twitter to suppress stories about Hunter Biden's laptop.
But Stacey Plaskett (D-Virgin Islands), the ranking Democratic member of the committee, immediately noted that the Republicans would be using material for the hearing that they had not shared with the Democrats, and Jordan got flustered and angry. Then Aaron Blake of the Washington Post fact checked Jordan's allegations and noted that his theory that the FBI was secretly strategizing to protect Hunter Biden—during Trump's administration—ignored key events and that two key witnesses had recently contradicted Jordan's theory in sworn testimony.
Representative Barry Loudermilk (R-GA), chair of the House Administration Subcommittee on Oversight, said on March 8 he is leading an investigation into the last congress's House Select Committee on the January 6th Attack on the U.S. Capitol, as well as on security failures around that event. That investigation, too, might not go well for the Republicans. The January 6th Committee asked Loudermilk to come talk to the committee members voluntarily about a tour he gave of the Capitol complex on January 5, 2021. He refused. Video showed that a man from that tour marched on the Capitol the next day, saying, "There's no escape, Pelosi, Schumer, Nadler. We're coming for you."
Letters from an Аmerican is a daily email newsletter written by Heather Cox Richardson, about the history behind today's politics