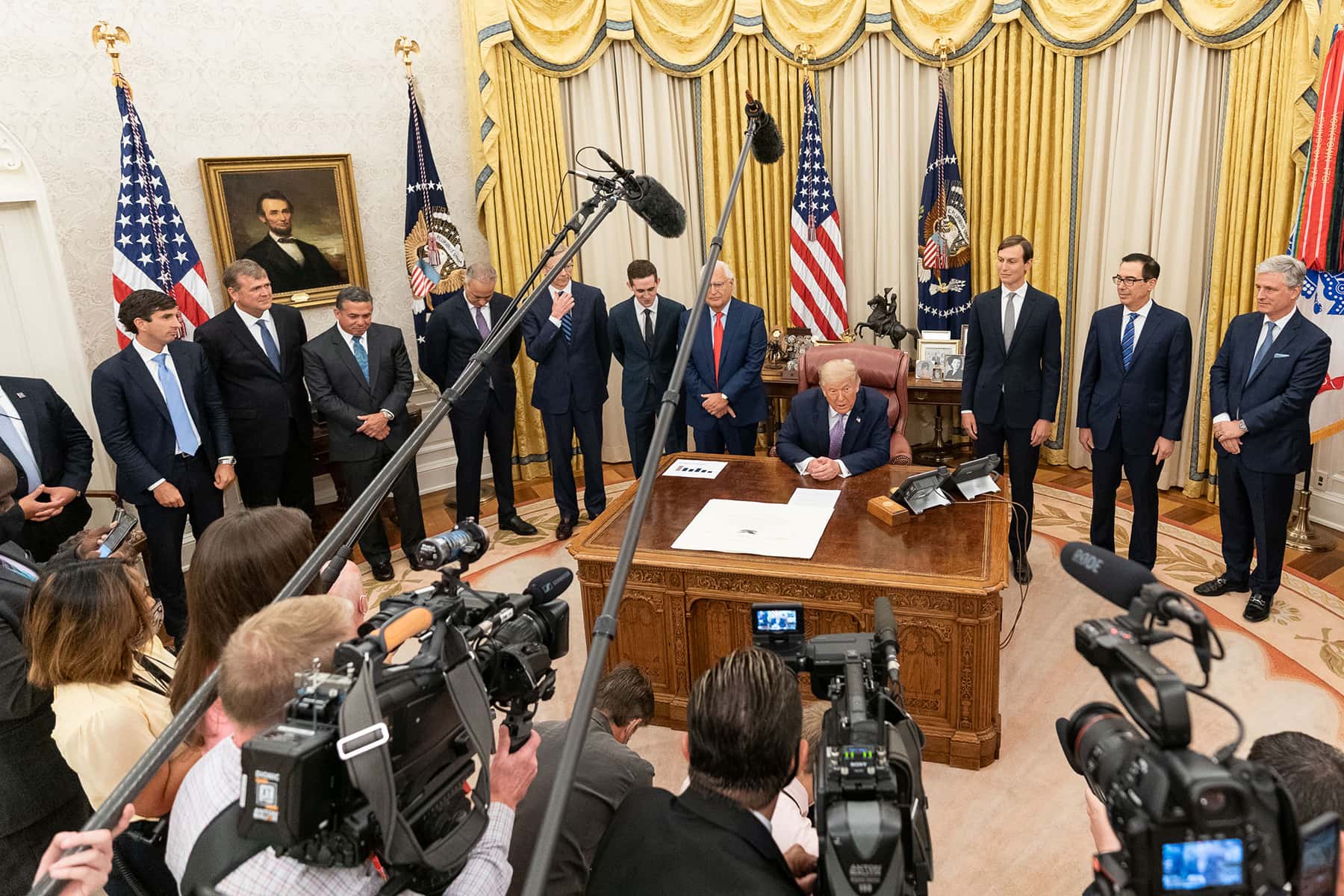 Donald Trump admitted on August 13 that he opposed additional funding for the United States Postal Service (USPS) in order to make it more difficult to deliver mail-in ballots.
In an interview with Fox Business Network's Maria Bartiromo, Trump came out and said it: he wants to starve the United States Postal Service to destroy mail-in voting.
Falsely claiming that mail-in voting favors Democrats, he said: "Now they need that money in order to make the post office work so it can take all of these millions and millions of ballots… Now, if we don't make a deal, that means they don't get the money. That means they can't have universal mail-in voting, they just can't have it."
The president's acknowledgement that he is deliberately sabotaging an institution established in the Constitution to steal the election provoked outrage. He is tampering with an election by attacking mail-in voting even as he and Melania Trump have requested mail-in ballots for themselves.
And the USPS does not simply handle ballots, it also handles many aspects of our lives: packages, medicines, and so on—things vital to our economy and way of life. "When the president goes after the Postal Service, he's going after an all-American, highly approved-by-the-public institution," House Speaker Nancy Pelosi (D-CA) said.
The attack on the USPS dovetails with the push of the Trump administration to privatize the USPS, a push launched shortly after Trump took office. This week we learned that Trump's new Postmaster General, Louis DeJoy, retains at least $30 million in holdings of the company XPO Logistics, a private competitor to the USPS, and that on the same day in June that he got rid of a large number of shares of Amazon, he bought stock options at a lower price. Amazon would be hard hit by the disintegration of the USPS.
"The idea that you can be a postmaster general and hold tens of millions in stocks in a postal service contractor is pretty shocking," said former director of the Office of Government Ethics Walter Shaub.
But the bottom line is that, until the Senate decides to do something about it, the House is powerless to fund the USPS to help it survive the economic crisis sparked by the coronavirus pandemic. In the $3 trillion Health and Economic Recovery Omnibus Emergency Solutions (HEROES) Act the House passed in May, there was a $25 billion support for the USPS. But the Senate declined to take up the HEROES Act.
When the Republicans could not agree on a new measure at the end of July, the Democrats began to negotiate directly with the White House, which proposed a more limited, $1 trillion bill. Democrats suggested a compromise at $2 trillion, but the White House has refused to budge. With this stalemate, Congress has gone on vacation for the rest of the month, while negotiators continue to try to reach a deal.
Representative Ted Lieu (D-CA) noted that DeJoy's new regulations are slowing the mail dramatically. He tweeted: "Here is the truth and I need you to spread it: the voters need to take control. Voters need to [vote by October 22] if using USPS."
The Biden campaign pushed back on Trump's attack on the USPS, saying: "This is an assault on our democracy and economy by a desperate man who's terrified that the American people will force him to confront what he's done everything in his power to escape for months – responsibility for his own actions."
A slower mail service could have a big impact this fall because an unprecedented number of Americans are expected to vote by mail and many states require a ballot to arrive at an election office by election day, regardless of when it was put in the mail, in order to be counted. At least 65,000 ballots were rejected during the 2020 primaries because they arrived too late. Slowing down or stopping the mail will create chaos around the election, and will likely mean ballots will not be counted. It will also funnel voters back to polling places, although the pandemic means there are far fewer of them than usual.
Once at polling places, many voters will cast their ballots on voting machines that are vulnerable to hacking. New machines, rolled out after 2016 and designed to keep cyberhackers at bay, proved "extremely unsafe, especially in close elections," according to Alex Halderman, a computer scientist from the University of Michigan who, along with six colleagues, studied them. At least 18% of the country's districts will vote on the new machines, including districts in Pennsylvania, which Trump needs to win but where Biden is up by double digits.
"There are strong security reasons to prefer hand-marked paper ballots," Halderman told Joseph Marks of the Washington Post.
A bipartisan organization of state secretaries of state—the people in charge of elections—wrote to Trump's new Postmaster General Louis DeJoy on August 7 to ask for a meeting to discuss his recent changes to the USPS and to explore how those changes would affect the election. In a delay that observers say is "unusual," he has declined to answer.
The USPS recently sent letters to 46 states and Washington DC to say that it cannot guarantee that it will be able to deliver mail-in ballots on time. The letters were prepared before DeJoy took office, suggesting that he knew the USPS should be ramping up its capacity, not decreasing it.
News broke on August 14 that DeJoy was named to the finance team of the Republican National Committee in 2017 – along with Elliott Broidy, Michael Cohen, and Gordon Sondland, if anyone can remember back to the days of impeachment, suggesting his partisanship makes him a poor fit for what is supposed to be a nonpartisan office.
In June, USPS officials told union officials that management was getting rid of 671 sorting machines, about 10% of the machines in the country. The sorters were the kind that handled letters and postcards, not magazines and large envelopes. The argument for getting rid of them is that people write fewer letters these days, but of course we are all expecting a huge influx of mail-in ballots that those machines would handle.
Many of the removed sorters were in states that are political battlegrounds: Ohio lost 24 sorters, Detroit lost 11, Florida lost 11, Wisconsin lost 9, Philadelphia lost 8 and Arizona lost 5. Similarly, the USPS removed letter boxes on August 14 in what it said were routine reassignments. The outcry was great enough that it has announced it will not remove any more until after the election.
The removal of the boxes may indeed be routine, but David Becker, executive director of the nonprofit, nonpartisan Center for Election Innovation & Research told Washington Post reporter Jacob Bogage, "Given the other things that are going on, it's okay to ask questions…. The high-speed sorters that are getting deactivated, the loss of overtime, the delays in mail we're seeing right now, all of this should cause some concern and warrants questions."
Also on August 14, Inspector General for the USPS Tammy L. Whitcomb announced that, at the request of Democrats, she was opening an investigation into "all recent staffing and policy changes put in place" by DeJoy. She will also be looking into DeJoy's compliance with ethics rules, related to his huge financial stake in private competitors to the USPS.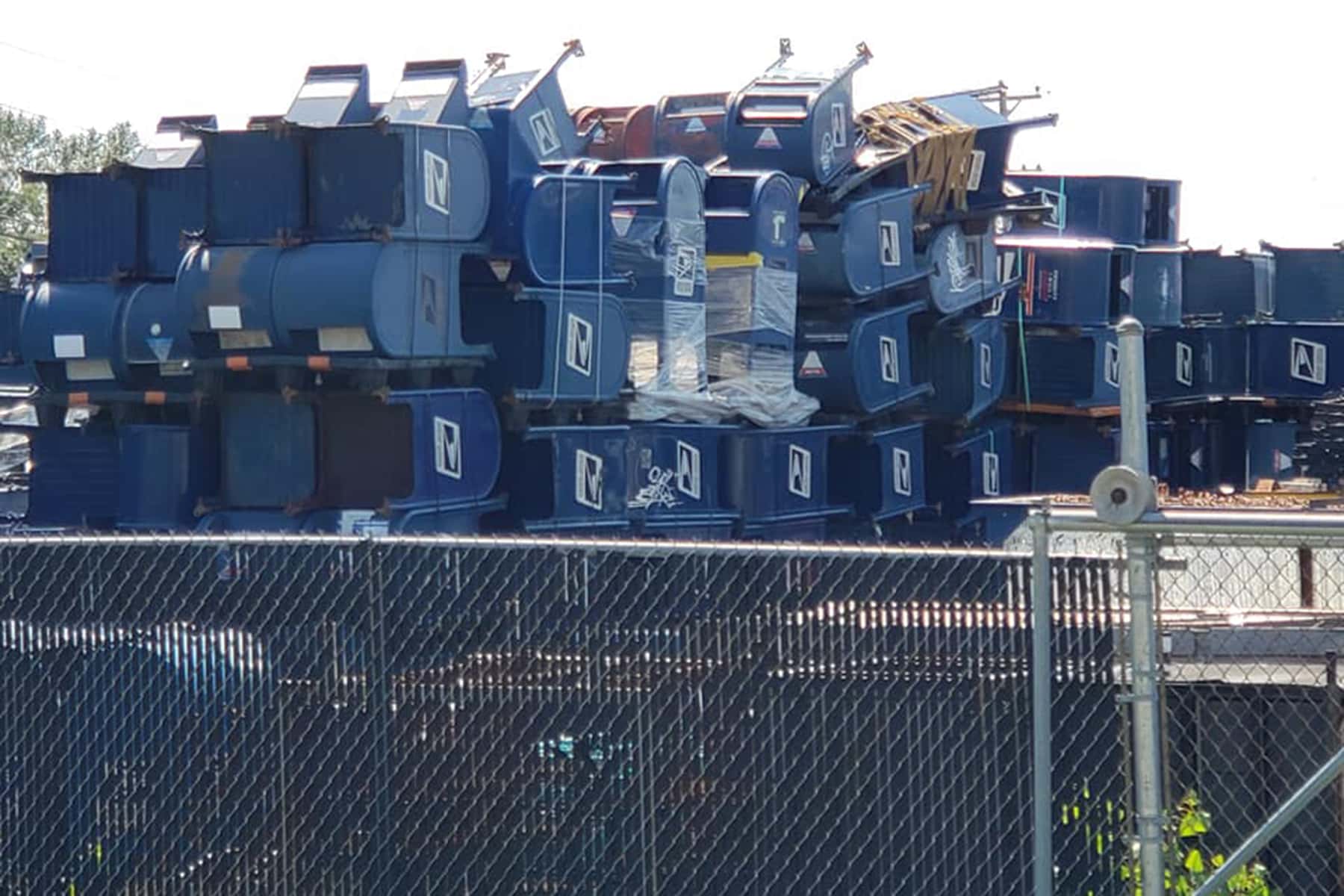 The White House and Bruce Mіttlеstеаdt
Letters from an Аmerican is a daily email newsletter written by Heather Cox Richardson, about the history behind today's politics