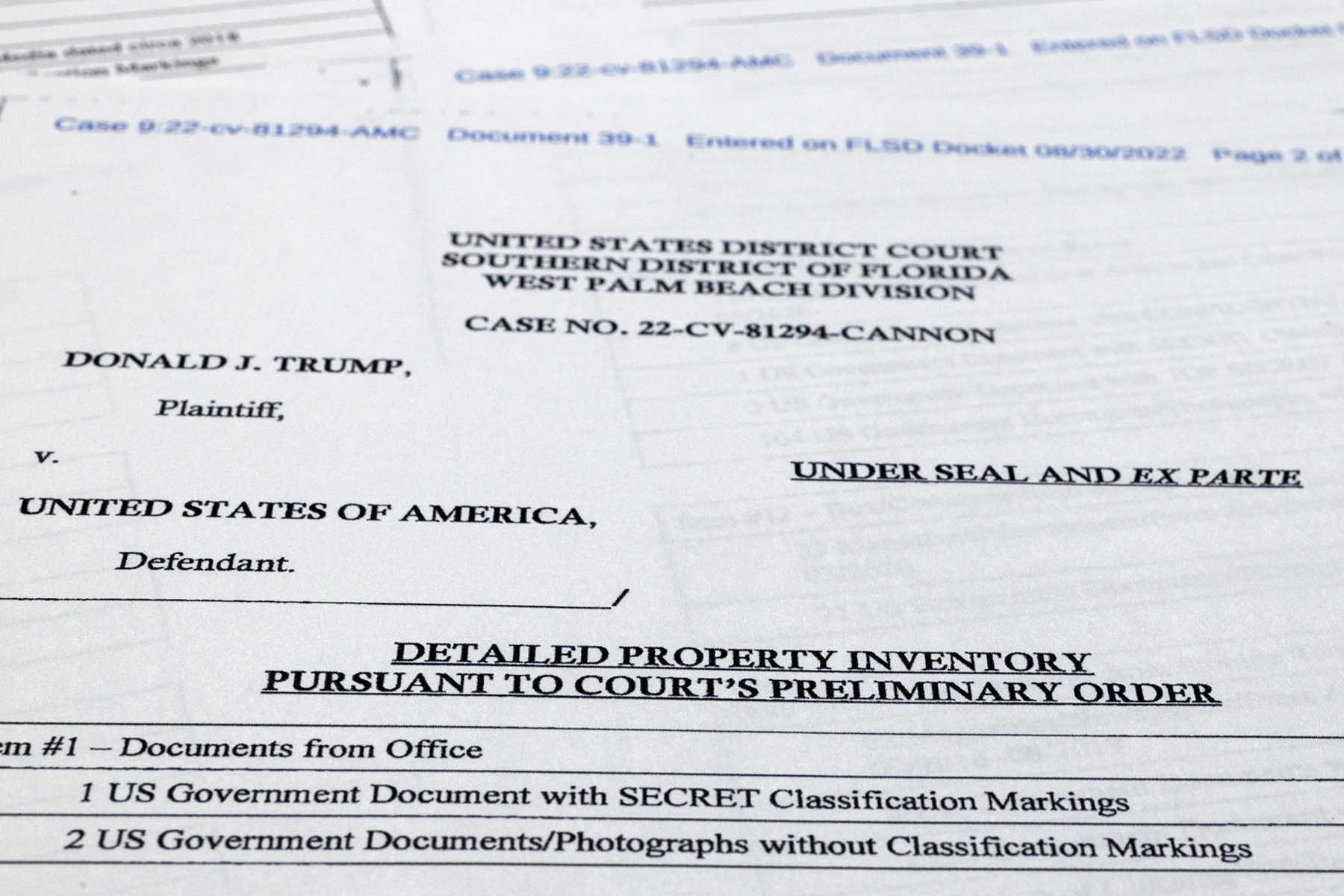 The New York grand jury investigating Trump's 2016 hush-money payments to adult film actor Stormy Daniels has voted to indict the former president.
While we do not know the full range of charges, Manhattan district attorney Alvin Bragg's office confirmed that they were forthcoming tonight when it released a statement saying, "This evening we contacted Mr. Trump's attorney to coordinate his surrender to the Manhattan D.A.'s office for arraignment on a Supreme Court indictment, which remains under seal."
This is the first time in history a former United States president has been indicted, although it is worth remembering that it is not new for our justice system to hold elected officials accountable.
Mayors have been indicted and convicted. So have governors: in fact, four of the past ten Illinois governors have gone to prison. Vice presidents, too, have been charged with crimes: Aaron Burr was indicted on two counts of murder in 1804 while still in office and was tried for treason afterward. And in 1973, Richard Nixon's vice president Spiro Agnew resigned after pleading no contest to tax evasion to avoid prison time.
That Trump's indictment is happening in New York has likely made it harder for Trump to drum up the mobs he has been inciting to defend him. New York City notoriously dislikes the former real estate man.
Voters of Tomorrow official Victor Shi was at the Manhattan district attorney's office this evening and found no one protesting. When people did show up, he tweeted, they were not Trump supporters. They were women carrying signs that said, "'Trump is guilty' and 'The Time Is Now,'" he wrote. "People in the background are chanting, 'Way to go, ladies!' NYC is rejoicing."
"New York Times" reporter Maggie Haberman, to whom Trump people feel comfortable talking, said that the Trump camp at Mar-a-Lago is "in … shock" at the news. They thought the March 29 announcement that the grand jury will go on a break in early April indicated that nothing would happen before the jury reconvened.
As Haberman pointed out, Trump has been afraid of indictments for many years, and while some speculate this indictment might help his political profile, he is unhappy to see it finally arrive. He did, though, immediately start fundraising off it.
Trump also released quite a long, antisemitic statement blaming "Radical Left Democrats" for a "Witch-Hunt" and saying this is "blatant Election interference." House speaker Kevin McCarthy (R-CA) also quickly reinforced Trump's argument, saying that Bragg had "irreparably damaged our country in an attempt to interfere in our Presidential election," and a number of other Republican officials reinforced that sentiment.
That is quite a position to take. The vote to indict came not from Bragg himself, but from a grand jury made up of ordinary Americans, and none of us knows what was in the indictment, so one can hardly object to it in good faith.
CNN reporter Melanie Zanona reported that Trump has been working the phones tonight, reaching out to Republican allies to shore up support. Some of them, of course, are trying to discredit Bragg's work by investigating him.
Trump is at his company's property in Florida, Mar-a-Lago. Florida governor Ron DeSantis echoed Trump's antisemitism and accusations, tweeting that Florida would "not assist in an extradition request." But Article IV, Section 2, of the United States Constitution says, "A Person charged in any State with Treason, Felony, or other Crime, who shall flee from Justice, and be found in another State, shall on Demand of the executive Authority of the State from which he fled, be delivered up, to be removed to the State having Jurisdiction of the Crime."
So either DeSantis is planning to violate the Constitution, or he recognizes that Trump will probably return to New York voluntarily, or — and this is the most likely — he is posturing to pick up Trump voters while secretly rejoicing that this will likely make it harder for Trump to win the Republican presidential nomination.
While all eyes were on Trump this evening, paperwork was filed in the Florida Senate to begin the process of revising election laws, possibly so that DeSantis can run for president without resigning as governor, as under current Florida law he must.
But there was something striking about Trump's statement. In blaming the "Radical Left Democrats" for their "Witch-Hunt to destroy the Make America Great Again movement," he wrote, "You remember it just like I do: Russia, Russia, Russia; the Mueller Hoax; Ukraine, Ukraine, Ukraine; Impeachment Hoax 1; Impeachment Hoax 2; the illegal and unconstitutional Mar-a-Lago raid; and now this."
It is not a list to be proud of, but that wording … "you remember it just like I do," jumped out. Trump always goes back to what he calls the Russia hoax, his second attempt to rewrite the way people thought about his presidency – the first was the size of the crowd at his inauguration.
From the very start of his presidency, when the Federal Bureau of Investigation caught Trump's then–national security advisor Michael Flynn lying about his contact with Russian ambassador Sergey Kislyak, more and more information has come out tying the Trump campaign to Russian operatives. As it did, Trump insisted that his followers must believe that all that information was a lie. If they believed his lies rather than the truth over the Russia scandal, they would trust him rather than believe the truth about everything.
The 2022 Russian invasion of Ukraine has given a new frame to Russia's attempts to interfere in the 2016 election. A piece by Jim Rutenberg in the "New York Times Magazine" in November 2022 pulled together testimony given both to the Mueller investigation and the Republican-dominated Senate Intelligence Committee, transcripts from the impeachment hearings, and recent memoirs.
Rutenberg showed that in 2016, Russian operatives had presented to Trump advisor and later campaign manager Paul Manafort a plan "for the creation of an autonomous republic in Ukraine's east, giving Putin effective control of the country's industrial heartland, where Kremlin-armed, -funded, and -directed "separatists" were waging a two-year-old shadow war that had left nearly 10,000 dead."
In exchange for weakening the North Atlantic Treaty Organization (NATO), undermining the U.S. stance in favor of Ukraine in its attempt to throw off the Russians who had invaded in 2014, and removing U.S. sanctions from Russian entities, Russian operatives were willing to put their finger on the scale to help Trump win the White House.
Rutenberg notes that Russia's February 2022 invasion of Ukraine looked a lot like a way to achieve the plan it suggested in 2016 but, thanks to a different president in the U.S., that invasion did not yield the results Russian president Vladimir Putin expected.
The Russian economy is crumbling, and on March 28, Chairman of the Joint Chiefs of Staff General Mark Milley told the Senate Armed Services Committee that Russia's Wagner group of mercenaries is "suffering an enormous amount of casualties in the Bakhmut area." He called it a "slaughter-fest" for the Russians. Today, Putin issued an order to conscript another 147,000 soldiers by July 15.
Pressure on Putin continues to mount. The International Criminal Court's March 17 arrest warrant against him and his children's rights commissioner, Maria Lvova-Belova, for war crimes apparently caught Russian leadership by surprise. It isolates Russia and worries other Russian lawmakers that they will be charged as well, weakening their support for Putin.
"Now proximity to the president isn't just talk," one political strategist said, "it's a real step towards being prosecuted by international law enforcement."
And President of the European Commission – which is the executive of the European Union, Ursula von der Leyen warned that as the European Union rethinks its trade policies, China could find itself isolated as well if it continues to support Russia.
"How China continues to interact with Putin's war will be a determining factor for EU-China relations going forward," she said.
Meanwhile, Türkiye also dropped its opposition to Finland's membership in NATO on March 30, a membership Finland has pursued in the wake of Russia's recent aggression. Finland shares an 830-mile border with Russia, and now it will be part of NATO.
Under such pressure, Russia took the extraordinary step of detaining American journalist Evan Gershkovich, a reporter for the "Wall Street Journal," accusing him of spying. Secretary of State Antony Blinken expressed deep concern and urged U.S. citizens living or traveling in Russia to "leave immediately."
On March 29, another study of the Russian invasion of Ukraine invited us to look backward as well as forward. Britain's Royal United Services Institute, a government-affiliated think tank, released a report on Russia's "covert and clandestine operations, psychological operations, subversion, sabotage, special operations and intelligence and counterintelligence activities" designed to destabilize Ukraine and take it over.
The report's focus was on the current war in Ukraine, but as Josh Kovensky of "Talking Points Memo" noted, it establishes that some of the same people behind the destabilization of Ukrainian politics were part of Trump's world. Notably, Russian operative Andrii Derkach not only worked to grab Ukraine for Russia, but also escorted Trump ally Rudy Giuliani around Ukraine in 2019 to dig up dirt on Biden.
In the end, as legal dominoes begin to fall, it might be that Americans do not, in fact, remember the history of his presidency from "Russia, Russia, Russia" forward the same way Trump does.
Jon Elswick (AP) and Markus Schreiber (AP)
Letters from an Аmerican is a daily email newsletter written by Heather Cox Richardson, about the history behind today's politics