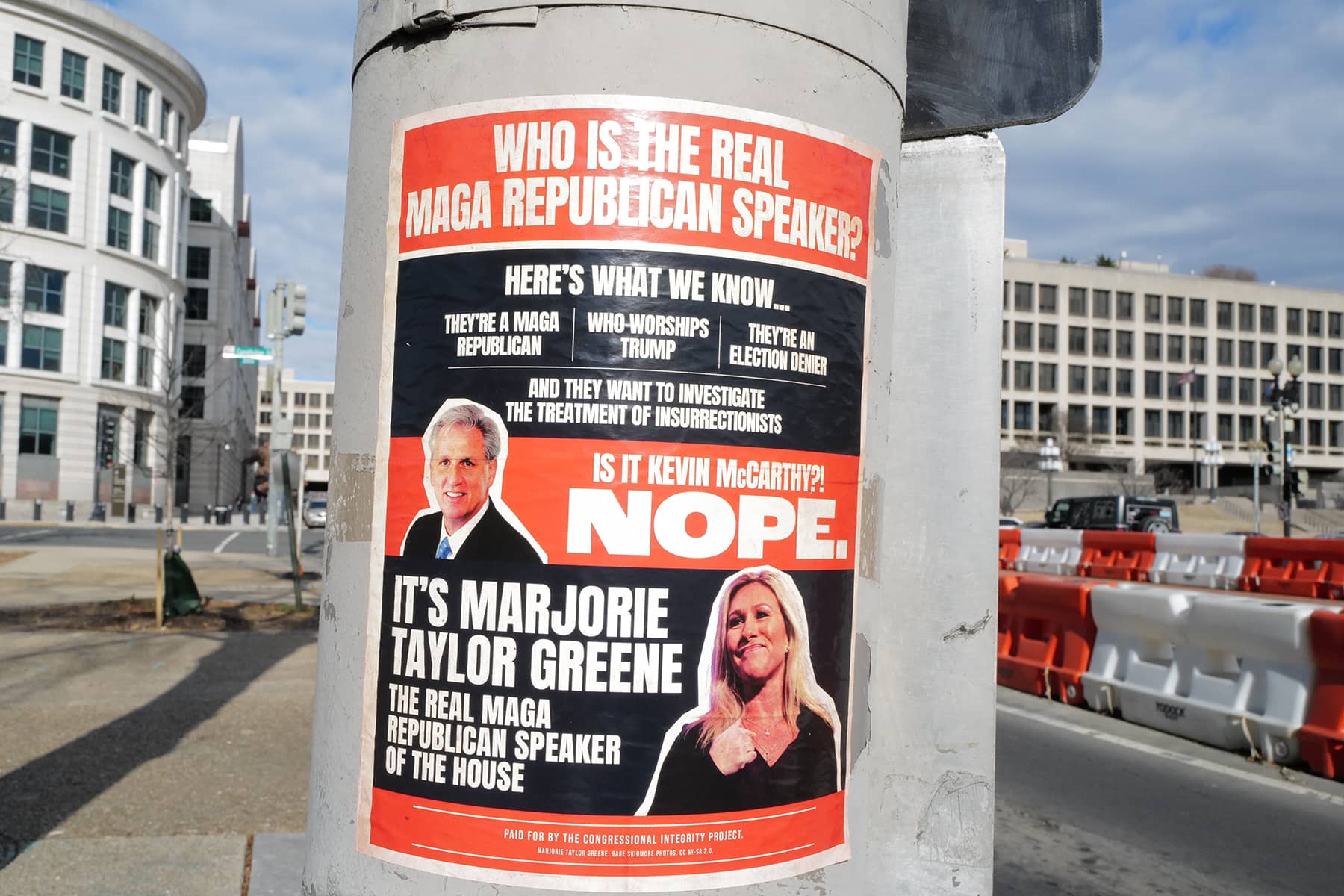 Republican control of the House of Representatives has fed a changing dynamic. After decades of playing defense, the Democrats are going on offense.
President Joe Biden visited Virginia Beach, Virginia, where he talked about protecting Medicare and Medicaid. He was careful — as he always is — to differentiate between "an awful lot of really good Republicans" and the "MAGA Republicans." "There's kind of like, in my view, sort of two Republican Parties."
The MAGA Republicans, he said, "want to eliminate a lot of healthcare coverage,… increase costs for millions of Americans, and make deep cuts in programs that families and seniors depend on." He spelled out that these cuts would mean that more than 100 million Americans with pre-existing conditions would lose coverage, and millions could lose basic services like maternity care, which the Affordable Care Act requires insurers to cover. Up to 3 million young adults would get kicked off their parents' insurance, and the cost of premiums in general would go up.
Biden was getting ahead of what seems likely to be the Republican proposal to cut the budget dramatically in the new Congress and the more recent promise of House speaker Kevin McCarthy (R-CA) to put the U.S. "on a path to a balanced budget" within ten years. Biden noted that Republicans have voted more than 50 times to change or repeal the Affordable Care Act since it passed 13 years ago. He also pointed to the fact that the chief budget consultant for the House Republicans is Trump's former budget director Russell Vought.
Now that Republicans have committed to taking cuts to Social Security and Medicare off the table, Vought has a plan to cut $9 trillion from domestic programs over the next ten years by cutting more than $400 billion from food stamps, cutting hundreds of billions from education, cutting in half the State Department and the Labor Department, and cutting $2 trillion from Medicaid and more than $600 billion from the Affordable Care Act.
"America cannot be saved unless the current grip of woke and weaponized government is broken," Vought says in his proposal. "That is the central and immediate threat facing the country — the one that all our statesmen must rise tall to vanquish…. The battle cannot wait."
But, as Jeff Stein, Josh Dawsey and Isaac Arnsdorf of the Washington Post point out, Vought's stand is a little awkward, since he oversaw the explosion of the national debt as director of the Office of Management and Budget under Trump. In his first year as director, the debt grew by $1 trillion; in his second, by $4 trillion. Now he claims that the Biden administration is abusing its power by arresting people who participated in the January 6, 2021, attack on the U.S. Capitol and so must be reined in.
Vought's proposal promises to balance the budget in ten years, but it also predicts the number of working people in the U.S. will increase by 14.5 million more people than the Congressional Budget Office says will enter the workforce. That surge — if it were to come — would push the economy to grow faster, thus reducing the deficit by an additional $3.8 trillion. But where the people will come from is a mystery.
One former Republican official told Stein, Dawsey, and Arnsdorf that Vought was "selling conservatives a fantasy, which is achieving a balanced budget without cutting anything popular. We're going to balance the budget by 'ending woke?' Give me a break."
Biden continues to push House Republicans to come up with a budget that will show the American people what they intend to cut. It's hard to see how they can do that, with much of their conference refusing cuts in defense and with them now on the record as refusing cuts to Social Security and Medicare. The math of balancing the budget through cuts to other programs without raising taxes simply doesn't work.
As G. William Hoagland, senior vice president of the Bipartisan Policy Center in Washington and a former GOP congressional staffer, said: "I'd be the last person to say you can't find savings from improved efficiency or the elimination of some programs…. But there's no way on God's green earth you're going to balance the budget in 10 years unless you're talking about increasing revenues and slowing the rate of growth in some of our major entitlement programs."
Representative Jamie Raskin (D-MD) pointed out that the Republicans had added 25% of the U.S. debt under Trump and emphasized the economic successes of the Biden administration.
"In 2021, Biden and the Democrats got to work and passed the American Rescue Plan, which fueled a strong, equitable economic recovery with historic reductions in unemployment, poverty, and economic hardship," Raskin said. "Real GDP increased by 5.7% that year, substantially surpassing pre-ARP forecasts by the Fed. By January 2022, the unemployment rate had decreased to 4%, again surpassing pre-ARP forecasts. Wages increased by 5.7% from the prior year, with the highest increases going to the lowest wage workers. Democratic policies have allowed the U.S. to absorb the shock of rising inflation engulfing the globe since 2020, a phenomenon that economists attribute to coronavirus supply chain disruptions and Russia's bloody war of aggression in Ukraine."
Democrats are also on offense as the extremists now in the majority are exposing their lack of understanding of how the government works. Both Raskin and Representative Alexandria Ocasio-Cortez (D-NY) called out Republicans for basic errors in drafting legislation, and witness Colin Kahl, the under secretary of defense for policy, embarrassed Representative Matt Gaetz (R-FL) in a hearing about aid to Ukraine after the congressman apparently thought he had found a "gotcha" story in the Global Times.
"I'm sorry, is this the Global Times from China?" Kahl asked. Gaetz said no, then checked and said yes, it was, asking if that made it untrustworthy. "As a general matter, I don't take Beijing's propaganda at face value," Kahl answered. Gaetz answered: "Fair enough."
Raskin also called out Republicans for a "grammatical error": their long-standing habit of using "Democrat" as an adjective as if it is an insult. Noting Colorado Republican representative Lauren Boebert's reference to a "Democrat solution," Raskin pointed out that "Democrat" is a noun, and Republicans should, in such cases, be using the adjective: "Democratic."
He said he was beginning to suspect that this word usage was intended to be "an act of incivility"—as of course it is—and he turned the tables. Their grammatical error was "as if every time we mentioned the other party, it just came out…like: 'Oh, the Banana Republican Party,' as if we were to say that every time we mentioned 'the Banana Republican member' or 'the Banana Republican plan,' or the 'Banana Republican conference.'" (The term "banana republic" refers to a country that is corrupt and badly governed.)
"But we wouldn't do that," he said. "So, out of pure political courtesy, when it's an adjective, refer to the 'Democratic' congresswoman or the 'Democratic' member."
The pressure on the Republicans is not going to let up. Biden has promised to release his budget on March 9, putting down "in detail every single thing—every tax that's out there that I'm proposing…and what we're going to cut, what we're going to spend…. Just lay it on the table."
"Republicans," he said, "should do the same thing: lay their proposal on the table. And we can sit down, and we can agree, disagree. We can fight it out."
But, divided as they are, can Republicans craft a budget they can agree on? And if so, will Americans like what they see? Biden seems to doubt it, and to have confidence that his plans more closely reflect what people want. He promised: "When I introduce my budget, you'll see that it's going to invest in America, lower health costs, and protect and strengthen Social Security and Medicare while cutting the deficit more than $2 trillion over the next 10 years."
Phil Pasquini, Trevor Bexon, Around the World Photos, Johnny Silvercloud, and Melissamn
Letters from an Аmerican is a daily email newsletter written by Heather Cox Richardson, about the history behind today's politics