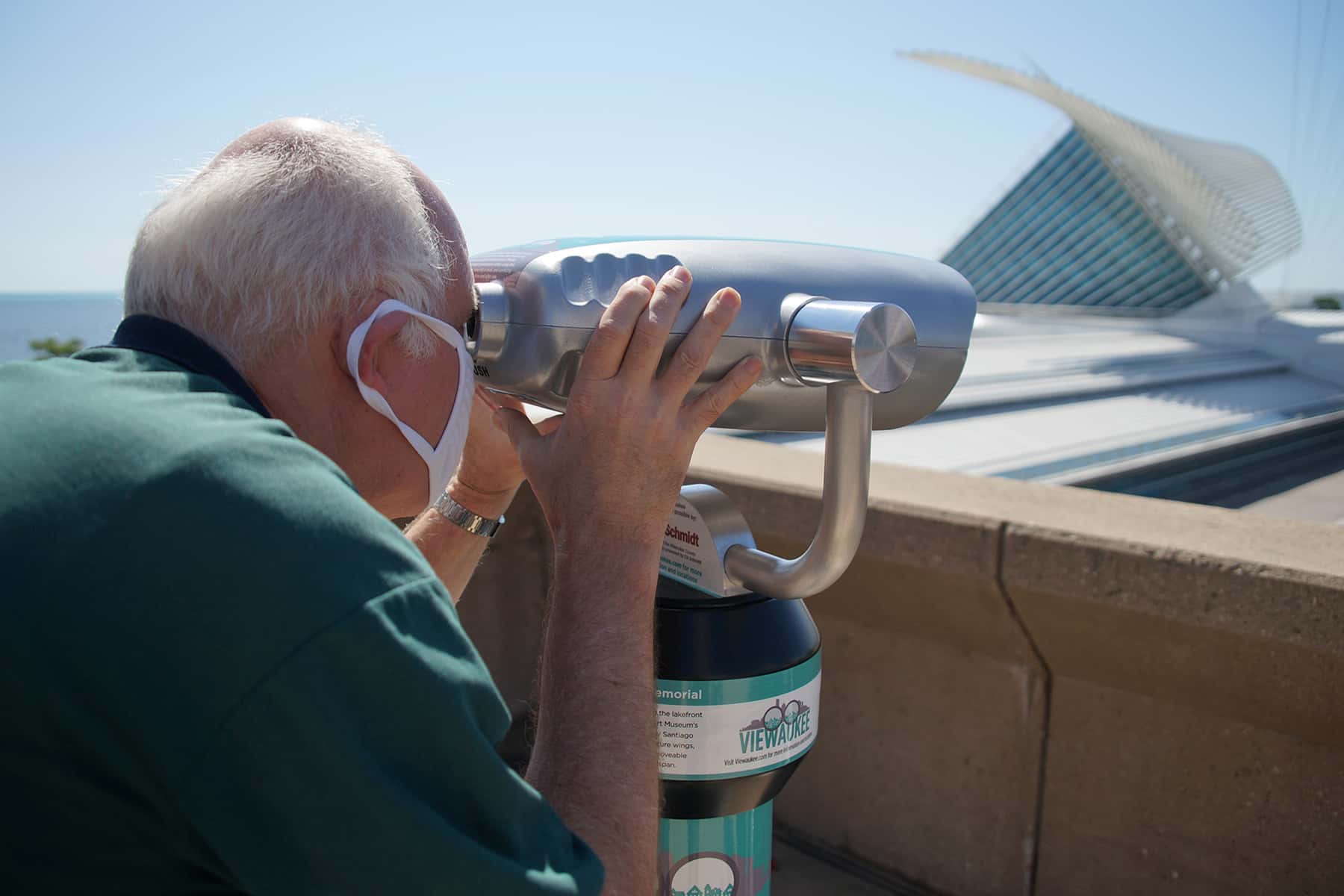 The Milwaukee County Historical Society unveiled a new and innovative program called Viewaukee on August 7 at the Milwaukee County War Memorial.
With support by CG Schmidt, Viewaukee invites residents and visitors walking along the streets of Milwaukee to literally take a look into the past. Custom, five-foot tall street binoculars, modified to show a historic photo of the same location where they are placed, offer a comparative view of Milwaukee today and from decades before.
"Programs like Viewaukee allow the Society to meet people where they are and to help them explore the past, especially as it relates to their life and experiences today," said Mame McCully, executive director of the Milwaukee County Historical Society. "The plan is to grow this interactive and innovative approach to sharing history by adding a variety of locations over the coming years."
In its inaugural year, Viewaukee will consist of 10 viewers that are free for the public to enjoy, and that are permanently installed in popular city tourist locations. An online map and information resource for the project can be found at viewaukee.com. It also includes educational materials, including the history of each location, additional photographs, corresponding curriculums for use by parents and teachers. Additional viewers as well as themed viewing routes are planned for the future.
CG Schmidt partnered with the Historical Society to bring this gift to the community in celebration of the company's 100th anniversary of helping build many of Milwaukee's most iconic structures. Five of the locations feature views of projects that CG Schmidt has built.
"For more than a century, CG Schmidt has been proud to be the trusted building partner on projects that have literally shaped the Milwaukee skyline," said Rick Schmidt, CG Schmidt President and CEO. "As we reflect on 100 years in this community, we are thrilled to be a part of this project that offers a look back in time to our city's architecture and landscape history. The Viewaukee project provides an engaging educational experience for residents and visitors alike, and reflects our optimism for Milwaukee's continued development and growth and our excitement to play a key part in it."
The photographs used in Viewaukee viewers are from the Society's collection of more than one million photos related to Milwaukee history. The following are the 2020 viewer locations. The first viewer was installed and unveiled on August 7 during the ceremony at the Milwaukee War Memorial. The remaining viewers will be installed in the coming days.
Viewaukee Locations:
Milwaukee War Memorial, 750 N Lincoln Memorial Drive (sponsored by CG Schmidt)
Summerfest North End, E Clybourn Street (sponsored by CG Schmidt)
Milwaukee Public Market Pocket Park, 407 N Water Street (sponsored by CG Schmidt)
Milwaukee Riverwalk at the Marcus Center, 929 N Water Street (sponsored by CG Schmidt)
North Point Water Tower, 2288 N Lake Drive (sponsored by CG Schmidt)
Miller Valley at the Historic Caves, 4251 W State Street (sponsored by MillerCoors)
The Milwaukee River, Wisconsin Ave Bridge & Riverwalk (sponsored by Wisconsin Preservation Fund)
16th Street Bridge, Corner of 16th St and Clybourn Street
Milwaukee City Hall, South of City Hall on Water Street
Brady Street, 1240 N Brady Street
Viewaukee is made possible from community support and sponsorships through the Milwaukee County Historical Society. The program expands the organization's mission of preserving and sharing the history of Milwaukee – in addition to maintaining a research library, museum, and historic sites.