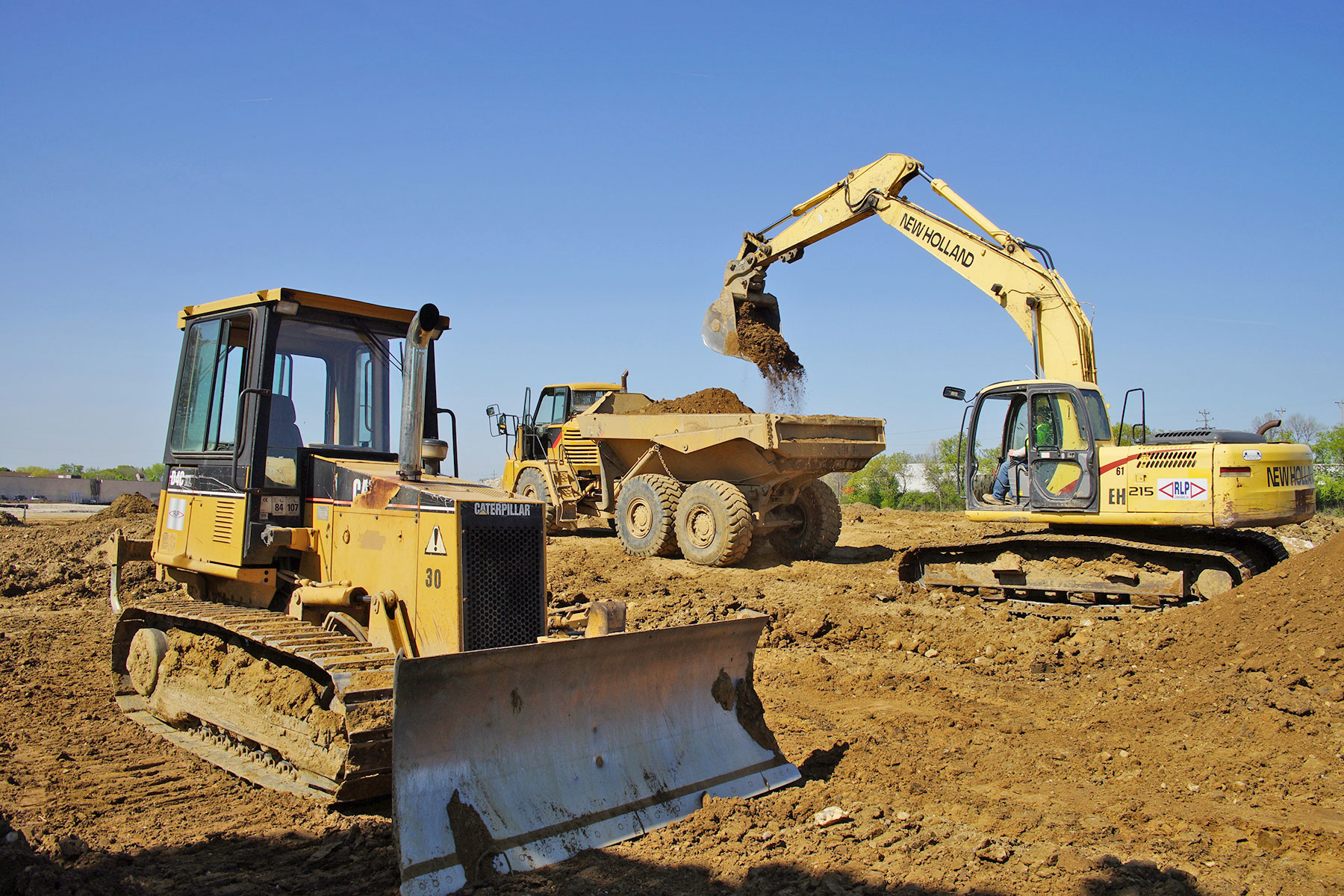 Cris and Orphie Schroeder officially kicked-off their redevelopment efforts at the site of a former Coca-Cola bottling plant along Silver Spring Drive with a symbolic ground breaking on May 19. Attending the ceremony were civic and business leaders invested in seeing the area revitalized with employment stability.
The Schroeders demolished the 232,200 square-foot industrial building earlier this year. Abandoned for two decades, and with unsuccessful bids for development over the years since, the 12-acre site is finally positioned to be part of the area's economic engine.
"I'm excited about the fact that somebody was interested in the site. They came up with an idea that was palatable for the area. And even going forward with some of the ideas being discussed, they are keeping the community and my office involved in what's best for the neighborhood," said President of Milwaukee Common Council Ashanti Hamilton, who attended the ground breaking event. "When you have a developer and a business owner like that, working in the neighborhood, only good things can come out of it."
President Hamilton was a key supporter for the project on the Common Council. The City of Milwaukee was also instrumental with rezoning the site to alleviate the barriers for its mixed use redevelopment.
As operators of Humboldt Storage in Riverwest, the Schroeders will develop Silver Spring Self-Storage on a portion of the location, with plans for retail placement along Sliver Spring Drive.
"The climate controlled structure will have 350 unites ranging in sizes from personal storage at 5 by 5 feet, to larger options that can contain vehicles at 14 by 40 feet," said Cris Schroeder of Silver Spring Self-Storage Storage.
During the ceremony David Misky, Assistant Executive Director-Secretary, spoke on behalf of the Milwaukee Department of City Development and noted the sustainable nature of the project. All materials at the location were being recycled in place and re-used on-site. Old concrete was crushed and re-used as the base for the new development, with soil relocated from one spot to others for berms and a water retention pond.
"We talk about redevelopment in the city, we want to make sure that redevelopment is sustainable," said Misky, against piles of dirt, gravel, and crushed stone in the background. "I commend them for re-using the materials on the site. That is very important for a built environment. We have 97 square miles in the city, we need to re-use everything we have."
Shelia Payton from U.S. Congress Gwen Moore's office, who has personally been involved in many small business efforts in Milwaukee, also attended with a message of support for Cris and Orphie Schroeder.
"The top priority for the congresswoman is to get as many small businesses up and growing, because they are the job creators in the city. Thank you very much for doing this project and we look forward to its great success," said Payton.
The $5.1M project benefited from no-cost small business consulting services from the University of Wisconsin-Milwaukee's Small Business Development Center (SBDC). This included one-on-one assistance, to help them navigate the SBA loan application process and provide a sounding board for the Schroeders while making key decisions.
According to Tim Peterson, the Milwaukee SBDC director, "Our programs and services are there to assist small business owners with starting and growing their businesses. The Silver Spring Self-Storage project is a great example of small business owners being willing to reach out and take advantage of SBDC consulting services to overcome challenges during the startup and growth phase of their businesses."
The funding for the project came from an SBA loan through Commerce State Bank. Steve Bicek, Business Development Officer at the bank said that "the team of people we worked with to get this done is a great example of what community banking is all about."
Frank Demarest, Jr., Deputy Director of the U.S. Small Business Administration (SBA), participated in the event and offered recognition of the project's importance. "It is a pleasure for the SBA to be able to support a small business to get to the next step. It is always wonderful to come out to these events to see how loan programs are actually put into place and leverage funding to meet a small business' needs."
Two initial buildings are expected to be completed in the fall of 2016. The prime location puts the facility within a service range of Bayshore Mall, for residential customers needing extra storage and small business owners that require a secure place to keep work equipment and materials.
"I think those tenants at Bayshore are in tight quarters there with restricted space. So our second building will have a loading dock and we will be able to accept shipping and receiving services here," said Schroeder.
The 8 acre self-storage space will occupy the South portion of the 11.7 acre lot, with 3.7 acres slated for retail development.
Architect Anderson Ashton created a design that would be a complimenting addition to the surrounding neighborhood.
"Self-storage has really taken off in the Milwaukee area and we've certainly seen a lot of activity. So we're glad to be a part of it," said Brian Fisher of Anderson Ashton. "The type of facility that we are going to be putting up here will be an asset to the community, and provide safe and secure storage at a great location in Milwaukee".
When asked about what it was like to work for Cris Schroeder, employee of 12 years Timothy Richardson said, "I've found it to be nice to have him as a boss, and I am fortunate to call him a very good personal friend."
As a local resident who lives not too far from the site, Richardson added that he felt the facility would be good for business, and in employing people from the community. It would also be a place that can bring more business and consumer traffic into the neighborhood to increase opportunities for future commercial and retail development.