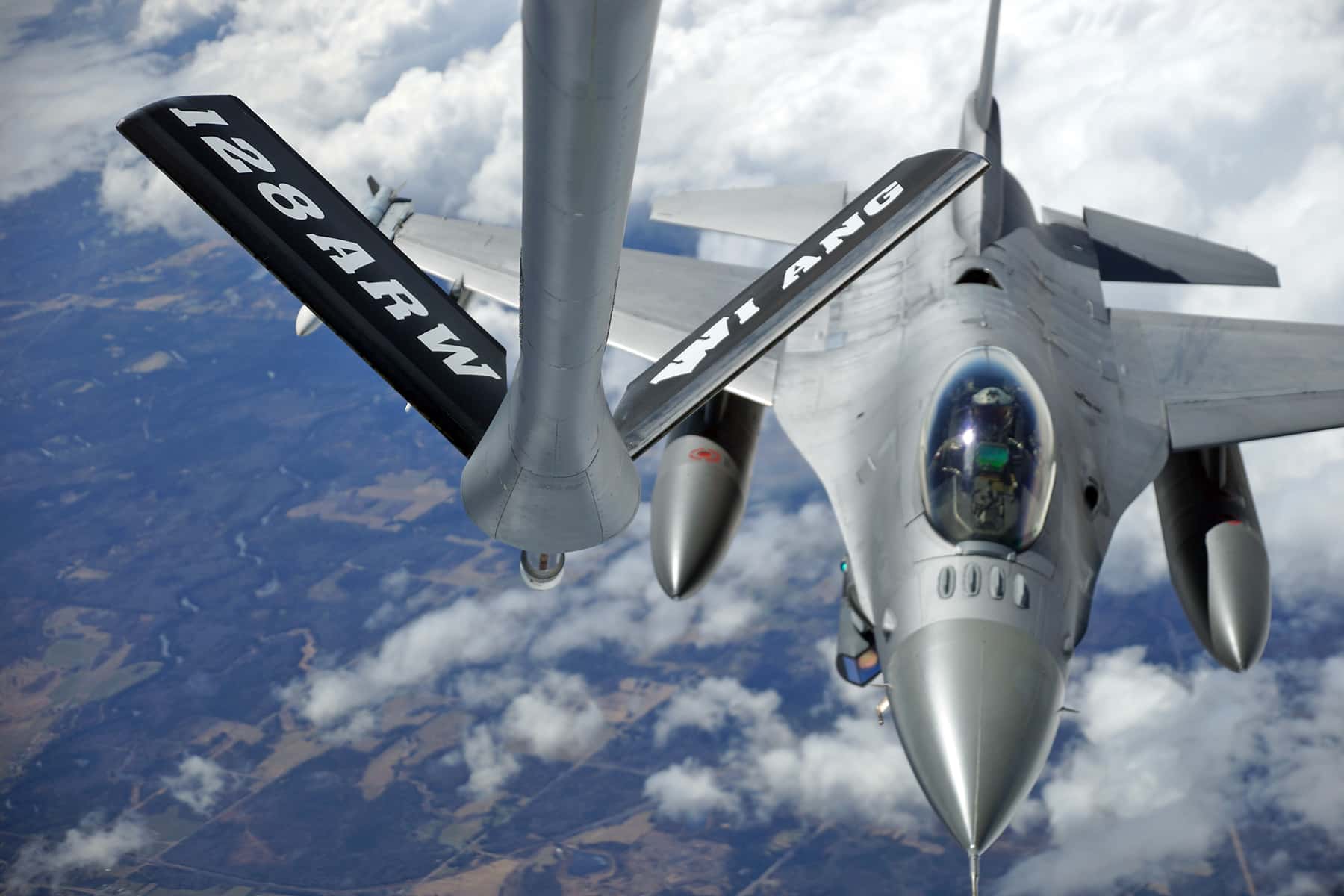 As a preview of the Milwaukee Armed Forces Week 2019, a special media orientation flight took off on May 9 with the 128th Air Refueling Wing, a Wisconsin Air National Guard unit based at Milwaukee Mitchell Airport. The week-long celebration of our community's armed service branches and veterans runs from May 13 to 18, and features numerous free events that are open to the public.
Of the 902 men and women who comprise the Air National Guard Base in Milwaukee, 750 of that population are traditional Guardsmen, individuals with regular civilian jobs who live in the nearby communities. Traditionally, most personnel serve "one weekend a month, two weeks a year," although highly operational units like the Air National Guard serve far more frequently, with pilots, navigators, and aircrews involved in active flying assignments.
"The 128th Air Refueling Wing has been based here for a long time, but most people in the city of Milwaukee do not really know that we're here. I think they get confused between us and the 440th Airlift Wing, who left several years ago," said 1st Lt. Jenna V. Lenski. "The Air National Guard pays us to serve in the Armed Forces, doing work like flying tankers, and when we come home we're going to school at UWM, or taking our kids to MPS. We're really integrated into this community."
As Milwaukee's hometown Air Force, it is the largest military installation in the City of Milwaukee. All five branches of the military have active components in area, who are quietly integrated into the community when they are not actively serving.
"We are here to support and defend not only the country, but our local neighbors too," said 1st Lt. Lenski. "That's why we are traditional Guardsmen. I'm super happy to be here. As a graduate of UWM, I live in South Milwaukee and go to the Brewers games like anyone else."
Milwaukee Armed Forces Week is the longest celebration of armed forces in the nation. Usually cities only hold an Armed Forces Day, but Milwaukee goes one step further and make a whole week of it. Perviously, the 128th ARW hosted big public displays of military equipment, but those events have moved closer to downtown and are now held at the Harley-Davidson Museum. Along with the annual Milwaukee Air and Water Show, Armed Forces Week provides an opportunity for a new generation of residents to make connections and understand the context of military service. Youth today do not experience the same social impact of previous wars, or have as strong ties to the nation's armed forces.
"Within the continental United States, the 128th is typically involved in more training missions than operational ones. But, we do have a lot of flights that are operational. We get fighters or cargo or bombers from one part of the country to another, so they don't have to land. Obviously, when we are deployed overseas the operational missions are extremely vital, so having tankers in the air is important," said Lt. Col. Carson Hardesty, who was the senior pilot of the May 9 preview flight. "Today, we took two KC-135 Stratotankers up to northern Michigan, and a little bit into Minnesota. We supported some F-16s and the other tanker went up against some F-18s. We gave them gas while they were flying as part of the Northern Lightning exercise, so they could continue a their fighter maneuvers against each other without having to land."
Aerial operations have been designed around the idea of total force integration, so the United States Air Force, Wisconsin Air National Guard, and Air Force Reserve components can fully combine their workflows and operations seamlessly to provide agile and combat-ready forces. It has also proven to be a cost effective plan, due to the consolidation of training requirements and shared resources.
The Air Force's Air Mobility Command manages an inventory of 396 KC-135 Stratotankers, of which the Air National Guard and Air Force Reserve fly just over 60% of that fleet. The 128th Air Refueling Wing, Wisconsin Air National Guard is home to ten KC-135 aircraft that are equipped with 4 CFM international high bypass turbofan engines, each producing 22,000 pounds of thrust. To enhance their readiness to adapt, train, and integrate, aircrews and maintenance personnel with the 128th ARW, regularly conduct aerial refueling training missions.
The objective of the Northern Lightning exercise was to create a joint training environment for the Air National Guard that replicated a real world battle space with current and classified weapons platforms. The participating F-16 Fighting Falcons and F-18 Hornets flew out of Volk Field Air National Guard Base in Juneau County, Wisconsin, and rendezvoused over the coast of Lake Superior for refueling during their maneuvers.
Imagine trying to siphon gas between two cars speeding at 70 MPH on the highway, and then attempting that tactic at 27,000 feet above the ground. That is the job of the boom operator, Staff Sgt. Will Pelkofer. During the flight, he was positioned on his stomach at the rear of the tanker in a special compartment pod. Using a joystick device, he "flew" the refueling nozzle or "boom" into position, coordinating alignment moves with the receiver jet. The boom is 28 feet long when retracted, 48 feet long when extended, and can transfer 600 gallons of fuel per minute.
Boom operators on a KC-135 Stratotanker have the ability to pump thousands of pounds of fuel to any capable aircraft, thousands of feet above the ground, flying at 200 knots, all while only 47 feet from colliding into each other. The boom operator crew position was created in 1948, when Boeing developed the flying boom at the request of the USAF. Prior to this, the only practical means of transferring fuel was through a hose.
Midair refueling is the enabler for overseas deployment. All of aerial operations happen because of because of aerial refueling. The 128th ARW gives fighters and the bombers extended range to reach and complete whatever missions they have. The Wing has been most consistently deployed in southwest Asia, flying the Middle Eastern aerial refueling flight tracks. Like aerial gas stations, the tankers enable aircraft to reach Syria, Afghanistan, or Iraq.
The KC-135 Stratotanker was initially tasked with refueling strategic bombers for extended distance, but adapted to extensively support fighter jets in the Vietnam War to keep planes in the air longer. The KC-135 entered service with the USAF in 1957 and was produced by Boeing until 1965. It is one of six military fixed-wing aircraft with over 50 years of continuous service with its original operator.
The $2.6 million tanker has the capacity to offload up to 203,288 pounds (31,275 gallons) of fuel to other receiver aircraft, or use for itself. The fuel tankage is located in the "wet wings" and in fuel tanks below the floor in the fuselage.
The Air Force projected that KC-135 has a lifetime flying hour limits of up to 39,000 hours. However, only a few KC-135s are expected to ever reach that limit by 2040, when some aircraft would be about 80 years old. The Air Force estimated that their current fleet of KC-135s have between 12,000 and 14,000 flying hours on them, only 33% of the lifetime flying hour limit.
Southeast Wisconsin gets a highly skilled workforce as a result of Air National Guard service. The Milwaukee base also generates a lot of financial support for local businesses, with an annual economic impact of $71 million.
"Milwaukee actually has an amazing military history that we love to recognize during Milwaukee Armed Forces Week. Lance Sijan is among many military, and specifically Air Force, heroes that hail from the area," added 1st Lt. Lenski. "One of our buildings on base is his named in his honor, Sijan Hall. As a unit we have always been close to the Sijan family and are so very grateful for Lance's sacrifice."
The late Jane and Sylvester Sijan were the Gold Star parents of Lance Peter Sijan, the U.S. Air Force Academy's first graduate to receive the Medal of Honor posthumously. The Sijan family supported the 128th ARW for many years. In recognition of their devotion, Jane and Sylvester will become recipients of the first Citizen Lance Sijan Award. It will be accepted by their daughter and Lance's sister, Janine Sijan-Rozina, during an award ceremony on May 16. Another Milwaukee recipient will be Vietnam veteran George F. Banda.
Armed Forces Week 2019 gives the 128th Air National Guard a chance to celebrate its rich heritage and experiences with the public. Formed in 1947 as the 126th Observation Squadron, the Wing's aerial refueling work dates back to 1962, with the propeller driven KC-97s. The 128th has flown the KC-135 since 1977, supporting military operations all over the globe.
"I'm originally from a little town called Brandon in Fond du Lac County. Now I live in Mayville, which is in Dodge County. It is great to live in Wisconsin, and I just drive about 64 miles to get to work. I've been in this unit since 1995, which makes me one of the old hands here," added Lt. Col. Hardesty.
Like each of the 50 states, Wisconsin has its own National Guard and it is technically the state's military. The Air National Guard can be called by Governor Tony Evers to help in the event of a natural disaster to provide logistical support, or by the President of the United States. As such, Air National Guard troops are dual enrolled in the state military and the federal military as reserves.
The Milwaukee Independent was invited to photograph and film the May 9 refueling flight, supporting the Northern Lightning exercise. These images and the video segment show the equipment and skilled personnel required to perform that essential and highly complicated task. Along with Lt. Col. Carson Hardesty, other crew members for the flight included 1st Lt. Jonathan Vargas (pilot), 1st Lt. Justin Gruber (pilot), and Staff Sgt. Will Pelkofer (boom operator).