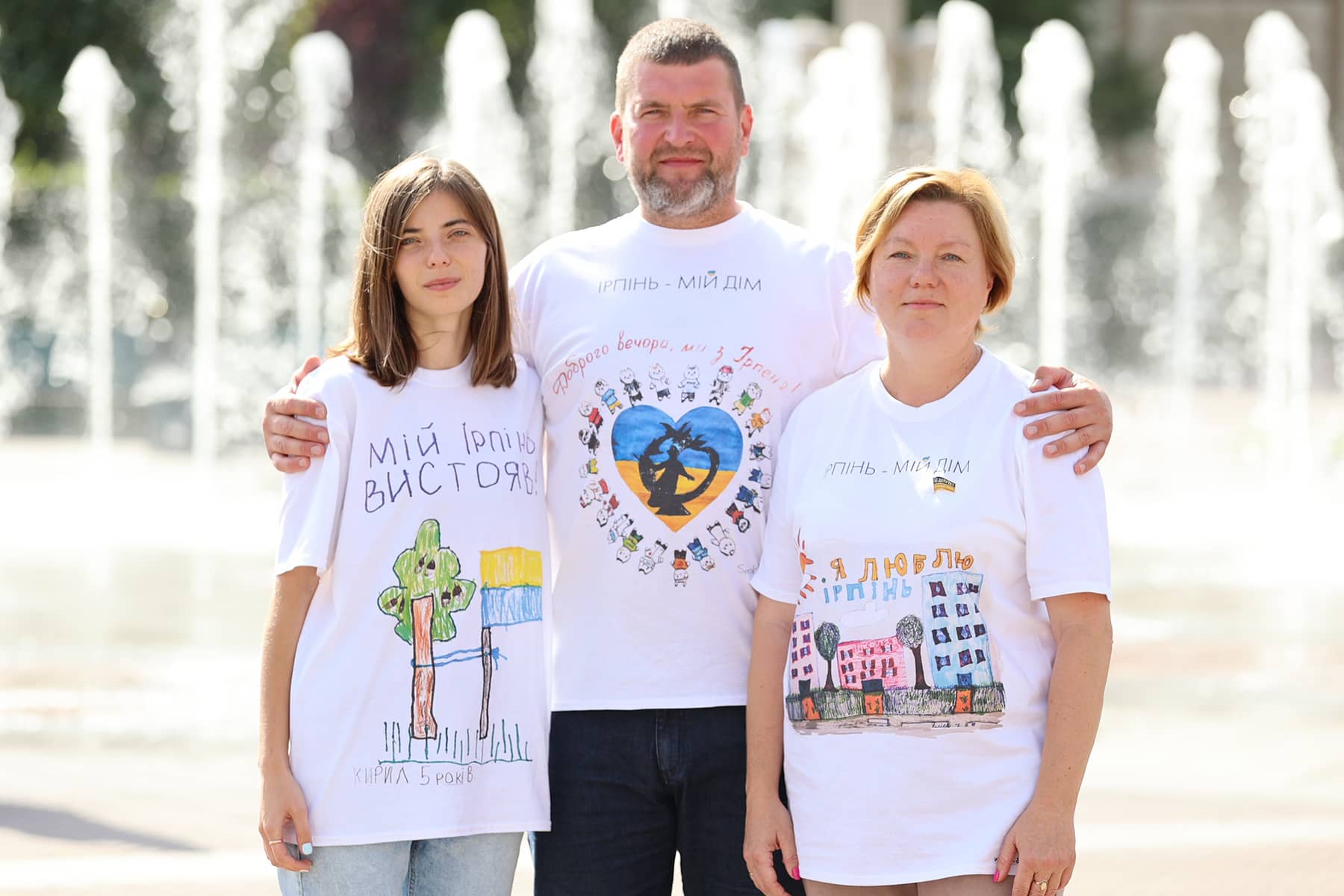 Deputies of Milwaukee's Sister City showed their community spirit and national resilience during a public City Council meeting on August 22, by wearing T-shirts from the art project "Irpin – My Home."
The idea behind the patriotic apparel came from Irpin artist Sofia Dzyublyuk, who launched the initiative on July 7. She collected drawings from children who were currently living in Irpin, and those forced to relocate after the full-scale Russian invasion, dedicated to their hometown.
The children were encouraged to "draw memories of your hometown, how you remember it, or how you see it in the future." Based on the first 50 drawings, a series of T-shirts were developed so that members of the local community could wear them as a flashmob, to show the world how much the youngest Irpin residents love their hometown. ITV News first reported about the project and its developments.
"Behind each picture, what is important is the story of an entire family. Our townspeople shared where they are living, how they survived this difficult time, and whether or not they will be able to return," said Dzyublyuk. "I hope that this project will show how much we care about our citizens and our neighbors. And that we are waiting for everyone to come home."
Irpin leadership has sped up efforts to rebuild the city, but more international funding is needed to repair the most heavily damaged residential areas.
"Irpin is my home. Here I was born, grew up, found loyal friends. This is where my kids were born. This is the city of my childhood dreams, youthful ideas, and adult strategic plans," said Mayor Oleksandr Markushin. "That is why I, with great pleasure, together with the deputies of the Irpin City Council, wore a T-shirt with a picture of a little resident of Irpin as part of Sofia Dyublyuk's project."
The young participants and their parents were invited to tell what they had experienced in recent months. The stories included details of struggles and triumphs, with many yearning to return home from their distant shelter.
"I love my city Irpin very much. I also like to draw, walk with Luna – my pet chihuahua, and collect toys. However, now I had to put them in boxes and take them to my relatives for safekeeping, since my house in Irpin was badly damaged by the Russian missiles. I cannot live in it until it is repaired. Since I love to draw, I am happy to participate in such a wonderful contest." – Angelina, age 10
"I am Anya, and I love my city very much. Unfortunately, we had to leave it when the war started for 3 months. Now I'm back here. It is empty and eerie here, because there are bombed-out houses nearby. My apartment survived, only the balcony was damaged. But the roof of the house was pierced by a shell. My neighbors and I will repair it with our own funds. I really want everyone who has lost an apartment or house to have a new place to live. I believe that it will happen soon." – Anya, age 7
"Our family, together with my cat Sonia – who climbed into the suitcase herself – left on the night of February 24, after seeing through the window what was happening at the airport in Gostomel. All the planes were flying over our house, it was very scary. While our Irpin was occupied, we stayed with a grandmother who lives in the village of Yareshky, which is located behind Baryshivka, through which the Russians also broke through, and on the other side of us was the destroyed village of Peremoha. We collected help for them, because people have everything destroyed. We also wove nets throughout the village and collected aid for the military. People stood at roadblocks, dug trenches, blocked the road with trees, everyone helped as best they could. It was very scary, because they were constantly shooting with different types of weapons. Each shot had its own sound. I stayed with my cat at my grandmother's, and my mother, father, and older brother returned to Irpin, they are repairing our broken home, but I will soon return home, because this is my city, which I love. My friends are there, whom I miss. In order to distract myself from difficult thoughts and what is happening around me, I draw, sculpt from plasticine, do various crafts, and help my grandmother." – Maria, age 13
"I'm Tanya. I moved to the wonderful city of Irpin 4 years ago. On March 5, we barely left the city in time because of the war. And on March 27, a rocket hit our house. it burned. We are still living with my aunt, but we have returned to Irpin. I often go to the house to see if it has been demolished and rebuilt. But no. I know that one day it will be rebuilt, and we will live as before, only better. And now my brother and I are drawing pictures and dreaming of a new home." – Tatiana, age 12
"Hello, My name is Sofia. I am a displaced resident from Luhansk. I was forced to leave with my mother and move to Irpin. But on March 5 of this year I was again forced to flee from the war. Now I am in Poland with my mother, but we really want to return to our home in Irpin, because Irpin has become my native home. We are in love with it. I am waiting for the victory of Ukraine, and I also support our defenders with positive and sometimes funny pictures. When my mother and I saw in the news about the exhibition "Irpin – my Home," I really wanted to contribute my love to Irpin by drawing various cat heroes who made and are making a huge contribution to the development of our city and country, to the victory of Ukraine. Not only the cats of the Armed Forces of Ukraine are painted there, but also volunteer cats, doctors, cooks, patriotic cats, a grandmother who shoots down enemy drones, and many other people who make a significant contribution to of our victory. And most importantly, Mayor Markushin is painted there together with others who defended my city of Irpin. I am sure that the city will become even better and more beautiful over time. I am waiting for the victory of the Armed Forces and I am keeping my fingers crossed for the victory of Ukraine." – Sofia, age 10
All of the City Council representatives wore a special "Irpin – My Home" T-shirt during the public meeting. One member, Tamara Burenko, noted that the project would not be a one time event.
"I suggest everyone should get to know the authors of the drawings on their T-shirts, and work on making the aspirations and hopes of our children come true. They really have very interesting plans," said Burenko.
Every shirt included a QR code that connected to the online gallery, allowing anyone to view the entire "Irpin – My Home" art collection. Included along with each drawing is the story about it, written by the young artist.
"Each picture is not just a picture, behind it there is a story of a whole family," added Dzyublyuk, "I hope that by popularizing this project, we will show that we are doing our best to remember everyone who returned, or who cannot yet return home to Irpin."
Oleg Hryb, Sofia Dzyublyuk, and Darina Katkalo