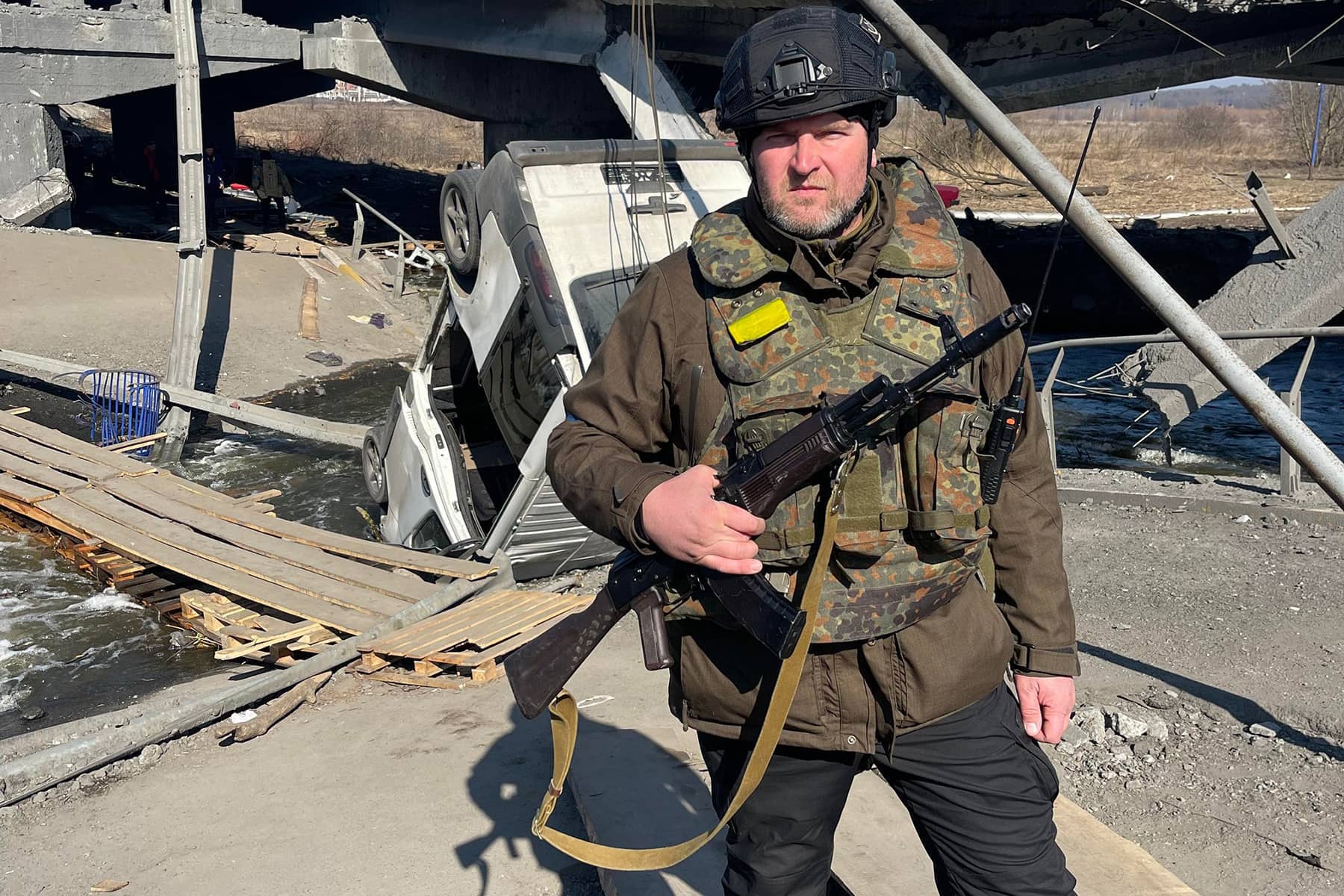 Reports from Ukraine:
This feature is part of an original
Milwaukee Independent
editorial series that recorded news from cities across Ukraine, including Milwaukee's sister city of Irpin, in May 2022. It was the first and, at that time, only news organization in Wisconsin that traveled to the country since it was invaded. The purpose of this journalism project was to document personal stories and events that detailed or showed the conditions of the war at that time, and their connections to Milwaukee.
mkeind.com/reportsfromukraine
The Milwaukee Independent had an interview scheduled with the Mayor of Irpin, Oleksandr Markushin, during the team's reporting in Ukraine. Due to last minute scheduling issues, Mayor Markushin had to cancel our meeting. But his staff was willing to help us produce a remote interview. Our list of questions was sent to Mayor Markushin's office, where he filmed the interview. His staff translated the recorded conversation and added English subtitles. Journalist Lyudmila Lozova with the ITV News Agency conducted the in-person interview on behalf of Milwaukee Independent.
Oleksandr Markushin has a 42 year history with the city of Irpin, where he was born and raised since 1980. Markushin graduated from the Kyiv National University of Civil Engineering and Architecture. Originally the Deputy Director of a utility company, Markushin became interested in the local government and was elected to the Irpin City Council. By 2018 he was appointed First Deputy Mayor of Irpin, and in 2020 he was elected as Irpin's Mayor.
Markushin survived multiple assassination attempts by Russian forces during the early days of the war, and kept his parents safe, but he could save his childhood home from destruction. Close to 70% of Irpin's infrastructure would also be devastated by the occupation.
During the entire time, Markushin stayed in his hometown to organize and lead Irpin's Territorial Guard. For five weeks he defended his hometown against invasion. Markushin had no prior military experience, but he was an active hunter and put those skills to work. That ability and his leadership were directly responsible for stopping the Russian drive to captured Kyiv and topple Ukraine's government.
Q&A with Oleksandr Markushin
Milwaukee Independent: You were born and raised in Irpin, so what was the happiest or most special childhood experience of your family in the city?
Oleksandr Markushin: My brightest childhood memories are of the Irpin forest, with all the pine trees. I remember my parents and I going to the forest to fry kebabs on May holidays. There were many children around, so we played the patriotic sports game "Zirnytsia" and rode bicycles. In the summer we went swimming in the quarry to escape the heat. And then for wintertime went to Neznayka Park to sled and ski.
Milwaukee Independent: How did Irpin change, and what most surprised you, when the Soviet Union collapsed and Ukraine finally regained its independence?
Oleksandr Markushin: Irpin has transformed from a small town to a real European city. Particularly rapid development has taken place over the past six years. So, Irpin has become truly the best city in Ukraine with well-kept parks, beautiful squares and roads, beautiful houses, and its well-developed infrastructure.
Milwaukee Independent: How did you become interested in politics, and what inspired you to become Mayor of Irpin?
Oleksandr Markushin: I entered politics in 2010, although I did not really want to because I was not interested in it. At that time I was running my own business, and a friend invited me to come and at least see how public gatherings and meetings with people takes place. It was awkward to refuse, and I went to a meeting with the locals and saw a lot of human problems. Then, in 2010, I decided to run for parliament from my home district and I did it successfully. I had a strong opponent, but people supported me despite the unbelievable political resource used against me. By the next election, 1,200 people voted for me to have a seat on the city council. It was a very powerful turnout, which I did not expect. So for the five years following that, I proved to myself and the people that I was worthy of being a deputy. At that time I was still working for Kp Irpinʹvodokanal, when I was offered the position of first deputy mayor. Then the unanimous decision was made to support my candidacy for Mayor. So for more than a year, I worked as the Mayor of peaceful Irpin in peaceful Ukraine.
Milwaukee Independent: Where were you when you learned that the Russians had invaded on February 24? And, what was your experience like in Irpin in those early days?
Oleksandr Markushin: I learned about everything from those first minutes. In those early moments, planes were already flying over Irpin and explosions were heard in Kyiv and Hostomel Airport. I immediately called my friends and asked them to put on military clothes, take up arms, and come to the City Council building. I also urgently called deputies to come in so we could hold an emergency meeting with public services. The regular session of the City Council was supposed to take place on February 24 at 10:00 a.m., but I canceled it and called for an extraordinary one to address the urgent issues we faced. One of the most important decisions was the creation of the Territorial Defense Headquarters, where I was elected commander. By 9:00 a.m. there were already about 45 men in our group, all of them arrived with their weapons and permits. We started to organize work and set up checkpoints, but experienced soldiers said that we needed to build fortifications. We had to dig trenches, and only public workers with their equipment could help us with that. Fortunately, our utilities have purchased a lot of equipment in recent years, so we had everything we needed to make a good line of defense. At first, our headquarters was in the City Council building. Then we changed the location, because it was clear that this would be the primary target for the shelling. It is the center of the city, and I could not endanger its inhabitants. I had offers to help me reach safety if I decided to leave. I could have moved to another area or even abroad. But I felt that if the commander went away then his army would fall apart. I condemn military commanders who abandoned their units. I condemn mayors who left their city in such difficult times to flee somewhere else. The relevant authorities will deal with them, but it will be hard for me to forgive them being cowards. A Mayor must be with his residents, with his unit, and must defend a city to the end.
Milwaukee Independent: As Mayor of Irpin, what has been the hardest part of your job since the unprovoked invasion began?
Oleksandr Markushin: Everyone was afraid in the war, but I felt a great responsibility for my city and my community. The most important mission for our headquarters was to evacuate residents and make sure families we taken to safe areas. We evacuated 95% of Irpin's population, and I think this was a major success. The accomplishment was the result of our entire team, our volunteers, and our friends. They are the real heroes who helped our city. They delivered food, medicine, set up a humanitarian headquarters, organized warehouses with humanitarian aid, brought medicine and food, bulletproof vests, walkie-talkies, and helmets. Even after all our hard work to help people reach safety, many Irpin residents remained in the city. We took care of them and continued evacuations until the last day, when we completely defeated the enemy. Everything during that time was so hard, like the first time sleeping outside under the sounds of shelling. It was difficult to bury the guys who had known for a long time and died outside Irpin. But the worst thing I saw was when we evacuated people in the early days of the invasion near the Irpin Bridge, and at that moment a mortar round flew in. It killed a woman with two children and a volunteer who was helping them. It was very difficult to see and now to remember. It still remains in my soul. When these barbarians destroyed our city and killed our people, a part of something good in me was also killed. And when we killed them, we took revenge on them for every Ukrainian killed – for every woman, for every child. It seems to me that the war has changed each of us. We became different, our lives were divided into before and after.
Milwaukee Independent: What has taken the most of your attention since Irpin was liberated?
Oleksandr Markushin: We were able to defeat the enemy, recapture Irpin, and save our capital, which is why Irpin is known as the "Hero City." Now people are waiting for answers from us, as to how quickly we can solve their problems and rebuild the city. Today, local authorities do not face the task of making Irpin the way it was before February 24, we must make it better. And we will definitely do it. It does take a lot of time to communicate with residents. Every morning, before 8:00 a.m., I come to work and talk to our local people for about an hour. I understand that they need help, and sometimes giving the attention is all we can do at that time. They come to me with all their problems, to the City Council, and together with my team we to help as much as possible.
Milwaukee Independent: What is your hope for the future of Irpin? And do you have a message for how the citizens of Milwaukee can help?
Oleksandr Markushin: We will rebuild the city. The old housing stock that was bombed and the private sector along the Hostomel Highway that was completely destroyed by "hail" and artillery. We will definitely make small memorials to our guys in the places where they fought battles in defense of Irpin. After all, 37 heroes from the territorial defense of Irpin gave their lives for our hometown. How fast we can accomplish our efforts all depends on the finances that the city will receive for reconstruction. If we have the funds, we will be able to completely restore Irpin in under two years. According to experts involved by the Irpin Investment Council, the city needs about $ 1 billion to rebuild. Today the state budget is aimed at defending Ukraine, we understand and support this. Therefore, we have made every effort to find sources of funding in Europe and the United States. Most of all, I like to be in Irpin to have daily contact with the community. But now we have to travel to EU countries every month and convince the international community of the need to help rebuild Irpin. Our most important priority in the near future is to restore housing for residents of Irpin and rebuild the city's infrastructure that they depend on.
"I'm a lucky person because I can still hug my Mom. I thank her for her concern and sincere prayers. And I apologize for not being able to save our home from the Russian shelling. We will definitely restore our native homes and the Irpin community," Markushin said on social media post in early April. "May our mothers always be by our side. And thank you to every mom who raised our heroes. Many paid for our freedom with the cost of their life. Those efforts and sacrifices in Irpin did not let the enemy reach the capital of Ukraine."
In the occupied territories, the Russians began to look for collaborators among the leaders of the captured settlements. Markushin was no exception. He received an offer of money from the Russians on the first day of the war. But after his refusal to cooperate or surrender the city of Irpin, Russian forces began hunting for him. Markushin survived three assassination attempts.
Markushin was hailed for his efforts to save his hometown and his homeland. Along with Irpin being awarded the title of "Hero City" by the President of Ukraine, Volodymyr Zelenskyy also warded Markushin the Order of Courage of the Third Degree.
And while Markushin sees himself as a servant of the people and is reluctant to personally be called a hero, there are no other English words to describe the great military accomplishment he achieved for his local community and his nation.
Lyudmila Lozova and Lee Matz
City of Irpin and Milwaukee Independent
Milwaukee Independent editorial team for this special series: (UKRAINE) Lee Matz, photojournalist; Oleh Pinta, translator / reporter; Yaroslav Zdyrko, security / videographer; (MILWAUKEE) Halyna Salapata, logistics / translations.
Milwaukee Independent has reported on the situation in Ukraine since it was invaded on February 24. Coverage originally began with reactions and rallies from the local Ukrainian American community, and relationships with Milwaukee's sister city of Irpin. Through partnerships and good journalism, sources were developed that enabled Milwaukee Independent to publish developments about the unprovoked war in realtime. In late May, a team from Milwaukee Independent spent nearly two weeks on the ground in Ukraine. The award-winning daily news magazine was the first and, at the time, only media organization to send staff into the country since the war began.
Reports from Ukraine: An extensive news series by Milwaukee Independent from a country at war