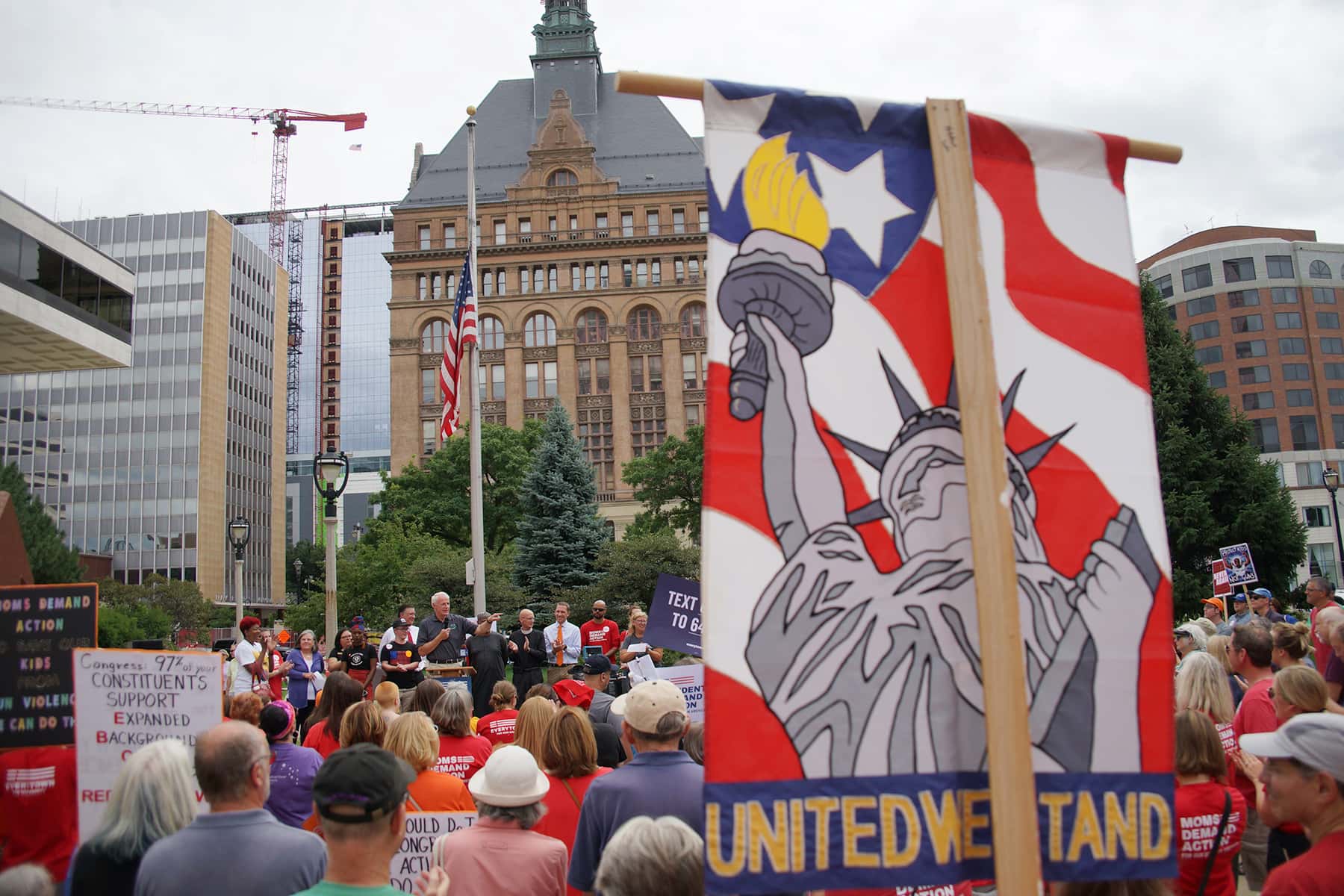 Milwaukee joined cities across the nation on August 18 with a rally at Red Arrow Park to demand immediate legislative action from members of Congress, to protect the public from the epidemic of mass shootings and prevent dangerous individuals from obtaining military-grade weapons.
Elected and faith leaders, survivors of gun violence, gun safety advocates, and area residents participated in the local Recess Rally, organized by the Milwaukee chapters of Moms Demand Action for Gun Sense, Students Demand Action, and Everytown for Gun Safety. Moms Demand Action is a grassroots movement of Americans fighting for public safety measures that can protect people from gun violence.
The event was held while members of Congress were in summer recess, and in the aftermath of the latest mass shootings in El Paso and Dayton. The rally called for Red Flag legislation, which would require a standardized background check on anyone attempting to purchase a gun. The effort would evaluate if individuals were at risk of harming themselves or the general public.
Perpetrators of mass shootings and school shootings often display warning signs before committing violent acts. In the aftermath of the mass shooting in Dayton, reports emerged that the shooter's behavior raised concerns among people who knew him. Interventions in states with Red Flag laws have already prevented potential tragedies. Research has also documented that Red Flag laws can have an impact on preventing suicides. The data underscored the case for Red Flag legislation, known as the Extreme Risk Protection Order Act.
Red Flag laws permit immediate family members and law enforcement officers to follow due process and petition a court for an order that temporarily removes guns from dangerous situations. If a court finds that a person poses a serious risk of causing an injury with a firearm, that person is temporarily prohibited from purchasing and possessing guns, and any guns already owned are held by law enforcement – or another authorized party – while the order is in effect. Twelve states have enacted Red Flag laws since last year's mass shooting in Parkland.
Protesters in more than 100 cities from all 50 states assembled over the weekend to protest in favor of strong gun laws, joining the call for a solution to end the ongoing public health crisis of gun violence.
Recently, Governor Tony Evers announced his support for proactive gun control measures, which was supported by pubic polls. According to political surveys last year, an overwhelming majority of registered voters in Wisconsin favored an extension of some kind for background checks on private gun sales. However, both at a state and federal level, conservative lawmakers remain unwilling to address the public safety issue, deflecting the blame to unrelated issues – in part due to pressure from gun lobbying efforts by the NRA.
"Strong majorities of Americans from across the political spectrum support laws that allow family members or law enforcement to petition a judge to temporarily remove guns from a person who is seen to be a risk to themselves or others." – APM Research Lab/Guns & America/Call To Mind survey
Speakers during the rally included Milwaukee Mayor Tom Barrett, Moms Demand Action for Gun Sense in America, Everytown for Gun Safety, Students Demand Action, State Senator Chris Larson, Wisconsin Anti-Gun Violence Effort (WAVE), March for Our Lives Milwaukee, Sojourner, Mothers for Justice United, Collars on the Corner, Forward Latino, and U.S. Congresswoman Gwen Moore. These images highlight moments from the latest rally at Red Arrow Park and its participants.