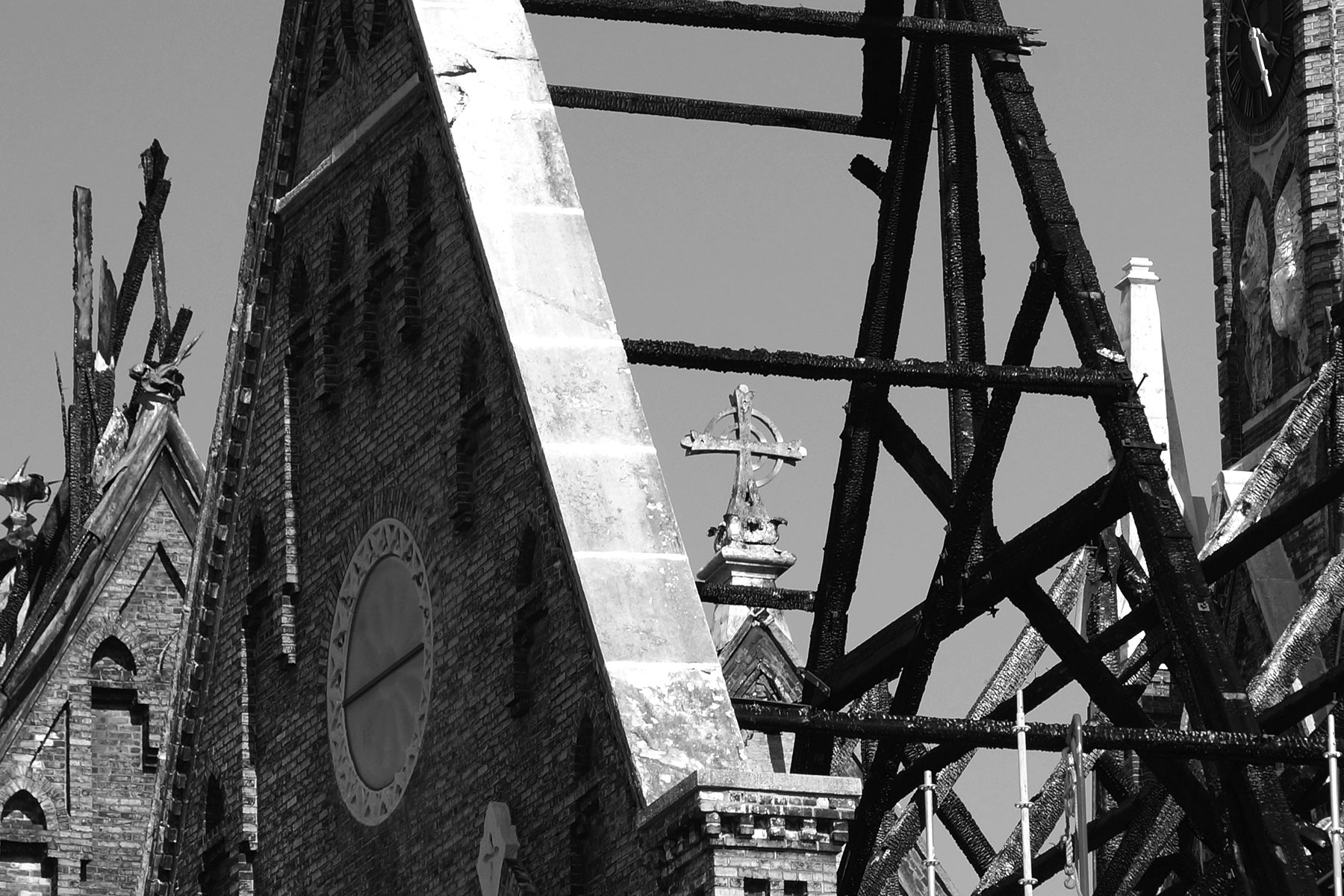 A massive fire caused $17M damage to the beloved historic house of worship in downtown Milwaukee, leaving the congregation and community looking for solutions to help it rebuild.
Smoke from the fire could be seen for miles, as news of the disaster spread across social media in realtime. Trinity Evangelical Lutheran Church was founded by immigrants from Pomerania, Germany in 1847. Originally located on 4th Street between Wells Street and Kilbourn Avenue, the Victorian Gothic building was constructed on the corner of West Highland Avenue and North 9th Street in 1878.
"It is an absolute loss for Trinity Lutheran Church and our congregation," said Reverend Jonah Burakowski. "But at the same time, it is just a building. No one died and that is the most important thing.
The first fire crews arrived on scene at 3:47 p.m., literally two minutes after the initial call was received. Milwaukee Fire Department Station 2 is located three blocks from Trinity Lutheran. Within 15 minutes the blaze was categorized as a 4 alarm fire, drawing more than one hundred firefighters to extinguish the flames, according to Assistant Chief Brian Smith. Because the fire department was able to arrive so quickly to deal with the blaze, they were able to prevent the fire from getting into the brickwork which would have caused the walls to collapse.
Reverend Burakowski said the fact that the building was still standing was a testament to those who built it 140 years ago. He added that the Lutheran Church–Missouri Synod was offering help and the congregation was committed to restoring or rebuilding the church at its historic location. The congregation, which was the first in Milwaukee to desegregate, will continue its tradition of worship at a temporary location.
According to Chief Mark Rohlfing, an early estimate of the fire damage was $17 million, $13 million for the building and another $4 million for the contents within. The cause of the fire remains under investigation, but it is believed to have started by heating tool that had been placed on a adjacent scaffolding that ignited the roof. Officials are making assessments of the structural integrity, with one possibility that it may have to be razed.
This integrated photo essay combines images taken on May 16, showing the condition of Trinity Evangelical Lutheran Church after its massive fire in black & white, with an assortment of pictures taken between 2012 and 2015 showing its pre-fire condition in color.