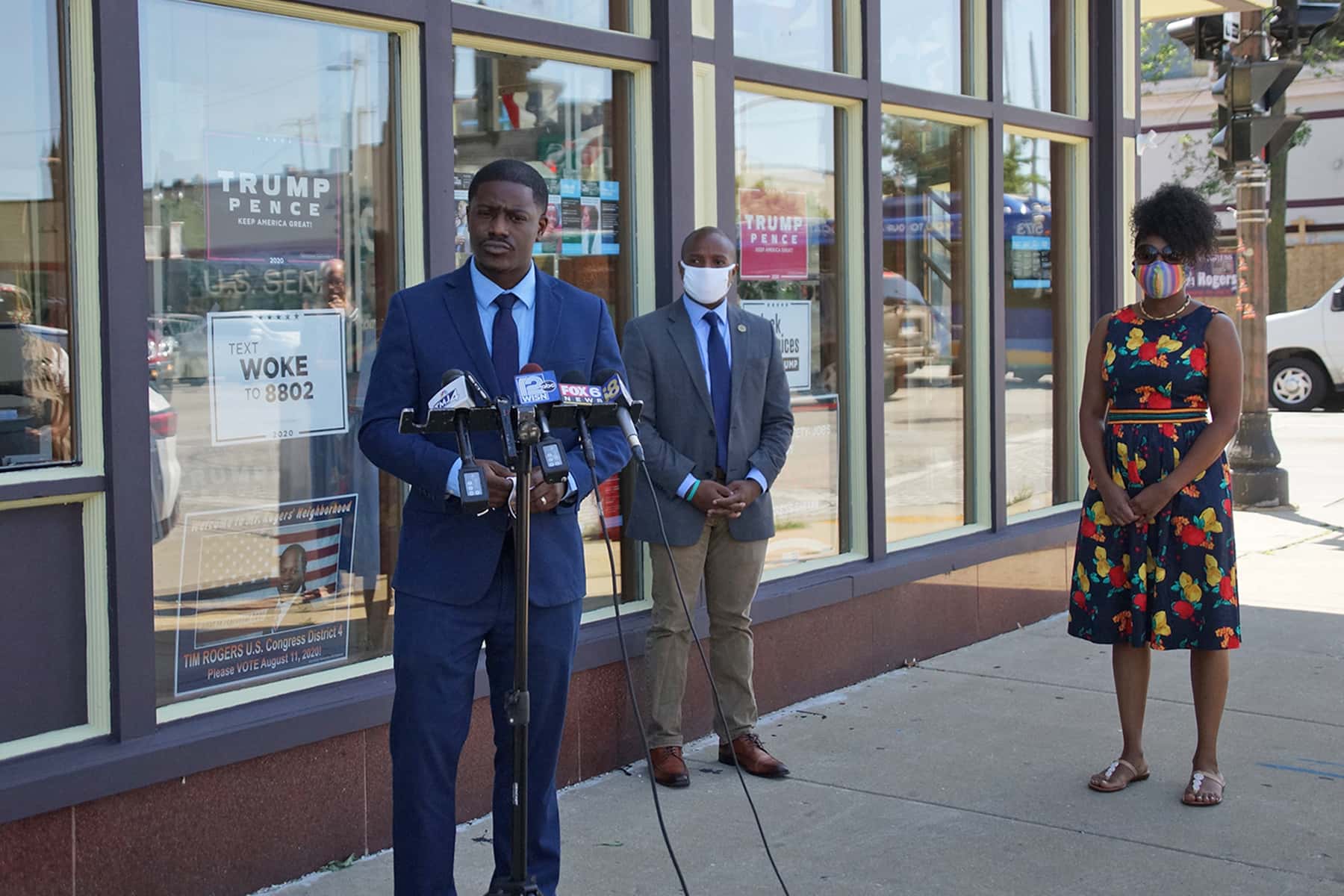 Three of Milwaukee's top four elected leaders gathered in front of the Trump campaign and Wisconsin Republican Party's office in Bronzeville on August 6, to bring attention to the "latest dirty trick" orchestrated by GOP operatives in Wisconsin.
Milwaukee County Executive David Crowley, Milwaukee County Board Chairwoman Marcelia Nicholson, and Milwaukee Common Council President Cavalier Johnson held a news conference outside of the Milwaukee headquarters for the Republican Party at 2244 N Dr. Martin Luther King Jr. Drive. They jointly condemned the Trump campaign's underhanded election scheme to exploit the celebrity appeal of rap superstar Kanye West, by using him as a spoiler against Joe Biden, the presumptive Democratic nominee.
"This is just another example of Donald Trump showing disregard and a lack of respect for the African American community, not just here in Milwaukee, not just here in Wisconsin, but across the United States. Donald Trump has been a horrible president for Black people, a horrible president for people of color. He knows that. We know that. And he knows that Kanye West and Donald Trump don't stand a chance in a place like Wisconsin. That's why they hired a firm out of California to come all the way here to collect signatures to get Kanye on the ballot, in an attempt to siphon votes away from the other side. Nobody is falling for this trick. We see it for what it is, and our electorate is smart enough to know what the stakes are in the 2020 presidential election. We're not going to let Donald Trump cheat democracy in order to take votes away, to let him stay in the White House." – Cavalier Johnson, Milwaukee Common Council President
The reason that the GOP is trying to put Kanye West on the ballot is because Wisconsin is a critical swing state. In 2016, Wisconsin decided the presidential election and it is likely to do the same thing again in 2020. Donald Trump's campaign is accused of trying to push West in order to distract African Americans and other people of color in order to win the White House for a second term.
Council President Johnson said that the GOP's ploy followed its efforts to suppress votes by people of color during the COVID-19 pandemic. By presenting West, their tactic offers a way to divert votes to a candidate who cannot appear on ballots in al 50 states and therefore has no mathematical chance to win the election.
A spoiler third-party candidate with name recognition as high as West could certainly have a negative impact on a close election. In Wisconsin in 2016, there were 36,460 write-in votes for president, which surpassed Trump's statewide margin of victory of 22,748. Sources have said that the goal of Wisconsin Republicans is ensure that West gets 107,000 votes, about what Libertarian Gary Johnson did in 2016.
A wave of national news reports have detailed how Republicans around the country have been actively helping and promoting West's campaign. Democrats have been working hard to keep him off the ballot, especially in battleground states like Wisconsin.
"The Republicans are doing a last minute push for a registration to put Kanye West on the ballot, which we find extremely insulting to the black community – not only here in Milwaukee County but throughout the nation. This is clearly an attempt to show that the GOP thinks very little of us. The Wisconsin GOP thinks that we are not paying attention to the fact that they are trying to literally trick us into thinking that he is a good candidate that folks should vote for. We don't believe that, and so our message is you cannot fool us. We see what is happening. We know that this is not a viable candidate for president. Not only does West have Republican operatives helping him, but he has people who are directly connected to the Trump campaign working to get him on the Wisconsin ballot." – David Crowley, Milwaukee County Executive
Whether or not West makes the ballot remains to be seen. His Republican lawyer submitted signatures on his behalf to the Wisconsin Elections Commission minutes after the official deadline. The petitions will be reviewed to determine if the required 2,000 signatures are valid and if West meets all the requirements to get on the Wisconsin ballot. As recently as the race for County Executive, two candidates were invalidated after it was discovered that they had both used the same person to collect nomination signatures.
"What we cannot do is let the Trump administration and his Republican Party distract us from the real issue at hand, which is we need a real leader in the White House. And we need to make sure that we can vote Trump out of office. What they are doing right now is a tactic that Trump has been using since his first race to get elected, and that is to distract us and to deceive us, and to cheat us so that he can get back into the White House. The Republicans and Donald Trump are so desperate that he sent his own personal lawyer to submit signatures to the Wisconsin Election Commission. West is not fit for leadership, just like Donald Trump is not fit for leadership." – Marcelia Nicholson, Milwaukee County Board Chairwoman