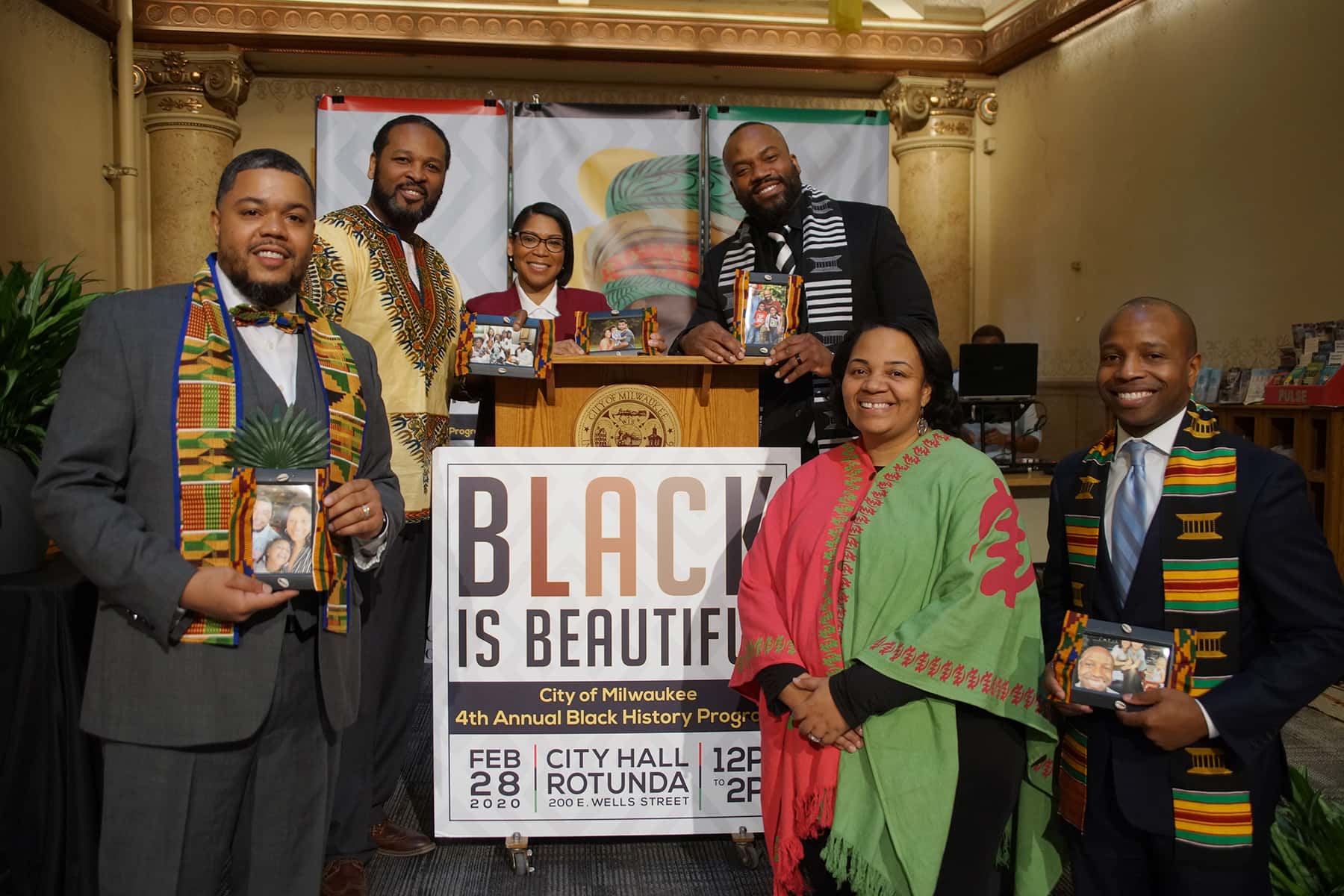 "I am black. I am beautiful. I am intelligent. I am enough! Society doesn't define me. The media does not tell me who I am. I come from overcomers, the true definition of strength and perseverance. Therefore, I will accept nothing less than that for myself."
The City of Milwaukee presented its 4th Annual Black History program on February 28 in City Hall's historic Rotunda. The celebration theme for 2020 was "Black is Beautiful" and featured a program of music, poetry, and recognition that focused on local African-American culture and influential leaders of the community.
"I agree that our goal, and my goal, is to have us be the best city in the country for black people," said Mayor Tom Barrett. "And when we hear talk about looking at problems, I don't want us to just look at problems. I want us to identify problems. And I want us to work to address them. I don't want to just look at anything. To me, looking at stuff is just too passive. What you're expecting out of us, what you're expecting out of your city government, your county government, your state government, your federal government, is action."
The program was hosted by Anita Mogaka of The B.E.E. Narrative, with participation from Common Council Alders Milele A. Coggs, Khalif J. Rainey, Russell W. Stamper II, Cavalier Johnson, Nikiya Dodd, and President Ashanti Hamilton. The event was a culmination of the 29 Days of Milwaukee's Black History initiative. Each day in February the city recognized a prominent person through informational vignettes, presented on the municipal website.
"We chose this event because too often we hear negative statistics about black people in the city of Milwaukee," said Alderwoman Coggs. "So we chose City Hall – the people's house – to be able to display that which is beautiful, that which is great, that which is good about Milwaukee's black community."
Clayborn Benson, III was honored with the Living Legacy Award during the event. He is the founder and executive director of the Wisconsin Black Historical Society and Museum, the only institution in the Wisconsin in the business of preserving the state's African American history. The local institution celebrated its 30th anniversary in 2018. Benson was originally a photojournalist for WTMJ-4 TV in Milwaukee of 30 years.
"Thirty-two years ago, I came to City Hall and said I needed a building where I could share Black culture with our brothers and sisters. Mayor Norquist gave us two builds that were in disarray. But with the help of God and my devotion, we were able to restore those buildings on 27th and Center," said Benson. I'm honored that you would celebrate me with this award. I have stood on the shoulders of many people who have given me an African-centered way of thinking, and my African voice. I stand on their legacy."
The Wisconsin Black Historical Society is based on the premise that a people who know their history will grow to love and appreciate themselves more, and strives to create a bright future out of the heart-breaking past, and its mission is to document and preserve the historical heritage of the African diaspora in Wisconsin.
This audio was recorded live during the program and edited for time. The image collection shares highlights from the event and of those attending. Jada Young, from the Milwaukee Youth Council, delivered a heartfelt poem which is also included.
"You always told me that I'm not black enough, yet my skin is not white enough. No creamer in the coffee. This world was not made for you and I. I come from the same place as you, inside my mother's womb. The only difference between you and I is that the melanin resides in the roots of my skin. And because of that I've been called the N double G ER. But that's okay, since I'm a black person living in America and I just have to get over it.

My mother once told me that black is beautiful, but my mind really wonders if it's really true. We live in a society where sometimes black is not seen as beautiful, because in the media they describe us as ghetto, angry, and uneducated. Just another angry black girl. They steal our culture and make it in some trend, although we've been doing it since the beginning – and we will continue it to the end.

Everybody wants to be black and nobody wants to be black. It's almost as if our value is at zero. So hey, if you don't mind, I'd like my culture back. Where I come from, friends were shot because of the color of their skin, by the people that are supposed to protect us from evil. Most of us don't even get to hear the Miranda Rights, because we're shot to death before we can even say a word. It's almost as if our value was at zero.

But in reality, the good guys are the bad guys who come alive and dehumanize us, because they're scared of what we will say, what we will do, that will take away the power from this superiority. All we want to do is be able to live to 95. It's crazy, right? America, the homeland of the free and brave, the same colors that represent freedom put us back in jail. Mass incarceration, wrongful incrimination, red, white, and blue. It's almost as if our values at zero.

I was taught to be proud of who I am, so Mom and Dad can be proud of me, because I represent and embrace my culture, and my skin. I stand for what's right regardless of what they tell me, because I'm who I am. Mom and Dad, I don't know if I can be proud anymore, because I'm scared of what my life is, for the country we live in, and what it's still becoming. Mom and Dad, give me something better than what this country has ever given me. Because what they're telling me right now, that's not good enough. I need help, Mom and Dad. But I know you can't save me, because in reality black people never had that Disney fairytale ending. But that dream is crazy, because history repeats itself, and the cycle never ends. It's almost as if our value is at zero."

– Jada Young
29 Days of Black History
Throughout Black History Month, several key Milwaukee Black History makers were profiled on the City of Milwaukee website. The prominent online spot gave students and Milwaukeeans across the city a chance to learn about, and to honor, some of the city's notable and unsung heroes.
Mattiebelle Woods
Noted journalist who wrote for many publications centered on the African-American community, including Ebony and Jet magazines and newspapers in Chicago and Milwaukee. Her career at the Milwaukee Courier spanned 40 years. Woods died at age 102 on Feb. 17, 2005, having submitted her last article only a month earlier.
Chief Judge Maxine White
First appointed to the Milwaukee County bench in 1992, Judge White is the first African Woman to serve as Chief Judge of the first judicial district, which is responsible for the administrative, fiscal, and personnel oversight of Milwaukee County Circuit Court and its 47 judges. In January, Governor Evers promoted her to the Wisconsin Court of Appeals, making her the first woman of color to serve there.
Venice Williams
Executive Director of Alice's Garden, an urban farm on N. 21st St. which has existed since 1972. The garden has blossomed through the years to teach food cultivation and preservation to Milwaukee families, and as a neighborhood hub that in addition to vegetable beds, offers yoga classes, a meditation labyrinth, and hosts community events with Williams as its "cultural and spiritual midwife." In 2019 the Common Council honored her with a Frank P. Zeidler Public Service Award.
Dr. Robert M. Davis
In September 2019, Dr. Davis was named the new President and CEO of America's Black Holocaust Museum. A doctor of veterinary medicine, Davis previously was the first African American to hold the position of President and CEO of the Zoological Society of Milwaukee where he had impressive success as a fundraiser.
Roy B. Evans, Jr.
While an undergrad, Mr. Evans was actively involved in multiple student associations such as the Minority Student Alliance where he served as president as well as serving on the Student Senate. Upon graduation, Mr. Evans received the Board of Governors Extra Curricular Achievement Award and went on to further his education where he earned a Masters in Educational Administration from the University of Wisconsin—Milwaukee in the Administrative Leaders Program. During his time at UWM, he worked as a full-time counselor and academic advisor to African-American students in the College of Letters and Science. Mr. Evans was eventually elected President of the Wisconsin Law Alumni Board and for his community involvement was awarded the Legal Education Opportunity Alumni of the Year Award. He has also received the Milwaukee Commission on Community Relations Human Service Award for producing television programs that promoted community awareness.
La Keisha Butler
Municipal attorney for the City of Milwaukee who in 2018 was appointed Executive Director of the Fire and Police Commission, the first African-American woman to hold that position.
Kristen D. Hardy
An attorney currently working as in-house legal counsel at Briggs & Stratton Corp., a position she also held at Rockwell Automation. Hardy has also served as president of the Wisconsin Association of African-American Lawyers (WAAL) and is a board member of the Milwaukee Bar Association.
Judge Valarie A. Hill
First elected to the Milwaukee Municipal Court in 2004, Judge Hill was the first African-American woman to spearhead the "Warrant Withdrawal Wednesdays" program in 2016 as a way for citizens with outstanding warrants to see a judge and address their legal issues without fear of arrest.
Dr. Joan M. Prince
Vice Chancellor of global inclusion and engagement at the University of Wisconsin-Milwaukee. Dr. Prince was the first African American recipient of a Bachelor's Degree in Medical Technology and Masters in Clinical Laboratory Sciences at UWM where she also earned a doctorate in urban education. Along with leadership positions in education, medicine, and within civic groups, Prince served as an alternate representative to the United Nations during the Obama administration, and is currently a board member of the Milwaukee Host Committee for the Democratic National Convention.
Elizabeth M. Coggs
Daughter of trailblazing politicians Isaac and Marcia Coggs, Elizabeth carried on her family's tradition of public service, first on the Milwaukee County Board from 1998-2008 and then in the Wisconsin Assembly.
Ezekiel Gillespie
In 1866, Gillespie won a landmark case when the WI Supreme Court unanimously ruled that African-American men had the right to vote, making Wisconsin one of the first states to grant suffrage to men of African descent. In fact, the legislature had passed a law to that effect in 1849, subject to referendum. The results of the referendum were disputed and black voters were disenfranchised until the Supreme Court's ruling over a decade later.
Cecelia Gore
The First African American Women to become the Executive Director of the Brewers Community Foundation. The official charitable entity of the Milwaukee Brewers provides financial support to nonprofits that provide quality programming in the areas of health, education, recreation and basic needs, with a particular focus on low-income and disadvantaged youth and their families.
Gregory Stanford
One of Milwaukee's African-Americans making history as a journalist who had a long career at the Milwaukee Journal and Journal Sentinel, first as a reporter, then as an editorial writer and columnist for 19 years before retiring in 2007. He often wrote about racial segregation and other social justice issues, and in the 1970s he and Joanne Williams organized the Wisconsin Black Media Association, a local chapter of the National Association of Black Journalists.
Kathy Thornton-Bias
President and CEO of Boys & Girls Clubs of Greater Milwaukee, Thornton-Bias is just the second woman (and first woman of color) to lead the organization since it was founded by Annabell Cook Whitcomb in 1887.
Baldwin Florists
First African American floral shop in Milwaukee, established in 1983, located at 3825 N. Teutonia Avenue.
Dana World-Patterson
The First African-American woman in the country to be CEO of Foundations for Freedom, a Milwaukee organization that works with area women and girls at risk of being caught up in human trafficking. She is also chairwoman of the Human Trafficking Task Force of Greater Milwaukee.
Reggie Moore
Stepped into a newly created position in the City of Milwaukee as the first African American to hold the position of Director of the Office of Violence Prevention. Moore is also the founder and former Executive Director of the Center for Youth Engagement, a local service agency for under-served youth.
John Ridley IV
Born in Milwaukee, Ridley is one of Milwaukee's finest when it comes to creating film and television. The director and screenwriter, who won the Academy Award for Best Adapted Screenplay for the film "12 Years a Slave," is also a novelist, whose book "Spoils of War" was adapted into the film "Three Kings."
Louis Hughes
Author of the 1897 memoir "Thirty Years a Slave: From Bondage to Freedom," which was published in Milwaukee, Hughes is considered to be Milwaukee's first African-American author. He lived in Milwaukee for over 40 years working in the local hotel industry.
JoAnne and Maanaan Sabir
Making history in Milwaukee as the first African-American husband and wife owners of The Juice Kitchen juice bar located in the Lindsay Heights neighborhood. JoAnne is also co-developer of the Sherman Phoenix, a new business and wellness hub in the Sherman Park neighborhood.
John H. Givens III
In the 1960's, Givens was the co-founder and chair of the city's CORE—Congress of Racial Equality, and also was active with the Youth Council and NAACP. In 1965, CORE won a case in the WI Supreme Court which ruled that protestors had a right to demonstrate peacefully without being arrested and charged with disorderly conduct. In 1968, Givens accepted Mayor Maier's offer to join his staff and head the Model Cities program, which secured federal funds to build and rehab housing units and make other public improvements.
Melissa Goins
The first African American woman in Milwaukee to be a development founder as President of Maures Development Group, LLC and has served as Vice-President of J. Jeffers & Co. Notable building projects that she has overseen include The Griot Apartments/America's Black Holocaust Museum and the Mill Road Library redevelopment.
Bernice Lindsay
Community activist who lived in Milwaukee from the late 1920s until her death in 1985. She was often referred to as "the mother of the black community," and was an original member of the Milwaukee Commission on Human Rights formed in 1944. The Lindsay Heights neighborhood was named in her honor.
Martha "Mama" Freeman
Beloved community activist in the historic Garden Homes neighborhood where she has lived since 1969 and is seen as a mother to that community by the local residents. She retired from Milwaukee County after working for 20 years at the Milwaukee County House of Correction.
Sharon Jordan
Serves as a pioneer paving the way as the first to serve as the Community Relations Director at Direct Supply in Milwaukee. She serves on the board of the Havenwoods Economic Development Corporation, and is the current Secretary of the Board of Directors for Community Advocates.
Preston Cole
Held several leadership positions with the City of Milwaukee, most recently as Commissioner of Neighborhood Services. He is currently the first African American to serve as the Wisconsin Secretary of Natural Resources, and was a previous Chair of the State Natural Resource Board and the first African American elected to that position.
Faithe Colas
Colas' 30-year career in media and public relations began with the Milwaukee Courier and continues today as she hosts the weekly radio talk show "There's Always Something Good to Talk About." In 2019, she joined the Milwaukee County Sheriff's Office as director of public relations and community engagement.
Robert Pyles
Owner of numerous McDonald's franchises and one of the largest African American employers in Wisconsin. He began Magnolia Realty in an effort to help his employees find nearby affordable housing, and serves as a minister at Abundant Faith Church of Integrity.
Dr. Debbie Allen
PhD in Business Administration, and owned and operated several local McDonald's restaurants, established DNA Network — a local consulting firm for female entrepreneurs, has appeared on the "Project Pitch It" television show and more.