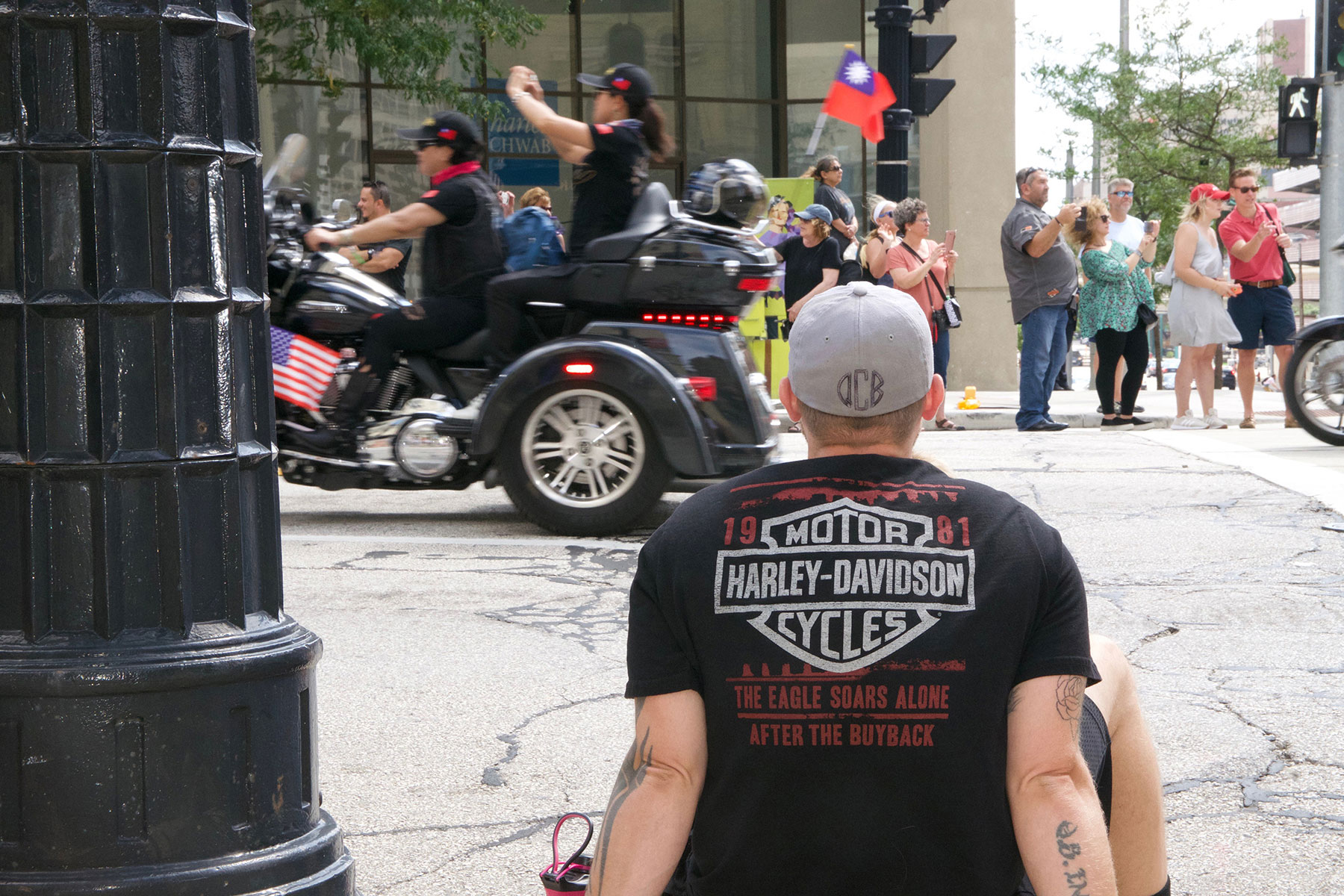 Over the last week of August, I heard many people bemoaning the fact that thousands of Harley-Davidson riders would be descending on Milwaukee for the Memorial Day weekend.
When they descended into town, some roads became congested and some people couldn't sleep well from the noise. The riders swooped into our gathering place by the Lake in a swarm of leather and orange.
Since Harley-Davidson's 90th anniversary in 1993, motorcyclists from all around the globe have made "The Ride Home" every five years to the city where twenty-somethings William S. Harley and Arthur Davidson designed their first "motor-bicycle" at Henry Melk's home workshop on Chambers Street in the North Division neighborhood.
What I discovered during this 115th anniversary celebration, when I took my camera to the Moto-Carnival at Veterans Park on August 31 and the Wisconsin Avenue parade on September 2, was indeed boisterous and noisy. But the more than 6,000 riders from all around the world were also joyous, friendly, and polite.
At Veterans Park, the Urias Family Daredevils from Brazil rode in a 16-foot steel sphere. Riders gawked at their bikes, took selfies in front of the ferris wheel, and consumed giant turkey legs.
During the parade, participants waved flags from Indonesia, Brazil, Mexico, and other countries alongside the red, white, and blue of America. The riders were appreciative of the crowds who had gathered on a humid, sunny day for their homecoming.
It was at the parade, especially, where I realized that the diversity of Milwaukee was represented: young and old, men and women, black, brown, and Asian. It didn't matter who they were, they were out to see – and hear – those bikes.
The diversity from both those on the street and on the sidelines was part of the attraction of this anniversary parade for me. Individuals don't even have to be a Harley-Davidson rider, owner, or motorcycle enthusiast to gather together, sit side-by-side, and watch a parade that celebrates the freedom and camaraderie of the open road – a freedom of expression and the freedom to choose your tribe.
At the Harley-Davidson parade, all of Milwaukee had a chance to escape the drudgery of our lives and real struggles for a few hours and drown them – literally – with an engine roaring 80 decibels.