World-renowned art duo HYBYCOZO brings "Lightfield" sculptures to Milwaukee for immersive experiences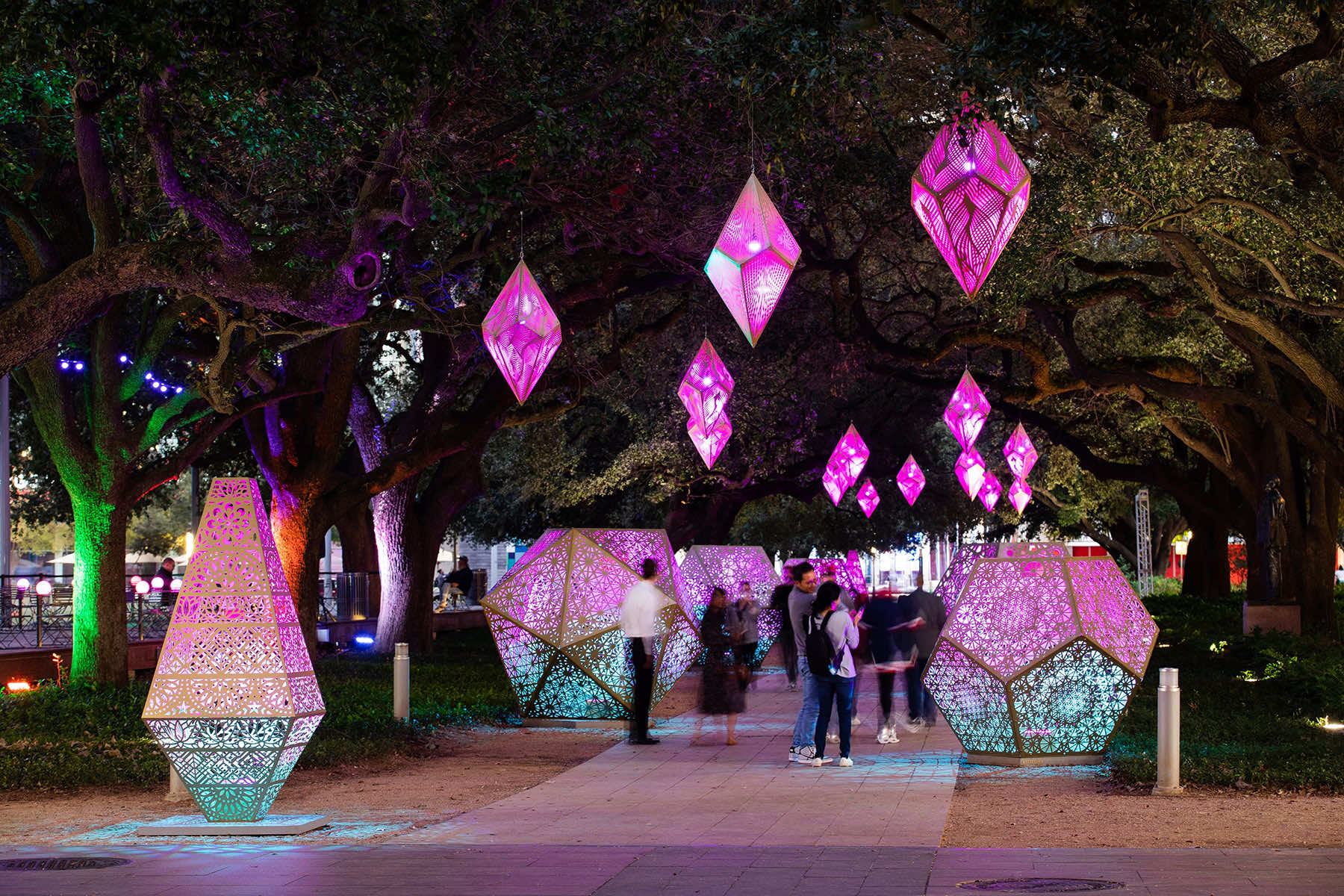 Downtown Milwaukee will welcome a new geometric art installation to Cathedral Square Park.
"Lightfield" by HYBYCOZO presented by Johnson Financial Group will transform the area into an immersive public art installation featuring the work of Ukrainian and Canadian artist duo HYBYCOZO. "Lightfield" by HYBYCOZO will be a free experience, open to the public January 19 to May 5, 2023.
Coordinated by Milwaukee Downtown BID #21 as part of their public art initiatives, this multicolored, large-scale art display will feature eight ground sculptures and 16 hanging lanterns suspended from the park's trees.
The work invites the viewer to explore the intersection of art and mathematics, a theme which has inspired the artists Yelena Filipchuk and Serge Beaulieu in their collaborations. The pair have permanent public artworks around the world, from Dubai to Istanbul and Las Vegas to New Zealand.
"Our goal is to make Downtown Milwaukee public spaces more vibrant, walkable and inviting year-round for employees, residents, and visitors through public art and activation," said Beth Weirick, CEO of Milwaukee Downtown BID #21. "'Lightfield' by HYBYCOZO will bring a fabulous splash of color to our Downtown over the winter months and provide educational opportunities for some of our younger guests."
Throughout the installation, free programming opportunities will be available to guests, including hot chocolate and s'more roasting nights. In addition, HYBYCOZO offers youth educational materials for parents and teachers to explore the intersection of art and mathematics.
"The fact that this exhibition is both beautiful and educational is exciting for us," said Jim Popp, president and CEO of Johnson Financial Group. "Johnson Financial Group is committed to enhancing the communities we serve and that includes efforts to inspire creativity in learning. We're thrilled to welcome this world-renowned installation at the doorstep of our Cathedral Square location."