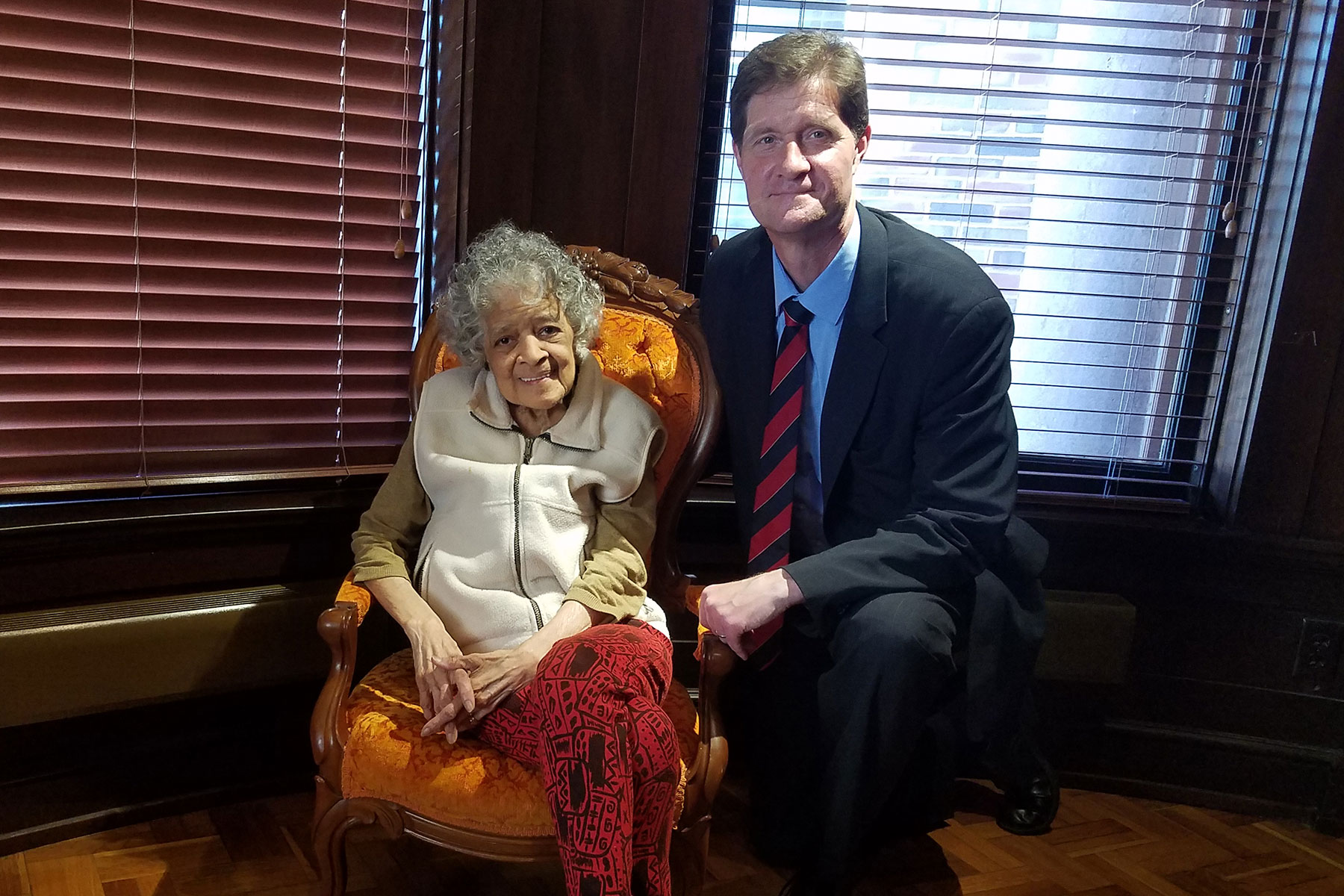 Former Wisconsin Secretary of State Vel Phillips, a legendary civil rights leader who was the first and only African American elected to a statewide office in Wisconsin, recently announced her endorsement of John Chisholm for reelection as Milwaukee County District Attorney.
"John Chisholm has dedicated his career to serving justice, and he has my full support," said Secretary Phillips, who also served as a Milwaukee alderman and judge, breaking barriers as a Black woman attorney. "John works every day for the victims of crime, and is also a strong advocate for the victims of generational poverty, substance abuse, and mental illness. His reforms have reduced the number of African-American men incarcerated from Milwaukee County, and he has advocated consistently for effective and humane alternatives to incarceration in our state juvenile justice system."
"I am honored to receive Vel Phillips's endorsement," said Chisholm. "As an attorney, alderwoman, judge, and Secretary of State, she fought against institutional racism and demonstrated tremendous physical and moral courage in her struggle for justice. Secretary Phillips is admired for her investment in the lives of young people and I will honor her trust in me by continuing to fight for our youth, seeking solutions rooted in the needs of our community."
Phillips is the latest endorsement in a growing list of supporters of Milwaukee County District Attorney John Chisholm's re-election campaign.
U.S. Congresswoman Gwen Moore
"John Chisholm has worked tirelessly for a decade to keep our community safe and to advocate for sensible criminal justice reform," said U.S. Congresswoman Gwen Moore. "John has especially led the way in making Milwaukee County more responsive to the needs of families who experience violence by championing the Sojourner Family Peace Center. Because of our shared efforts, Milwaukee now is a national model for how we should address comprehensive treatment of families exposed to domestic violence."
Milwaukee County Executive Chris Abele
"I am proud to endorse District Attorney John Chisholm," said Milwaukee County Executive Chris Abele. "John has led the charge in reforming the way our county handles criminal justice. He has been essential to helping us get smarter on crime, while making sure we are doing everything we can to keep our citizens safe.
Milwaukee Mayor Tom Barrett
"John Chisholm is a dedicated, diligent criminal justice professional," said Milwaukee Mayor Tom Barrett. "He is committed to developing and implementing innovative solutions that continue to make our city a safer, stronger community. He continues locking up the bad guys while working every day to break the cycle of violence and incarceration. John works tirelessly to reform our system into one that works for all citizens of Milwaukee County, and is known across the nation as a leader who other prosecutors look up to. For years, John and I have worked side by side as we have fight to keep illegal firearms out of the wrong hands and reduce violence in the streets of Milwaukee," continued Barrett. "He is a devoted advocate for survivors of human trafficking and domestic violence, and has a proven record of winning cases and locking up dangerous criminals time and time again. John Chisholm is the best choice for Milwaukee County in the August 9 election. I am proud to endorse him, and I urge my fellow citizens to join me in supporting his candidacy."
Democratic Party of Milwaukee County
"John Chisholm has been a leader, a reformer, and a dedicated public servant for the last decade," said Robert Hansen, Chair of the Democratic Party of Milwaukee County and an elected member of the City of Greenfield School Board. "The Democratic Party is proud to stand with John, who fights every day to create a criminal justice system that works for all citizens and to hold accountable those who violate the public's trust."
"District Attorney John Chisholm has the necessary experience as a criminal prosecutor," said Martha Love, former chair of the Democratic Party of Milwaukee County. "He understands that we need to lock up dangerous criminals at the same time we are trying to break the cycle of violence by trying to prevent crime in our communities, help victims of domestic violence and human trafficking, get guns off our streets, and treat people suffering from drug and alcohol addiction. "District Attorney Chisholm has worked tirelessly for more than 20 years to keep the citizens of Milwaukee County safe, while respecting our rights and our humanity," said Marlene Ott, former chair of the Democratic Party of Milwaukee County. "In this August's Democratic primary, John Chisholm is the candidate that has rightly earned our Party's endorsement."
Under Chisholm's leadership, the office of the District Attorney has a 95% conviction rate in homicide cases, and has also championed community prosecution and alternatives to incarceration that break the cycle of prison, treat drug & alcohol addiction, and save taxpayer dollars. Chisholm has held public officials of both political parties accountable, and charged dozens of police officers with misconduct or crimes during his 10 years as the District Attorney. He has focused on effective prosecution of domestic violence cases and ensuring families have the services and support they need.
District Attorney John Chisholm, a veteran of the United States Army, was first elected in 2006. He has been very active in the community and serves on several local and national boards, including serving as past chairman of the Safe & Sound board of directors, the High-Intensity Drug Trafficking Area board, the Homicide Review Commission, and the Association of Prosecuting Attorneys. Chisholm was also a member of Governor Doyle's Racial Disparity Oversight Commission and is a member of the Harvard Executive Session on Community Corrections.
Chisholm was born in Milwaukee and is a graduate of Marquette University High School, Marquette University, and the University of Wisconsin Law School. He lives in Milwaukee's Bay View neighborhood with his wife, Colleen, and teenage son, Ted. The Democratic primary election is Tuesday, August 9, 2016.