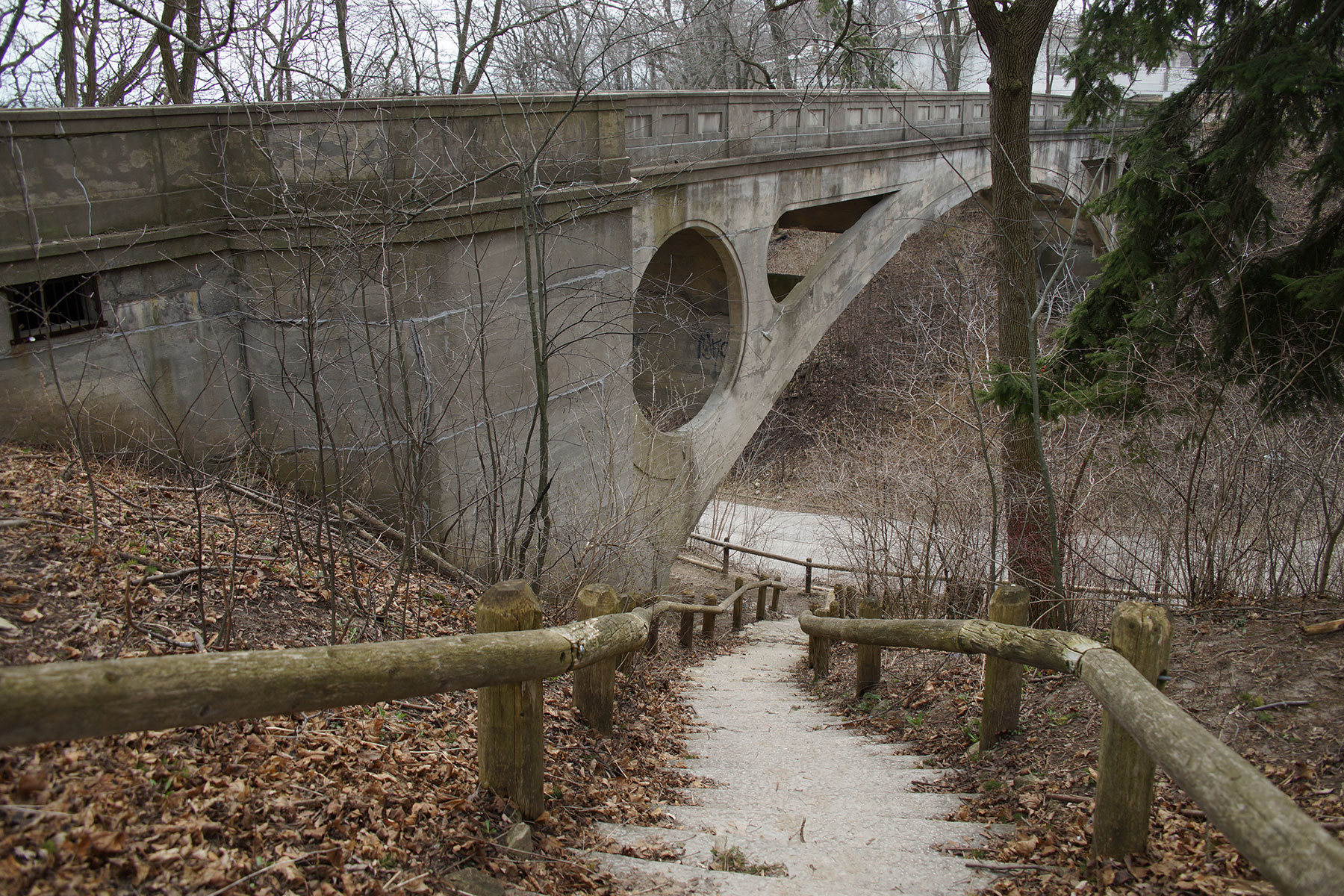 The debate about preserving the elegant Ravine Road Bridge in Lake Park deserves the attention of every concerned citizen.
Milwaukee County officials want to demolish the iconic bridge without the evaluation required by the National Register of Historic Places. Both the bridge and Lake Park are listed in the National Register. The caprice and expediency by which its removal is being pursued should be a concern to all citizens who care about Milwaukee County's historic park. Whether you are a bicyclist, runner or weekend wanderer, the integrity of your park system is at risk.
And this is not just any ordinary park system.
Milwaukee is one of a handful of cities with a network of complementary parks designed by Frederick Law Olmsted, the great landscape architect and co-designer of Central Park. Other Olmsted park systems are in Brooklyn, Boston, Buffalo, Louisville and Rochester, New York. His sons' legacies are showcased in systems from Baltimore to Seattle.
The City of Milwaukee's selection of Olmsted in 1889 to design several of its first major parks demonstrated far-sighted commitment to civic excellence in park planning and public access to sites of recreation and scenic beauty. In addition to Lake Park, Olmsted master-planned Riverside and Washington parks and Newberry Boulevard. The high expectations established by Olmsted for sustainability and innovation in Lake Park were continued by his sons, "Olmsted Brothers, Landscape Architects," well into the twentieth century. Olmsted's hallmarks – blending beauty and utility, conservation and access – are exemplified in Ravine Road Bridge's design.
Designed in 1905 by renowned Milwaukee architects George Bowman Ferry and Alfred C. Clas the bridge is an extraordinarily graceful example of Modernist design and technical prowess. According to a Wisconsin Department of Transportation report, it is possibly America's first concrete arch bridge using the Kahn trussed-bar system of reinforcement—later an industry standard in structural engineering.
In many ways the debate unfolding over Ravine Road Bridge is nothing new in the history of America's great public parks. Olmsted himself had to fight battles to protect the integrity of parks he designed from unscrupulous and thoughtless actions. In an 1870 address he placed himself on record as not "opposing or undervaluing the advantages of public discussion." However, he made clear the "danger that public opinion may be led" by individuals seeking expedient solutions to "overrule the results of more comprehensive and impartial study."
This brings us to the public debate surrounding Ravine Road Bridge today. I do not suggest that Lake Park's bridge must be preserved without careful considerations to cost and viability. However, I do object to county leaders' refusal, thus far, to authorize an impartial evaluation of all potential repair options by an engineering firm with experience in preserving historic structures. Only a reputable engineering firm with experts trained in assessing the structure of historic bridges can ascertain if, and how, the Ravine Road Bridge could be effectively preserved.
I have worked with significant historic bridges from New York to Hawaii. After fully addressing concerns by local officials about safety and cost, qualified historic-bridge engineers developed solutions to maintain those bridges' structural and historical integrity. Each remains a cherished treasure today—and the repairs cost less than a comparable replacement. The Ravine Road Bridge is already one step ahead in this process. In 2016 the City of Milwaukee's Historic Preservation Office thoroughly documented the historical relevance of this bridge and park in an excellent report: Ravine Concrete Arch Footbridge at Milwaukee Lake Park: ​A Cultural Heritage Assessment Study and Report.
Moreover, in an era of tight budgets, it's concerning that Milwaukee County does not intend to seek federal grants (for which this bridge is eligible) that could finance 80 percent of the project. If officials do not comprehend the value of retaining this historically significant bridge and park, or seek available funding for its preservation, it's up to citizens to demand that public stewards look out for Milwaukee's park users and the integrity of the city's Olmsted parks.
Due diligence requires that county leaders engage in an objective analysis of all potential preservation solutions before determining the fate of this important structure. Then, and only then, can the community make an informed decision about the Ravine Road Bridge in Olmsted's great Lake Park.
Signed: Paul Daniel Marriott, on behalf of the National Association for Olmsted Parks.
Paul Daniel Marriott, PhD. is a member of the Board of Trustees for the National Association for Olmsted Parks. A Washington, D.C.-based landscape architect, Marriott is also a widely-published author specializing in historic roads. The National Association for Olmsted Parks (NAOP), established in 1980, is a coalition of design and preservation professionals, historic property and park managers, scholars, municipal officials, citizen activists, and representatives of Olmsted organizations around the U.S. Its concern is the legacy of landscape work left by Frederick Law Olmsted Sr. and the firm continued by his sons. NAOP is the only national organization solely dedicated to preserving this legacy by providing the advocacy, research, and education needed to protect, restore, and maintain these exemplary parks and landscapes.