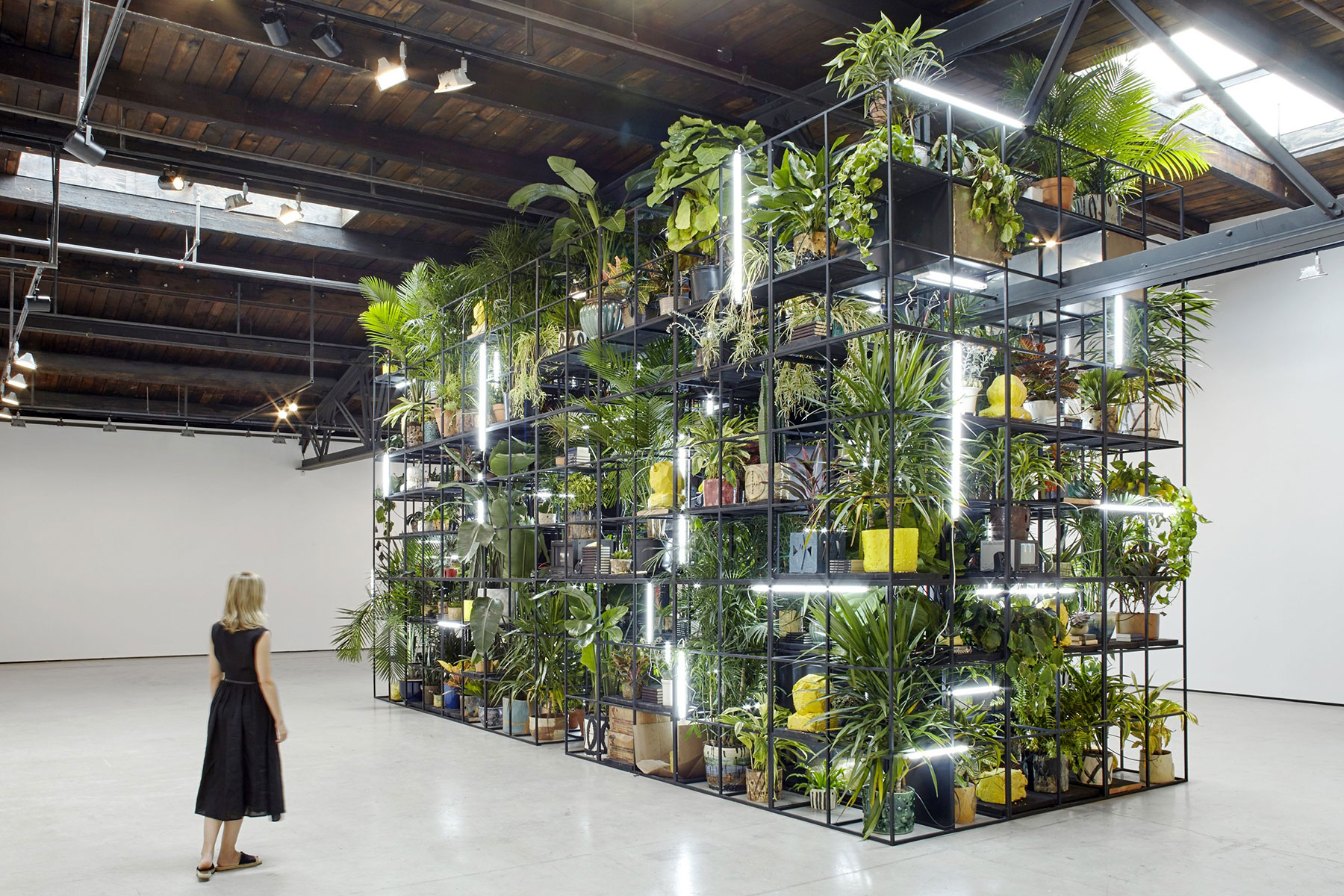 "Hail We Now Sing Joy" on view at the Milwaukee Art Museum June 23 to September 17, presenting new paintings and sculptures from Chicago-born artist Rashid Johnson.
The exhibition features 14 large-scale works that will fill the Museum's entire feature exhibition space. Using his signature materials of white ceramic tile, red oak flooring, shea butter, black soap, and wax, Johnson examines themes of race, history, yearning, anxiety, and escape and investigates the relationship between art, society, and personal identity.
"Rashid Johnson's work is on everyone's radar right now as he tackles contemporary issues, including the complexities of living as a black American, that are especially important in today's political and cultural climate," said Margaret Andera, the Museum's curator of contemporary art. "Hail We Now Sing Joy gives visitors the unique opportunity to see a significant body of work from one of the current generation's most celebrated artists."
Antoine's Organ, the largest of the artist's architectural grid installations ever shown in the United States at over 10 feet tall, is the first work Museum visitors will encounter. The monumental lattice of black scaffolding is filled with signifying objects, including books, televisions showing Johnson's older video work, live plants and mounds of shea butter, which fill the space with a pleasant and recognizable aroma. Within this environment inspired by the African diaspora is an upright piano that musicians will play at scheduled times throughout the exhibition's run.
Three series comprise the rest of the exhibition, including Anxious Audience, large-scale panels of white ceramic tile covered—except for a few curiously empty spaces—with dozens of agitated faces scrawled in black soap and wax. In the new Falling Men series, inverted figures fall through the air; they recall the pixelated animations from video games that Johnson played as a youth and can be interpreted as flying heroes or as chalk outlines from crime scenes.
Lastly, the Escape Collage paintings consist of large-scale vinyl images of lush tropical environments atop a modernist tile surface. For Johnson, when he was a child in Chicago, the image of a palm tree invited daydreams about success and manhood: "As a kid I remember thinking that if you could actually live in a place with palm trees, if you could get away from the city and the cold, that meant you'd definitely made it." The collages are some of Johnson's most complexly layered works and introduce an expanded palette to his practice.
Informing all of Johnson's work, including the materials he uses, from shea butter and black soap to the books in Antoine's Organ (Paul Beatty's The Sellout, Deborah Dickerson's The End of Blackness, and Richard Wright's Native Son), is Afrocentrism and the artist's own experience as a black man in America. Johnson was represented in the 30 Americans exhibition at the Milwaukee Art Museum in 2013.