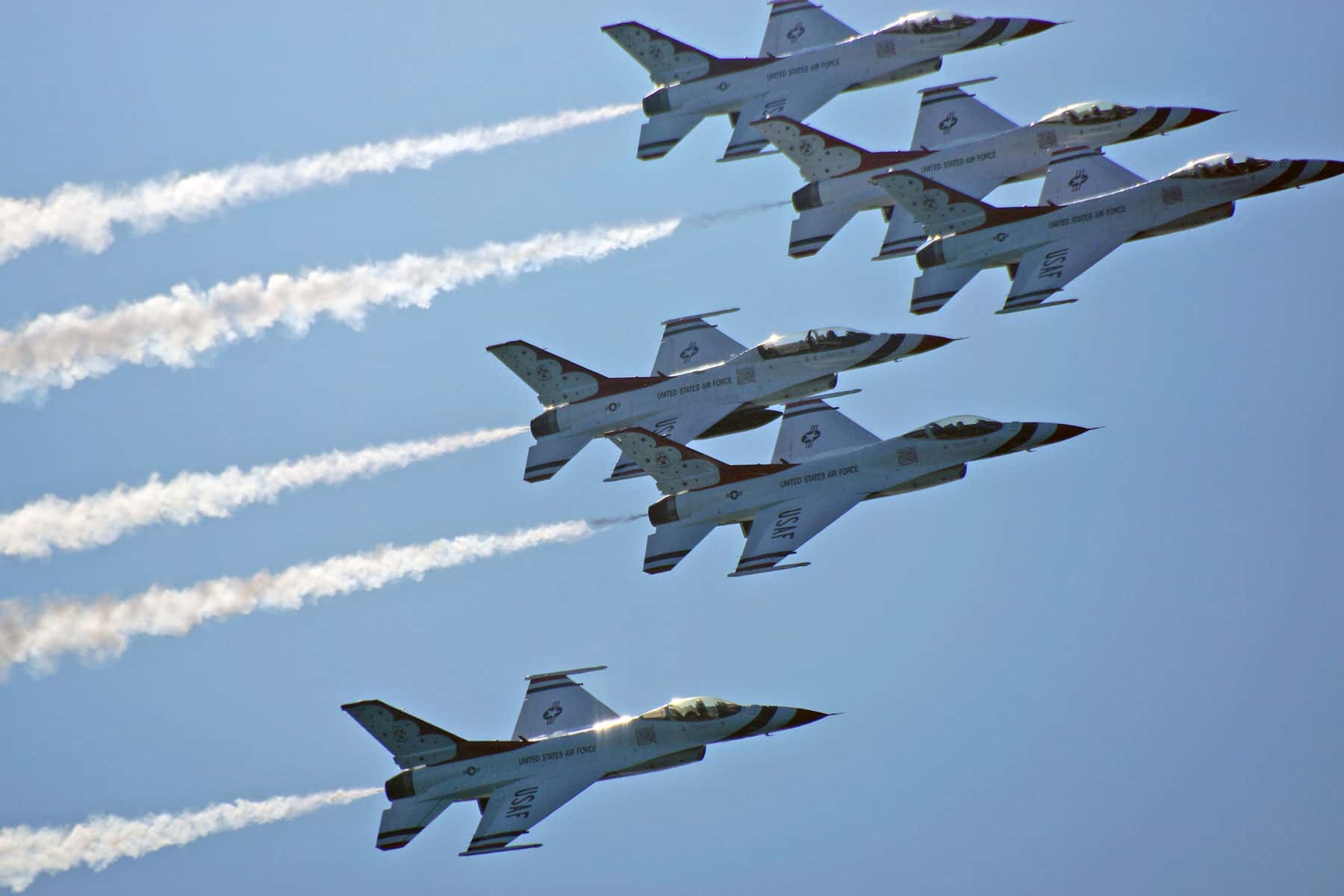 Local bank announces title sponsorship of 2017 Milwaukee Air & Water Show for July 15-16, 2017, featuring U.S. Navy Blue Angels.
WaterStone Bank announced in a news conference on September 21, held at The Pfister Hotel in downtown Milwaukee, that it is signing on as the title sponsor of the 2017 Milwaukee Air & Water Show, bringing Wisconsin's largest free event back to Milwaukee's waterfront after a year-long hiatus. The Milwaukee Air & Water Show, featuring the return of the U.S. Navy Blue Angels, will be held July 15-16, 2017, according to organizers.
In February 2016, Milwaukee Air & Water Show organizers announced the 2016 show was postponed due to conflicting show and booking schedules, as well as insufficient funding. WaterStone Bank quickly stepped up to support the popular show in 2017 after learning of the postponement.
"WaterStone Bank is honored to sponsor the return of the Milwaukee Air & Water Show," said Doug Gordon, president and CEO of WaterStone Bank. "This event provides our residents a family experience second to none and displays our wonderful community to visitors from throughout the state. It is also an opportunity for us to honor and promote our esteemed armed forces. We are thankful for the opportunity and commend the Milwaukee Air & Water Show's board of directors for resurrecting this iconic event."
Philip K. Vollrath, chairman of Milwaukee Air & Water Show's board of directors, thanked WaterStone for supporting the show's mission and helping to bring back one of the state's largest events.
"The 2016 show was missed by many, and because of WaterStone Bank, residents and visitors can anticipate a thrilling show in 2017," Vollrath said. "For nearly 15 years, the world-class Milwaukee Air & Water Show has provided free family-fun entertainment and support of our armed forces. Each year the air show provides education and inspiration for future generations for careers in aviation, technology and the armed services."
Milwaukee Air & Water Show organizers previously announced in February that the U.S. Navy Blue Angels would be returning as the main headliner in 2017 if proper funding was secured. The Blue Angels' six demonstration pilots fly the F/A-18 Hornet at over 34 locations throughout the U.S. each year, where they still employ many of the same practices and techniques used in their aerial displays when formed in 1946. The Blue Angels last performed in the Milwaukee area in 2010, as the 2014 visit was postponed due to weather-related unsafe flying conditions.
Next year's air show will also include a world-class lineup of military and civilian performers to be announced in the coming months. The show, which draws nearly 400,000 people to Milwaukee's lakeshore every year, has a significant economic impact on the city and provides the community with a meaningful connection to the military.
About The Milwaukee Air & Water Show
The Milwaukee Air & Water Show, unlike other forms of entertainment, is unique in Milwaukee's history and provides affordable, wholesome entertainment for the entire family. From its grassroots beginnings in 2002, the air show has grown into Wisconsin's largest free event, providing a substantial economic impact to Milwaukee's local economy. The Milwaukee Air & Water Show is Milwaukee's masterpiece of sound and color that showcases the role of aviation in the community, the history of air power, provides a forum for educating young people about aviation, and encourages the natural excitement these upcoming generations have for flight.
About WaterStone Bank
WaterStone Bank, established in 1921, offers a full suite of personal and business banking products. The community bank has branches in Wauwatosa, Brookfield, Fox Point, Franklin/Hales Corners, Germantown/Menomonee Falls, Greenfield, Oak Creek, Oconomowoc/Lake Country, Pewaukee, Waukesha/Brookfield and West Allis, Wisconsin along with a commercial lending branch in Minneapolis, Minnesota. WaterStone Bank is the parent company to Waterstone Mortgage, which offers mortgage banking offices in 21 states.