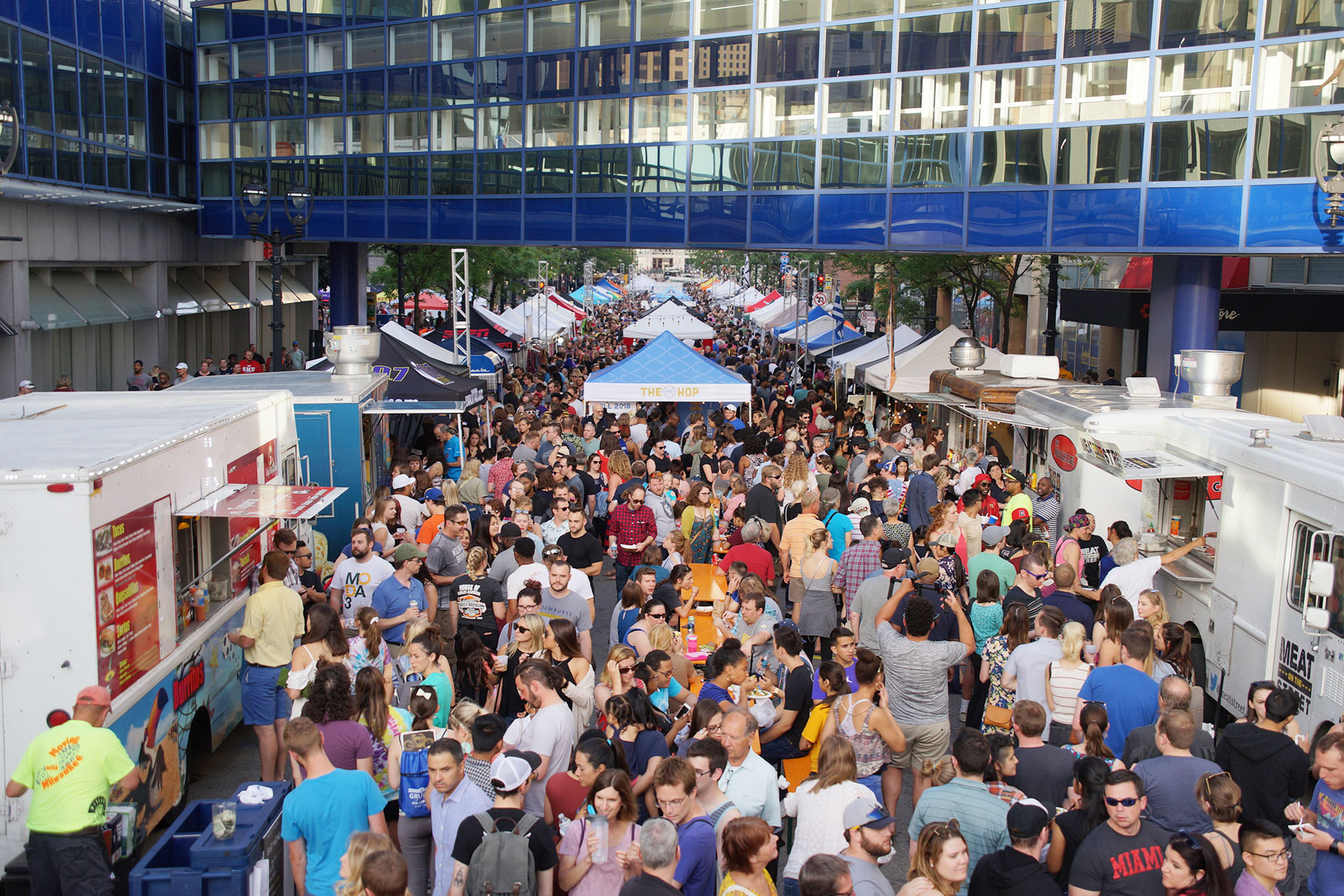 NEWaukee announced the economic impact of the 2018 NEWaukee Night Market to the City of Milwaukee, its businesses, and citizens. Held monthly during the summer, the free outdoor event showcases a variety of local Milwaukee vendors, performers, and artists.
The Night Market transforms the heart of downtown into an exciting fusion of all the city has to offer. In 2018, it generated an economic impact of $8.6 million for local Milwaukee businesses.
"The fifth season of the Night Market was the biggest and best yet," said Angela Damiani, CEO and co-founder of NEWaukee. "The Night Market has grown to become a fixture of the Milwaukee summer festival lineup, and we feel really grateful to be able to showcase what makes this city so special."
The economic impact of the 2018 NEWaukee Night Market accounts for approximately 60,000 attendees throughout the summer, bar sales, vendor revenue, event production costs, and staff time. In addition, the 2018 NEWaukee Night Market featured 170 unique vendors, 29 sponsors, and 16 performances from local art organizations.
"NEWaukee's growing success with the Night Market stretches beyond the millions of dollars it generates for local business and entrepreneurs, which in itself is so significant," said Matt Dorner, Economic Development Director for Milwaukee Downtown. "The cross section of different people from all across the city and region that collect for the event proves that Wisconsin Avenue is truly re-emerging as Milwaukee's main street."
NEWaukee founded the Night Market in the summer of 2014 with the goal of creating a safe and interactive place in downtown Milwaukee for people to experience culture at night. After five seasons, the NEWaukee Night Market remains a vibrant event with experiences for people of all backgrounds and ages. The 2018 NEWaukee Night Market took place on West Wisconsin Avenue from 5 to 10 p.m. on June 13, July 11, August 15, and September 12.
NEWaukee is a social architecture firm that specializes in community-based signature experiences centered on high-profile issues of importance for the city of Milwaukee.