Historic renovations continue to revitalize Harambee neighborhood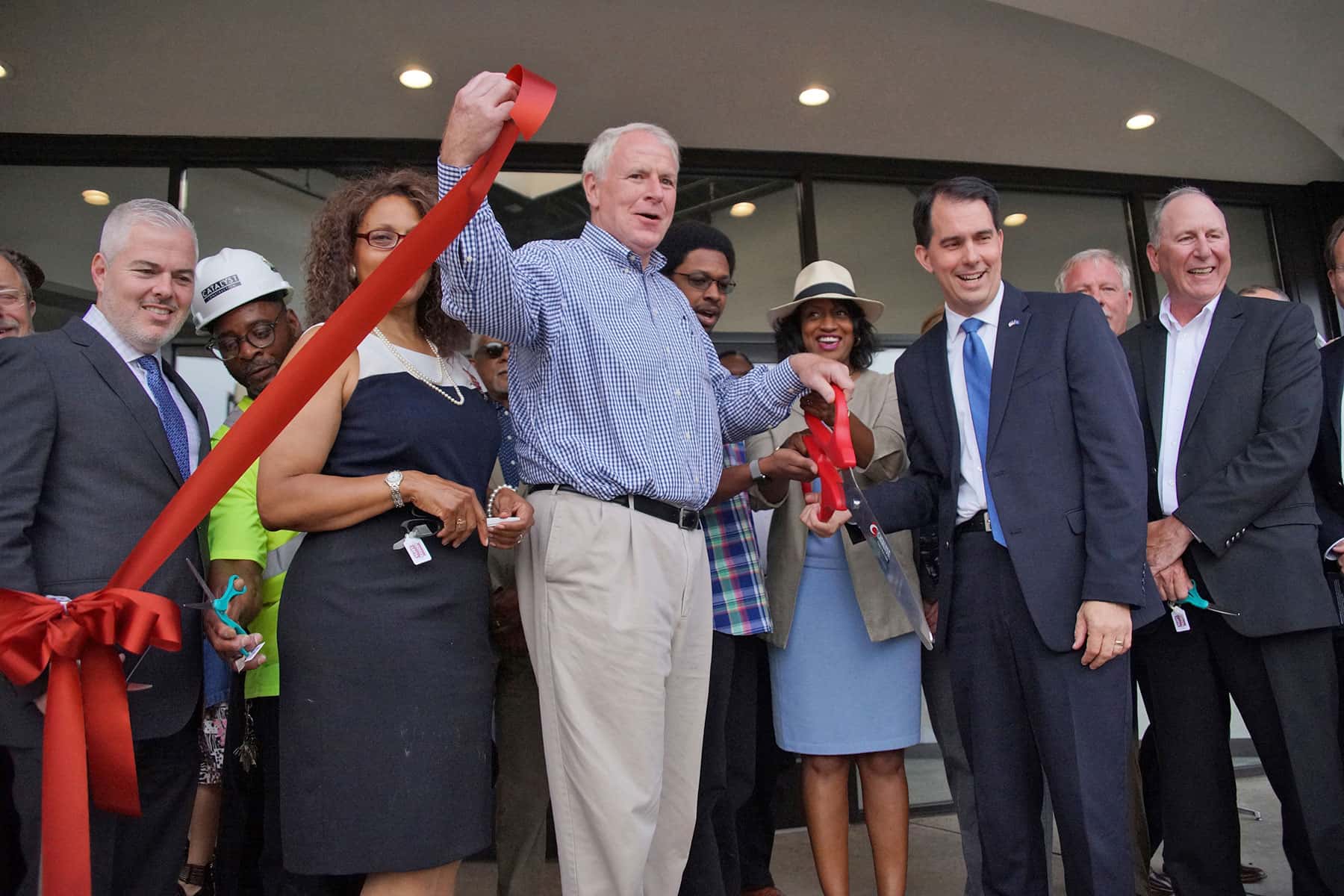 When the late professor and community real estate developer, Welford Sanders, finally signed the paperwork to acquire the former Nunn Bush Shoe Factory after many months of negotiation, he did not know it would be his last of many successful commercial and housing redevelopment projects along Dr. Martin Luther King Drive on Milwaukee's north side.
On October 9, neighbors, investors, and civic leaders gathered for a duel ribbon cutting to celebrate the renovation of the shoe factory, now named for its visionary leader, Welford Sanders, and the adjoining property, the historic Fifth Street School, developed by Gorman and Company.
Together, the Welford Sanders Historic Lofts & Enterprise Center and Fifth Street School Apartments provide 107 new affordable housing units with impressive amenities and services for seniors, veterans and job seekers. Both projects are historic renovations which honor the rich history of the Harambee neighborhood and its leaders, while looking to the future of revived economic growth for the neighborhood.
"Many components make up a community. History, commerce, and landmarks are all part of what defines a neighborhood. The most important component, though, is people," Mayor Tom Barrett said. "With this ribbon cutting, we are celebrating the people who made these projects possible, and the people who will call these buildings home."
Welford Sanders was a beloved professor who taught urban planning at the University of Wisconsin-Milwaukee, and served as the Executive Director of the Martin Luther King Economic Development Corporation ("MLKEDC") for over 15 years.
Sanders was known for his methodical and persistent approach to neighborhood revitalization which, over time, included a portfolio of 193 affordable housing units, and 63,800 square-feet of retail and office space, with a total development cost of over $60 million. He was also known as a humble man, who took time to stop and talk with residents, students, and colleagues. Sanders passed away unexpectedly in May of 2015, just months before the Nunn Bush Shoe Factory deal had closed.
"My father would be pleased to see his vision fulfilled in such a remarkable way, and to know that many will benefit now, and in the future," said Dawn Sanders, daughter of the late Welford Sanders.
Welford Sanders Historic Lofts & Enterprise Center, located at 2812 N.5th Street and 2821 N. Vel Phillips Avenue in Milwaukee is a $21 million historic renovation of a 190,000 square foot industrial historic building built in 1916 as a Nunn Bush shoe factory. The building secured Historic Rehabilitation Tax Credits, and construction started in February 2017. Welford Sanders Lofts & Enterprise Center features 59 housing units with indoor parking and other amenities, as well as 38,000 sf office space leased to tenants involved in eliminating barriers to employment thorough job training and other support services. The project is a joint venture between MLKEDC and Wisconsin Redevelopment.
"When we learned that the former Fifth Street School was available for redevelopment, Gorman & Company was eager to contribute. These historic MPS schools present a perfect opportunity to create high quality affordable housing in densely populated Milwaukee neighborhoods," said Ted Matkom, Wisconsin President for Gorman & Company.
The Fifth Street School Apartments is a $9.7 million adaptive reuse of a former school built in 1888, designed by in the Romanesque Revival Style by prominent local architect H.P. Schnetzky. The development features 48 affordable units with a mix of studios, one and two-bedroom apartments. Residents will also benefit from integrated supportive housing in partnership with Lutheran Social Services, and provides low income veterans with stable and affordable housing. Amenities include a community and theatre rooms.
Fifth Street School Apartments leverages Federal and State Historic Tax Credits along with WHEDA 9% low-income housing tax credits to help finance the construction. Associated Bank provided the construction loan and purchased the low-income housing and historic credits to make this deal possible.
"The Welford Sanders Historic Lofts and the Fifth Street Apartments will help continue the revitalization of the northside of Milwaukee," said Governor Walker. "This investment will help house families and seniors for years and it is thanks to the work of Welford Sanders, and public and private dollars. This investment is great for the City of Milwaukee."
MLKEDC has already scheduled a number of activities to build connections among the residents of both projects and to existing residents of the neighborhood and to deepen their connection to the neighborhood.