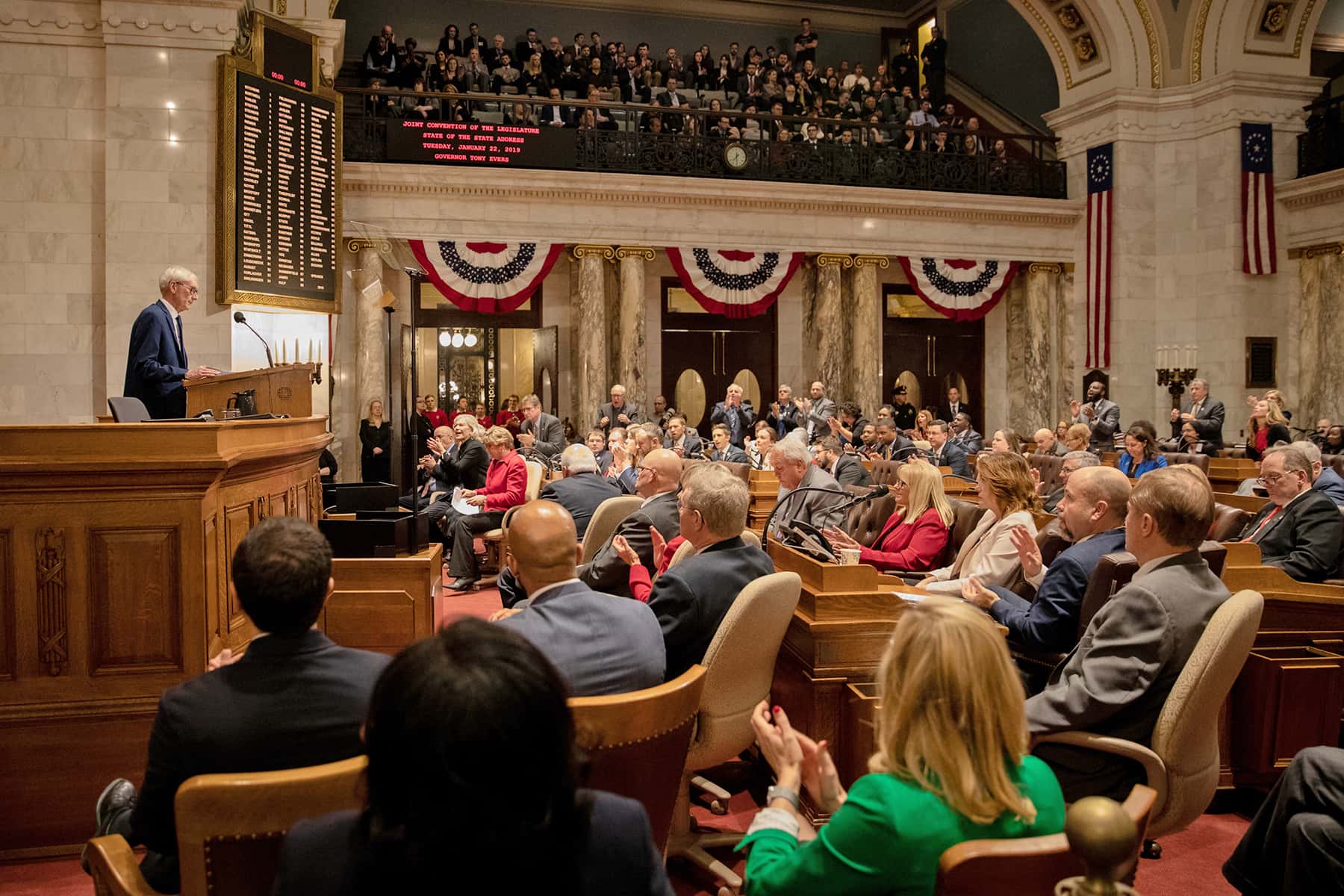 A Wisconsin judge issued a temporary block on a series of laws signed by then-Governor Scott Walker in December that limited the powers of his successor, Tony Evers.
In his ruling on March 21, Dane County Circuit Judge Richard Niess blocked the laws, denying a request by the legislature to temporarily pause his order.
"The ruling is a victory for the people of Wisconsin and for preserving the Wisconsin Constitution," said Governor Tony Evers in statement. "The Legislature overplayed its hand by using an unlawful process to accumulate more power for itself and override the will of the people, despite the outcome of last November's election. I look forward to putting this disappointing chapter behind us so we can move forward together to put the needs of the people of Wisconsin first."
The Republican-controlled Legislature passed the laws in December 2018 in an unscheduled "extraordinary session" after Walker lost his bid for a third term in November.
Walker at the time denied that the bills were an attempt to reduce Evers and Democratic Attorney General Josh Kaul's powers, writing in a Facebook post that Evers would retain "some of the broadest line-item veto authority of any governor in the nation."
The ruling came in a lawsuit brought by the League of Women Voters that argued the Extraordinary Session was illegitimate and therefore anything passed during it was void. Today, a state court agreed. Article IV, Section 11 of the state constitution limits when the legislature may meet to 1) times provided for by statute and 2) when the Governor convenes a special session.
Because the Governor did not convene a special session and no law provided for any "time" for an extraordinary session, the court held that the Extraordinary Session was invalid and therefore laws enacted during it are also invalid. The court granted the League's request for a temporary injunction against the laws.
"The Wisconsin Constitution does not provide for the Legislature, let alone a small subset of each chamber acting through committees, to convene itself in an 'extraordinary session,' and neither does any statute," wrote the plaintiffs, who included the League of Women Voters, Disability Rights Wisconsin and Black Leaders Organizing for Communities.
Governor Evers seized on the decision almost immediately, calling on the Wisconsin Department of Justice, led by Democratic Attorney General Josh Kaul, to withdraw the state from a lawsuit that seeks to overturn the Affordable Care Act. Evers and Kaul campaigned on leaving the case, but one of the lame-duck laws has prevented them from following through on their pledge.
The ruling also temporarily struck down 82 appointments that former Republican Governor Scott Walker made during the waning days of his administration, all of which were confirmed by Republican state senators in the lame-duck session. If the ruling holds, Evers would now be able to make those appointments.