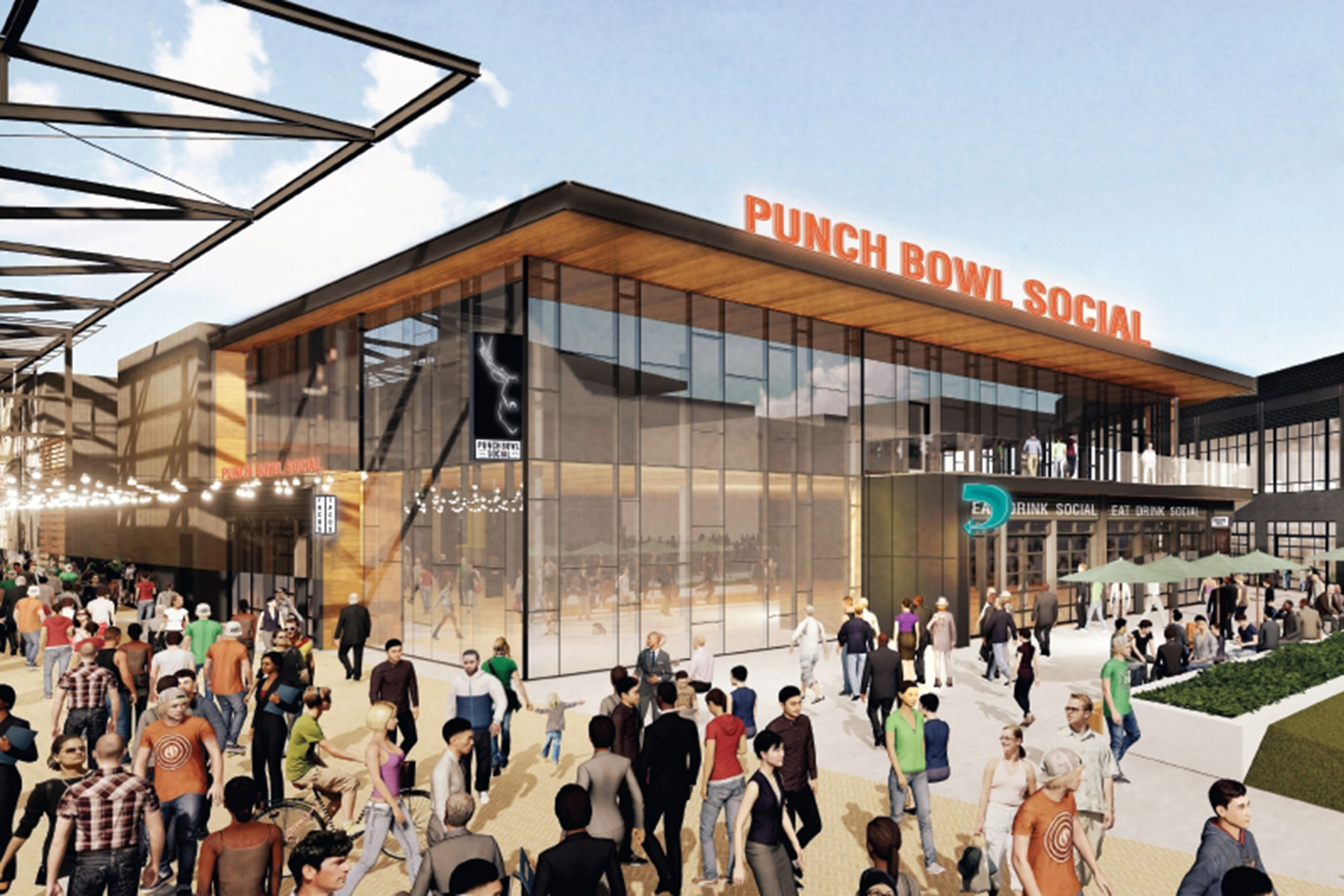 Punch Bowl Social will bring its restaurant, bar and entertainment concept to the upcoming Entertainment Block adjacent to the Milwaukee Bucks' new world-class arena in spring of 2019.
Punch Bowl Social Milwaukee will comprise 24,000 square feet over two stories at 320 West Highland Ave., including an outdoor 1,249-square-foot deck on the upper level. The Entertainment Block, being developed by Head of the Herd Real Estate Development LLC, is slated to open in spring of 2019.
The Entertainment Block will be across from the upcoming Wisconsin Entertainment and Sports Center, which will open on Aug. 26. Punch Bowl Social will be one of several establishments on the Entertainment Block, including Good City Brewing.
"Milwaukee is a city on the move," said Robert Thompson, Punch Bowl Social Founder and CEO. "The restaurant and entertainment scenes are evolving so quickly in Milwaukee. When we first visited, and saw all the excitement and energy around the new arena and the Entertainment Block, we knew we needed to be here. It's a great fit for our brand, and we're looking forward to opening our doors to the community next year."
Punch Bowl Social Milwaukee will feature a made-from-scratch menu that melds the best of the American diner with a fresh, modern take on Mexican cuisine designed and curated by James Beard Award-winning chef Hugh Acheson, an innovative craft beverage program, and an expansive selection of social activities including bowling, ping-pong, Skeeball, Bonzini, board games, shuffleboard, classic video games and more.
"Punch Bowl Social will provide guests of all ages and interests with a unique and remarkable experience," said Blair Williams, Managing Director of Real Estate for Head of the Herd. "It's an exciting addition for Milwaukee."
Additionally, Punch Bowl Social Milwaukee will offer virtual reality games. New to the brand, the virtual reality experience offers a unique opportunity for guests to experience the very latest gaming technology while lounging and enjoying sharable food and drinks. The brand's notable design aesthetic — think mountain lodge meets Victorian, industrial and mid-century modern design themes — will be on full display as well.
"Punch Bowl Social will be an outstanding part of the Entertainment Block," said Peter Feigin, President of the Milwaukee Bucks and Head of the Herd Real Estate Development LLC. "It will be a major attraction for the Entertainment Block, and will offer visitors an exciting and memorable experience. We are committed to making the Entertainment Block a world-class destination."
Punch Bowl Social launched in Denver in 2012 and is found today in 14 cities across the country, including Chicago, Atlanta, Detroit, Minneapolis, Indianapolis, Cleveland, Sacramento and San Diego.