Bastille Days serves up gourmet food for 35th year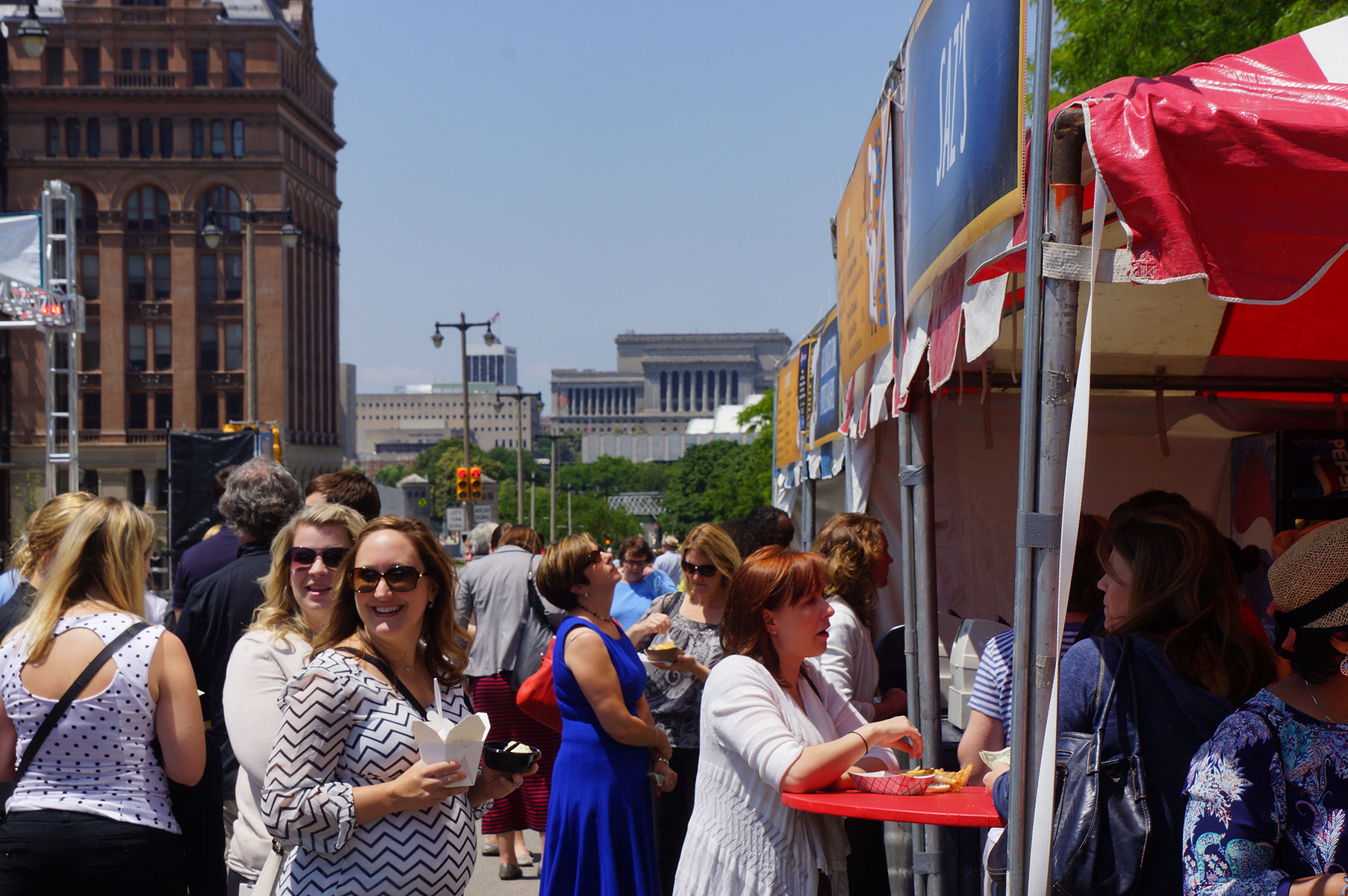 The 35th annual Bastille Days presented by Columbia St. Mary's returns downtown to Cathedral Square Park on July 14 – 17 with a lavish showcase of food, libations and endless opportunities for sampling.
The four-day festival boasts free cooking demonstrations, ticketed wine tastings and 30 eateries serving authentic French and Cajun cuisines. With a variety of specialty food and drinks, fest-goers will savor the taste of France right in the heart of downtown Milwaukee.
Free Chef, Wine, Beer & Spirits Demos
Foodies will find inspiration to spice up mealtime during the festival's daily cooking demos, Thursday through Sunday at noon, 12:50 p.m. and 1:40 p.m. at the Madison Medical Affiliates Beaux Arts Stage. Cate Miller from Cate's Kitchen has been the emcee and coordinator of the Bastille Days French Cooking Demonstrations since 1995. She will introduce the city's top culinary experts who will teach budding chefs the tricks of the trade so dishes can be recreated at home. The lineup includes: Pastry Chef Rachel Elizabeth Searl, II Ritrovo Pizza, Field to Fork Café and Trattoria Stefano; General Manager Didier Ibar, Lake Park Bistro; Chef Karen Gill, Down to Earth Chef; Chef Jovan Djokovic, US Foods; Chef Kevin Sloan, Pabst Theater Group; Chef Jacob Schick, Maxie's; Chef Kady Gibowski, Café at The Plaza; Joe Parajecki, Kettle Range Meat Co.; Chef Frankie Sanchez, Sabrosa; Chef Yollande Deacon, Irie Zulu and Afro Fusion Cuisine; Owners/Caterers Kathy Burghardt and Suzy Wagner, Delish Delivered; and Executive Chef John Rudolph, Millioke.
WineMasters, BeerMasters, Door County Distillery and Door Peninsula Winery will also share demos with fest-goers at 2:30 p.m., 3 p.m. and 3:40 p.m. at the Madison Medical Affiliates Beaux Arts Stage. Free samples of featured labels will be available for spectators 21 and older.
Mayor Barrett Taps Official Bastille Days Brew
Milwaukee Brewing Co. will unveil their exclusive Bastille Days ale with invited guest Mayor Barrett at 5:30 p.m. on Thursday, July 14 at the Madison Medical Affiliates Beaux Arts Stage. Emceed by AM 620 WTMJ, the ceremonial tapping will offer an up-close look at the brew's firkin keg, plus an informative demo detailing the careful steps involved in production.
Flavored with Meyer lemon tangerine and lime peel and fermented with Belgian candi sugar, this year's Louisiana-inspired Bastille Days Saison-style ale refreshes the pallet with a warm crisp flavor that offers hints of stone fruit, pear and citrus. Fresh samples will be poured for of-age spectators.
Ticketed Wine Tastings on Saturday
Expert sommeliers will lead fest-goers in two sit-down wine tastings on Saturday, July 16 at 6 p.m. and 8:30 p.m. Tickets are $35 at the festival or $25 in advance from bastilledaysfestival.com and include eight tasting tickets, good for 2 oz. pours.
Mélange of On-Site Eateries
With 30 restaurants and food vendors, Bastille Days offers an enjoyable mix of French and Cajun cuisine with a twist of other flavors. From handcrafted waffles and macaroons to croissant sandwiches, jambalaya and American classics like BBQ, fest-goers can taste a variety of ethnic fare from across the world. Beignets Français, Lake Park Bistro, Lagniappe Brasserie and Le Reve Patisserie & Café will serve traditional French cuisine.
Bastille Days is presented by Columbia St. Mary's, with additional support from Bud Light, Madison Medical Affiliates, BMO Harris Bank, Pepsi, Gruber Law Offices – "One Call…That's All", International Autos Group, Saz's Hospitality Group, 330 Kilbourn, Door Peninsula Winery, Door County Distillery, EDI, My Dwelling, Milwaukee Bucks, The Plaza Hotel, Urban Pie, Big Bite Tour, Shorewest, Pepsi, Deloitte and BeautyKind.
ABOUT BASTILLE DAYS
Bastille Days is presented by the East Town Association, Inc., a nonprofit downtown Milwaukee business organization that has celebrated Bastille Days in Milwaukee since 1981. Proceeds from the festival are returned to the community through neighborhood improvement programs and civic events such as the popular Jazz in the Park and Cathedral Square Market. Bastille Days is free and open to the public. Visit www.bastilledaysfestival.com for more information.