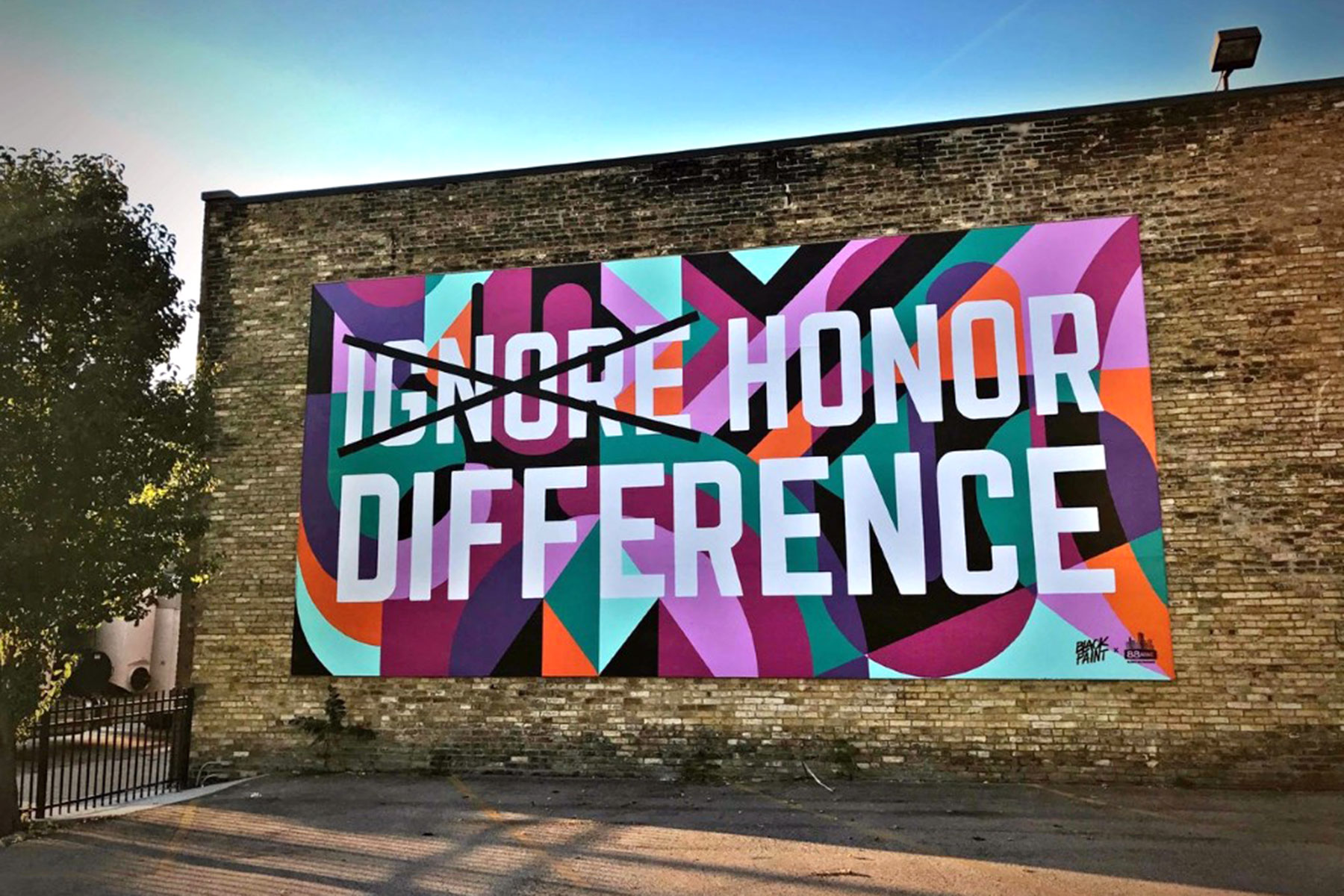 Radio Milwaukee commissioned Milwaukee Artists to design two murals this year to enliven neighborhoods and spark positive community conversations.
A large, colorful mural celebrating diversity has been completed on a building wall in the Walker's Point neighborhood, the second artist-created mural 88Nine Radio Milwaukee commissioned this year.
The new mural, 32' wide x 16' high, was painted on the north exterior wall of Var Gallery & Studios, 643 S 2nd St. It was created by BlackPaint Studios, an art and design studio with a mission to increase the representation of women in creative leadership.
The mural starts with the word "ignore" crossed out and replaced with the word "honor," following by the word "difference."
"As we were painting it, we heard so many passersby contemplate its meaning," said the artists, Katie Mullen and Jordan Pintar. "That was our favorite part of the process. So instead of putting up an artist statement explaining it, like we'd originally planned to, we decided to continue to leave it up to the viewer."
Radio Milwaukee selected and commissioned artists this year for two murals through a Mary L. Nohl Fund grant and with support from the Greater Milwaukee Foundation. The murals are part of 88Nine's activities recognizing the non-profit station's 10th anniversary this year on air and in the community.
"We designed our mural program to create a long-lasting message from 88Nine to our community to celebrate our 10th anniversary," Marketing Director Alyssa Feuerer said. "We are so happy to have this new work in our studio's Walker's Point neighborhood to encourage people to be more accepting and empathetic with their neighbors."
Earlier this fall, the first mural was completed on an outside wall of the Penfield Children's Center, 833 N 26th St., in Milwaukee's Near West Side neighborhood. Artist Stacey Williams-Ng designed the 122' x 27' mural, which plays on themes of rhythm, community and cohesion.
Sherwin Williams and Empire Painting WI donated the paint for the murals.
88Nine Radio Milwaukee (WYMS-FM 88.9) has been part of the Milwaukee community since launching in 2007. The station broadcasts and streams a unique blend of musical styles, including at least one song by a Milwaukee artist each hour, and short Community Stories that foster engagement and positive change.