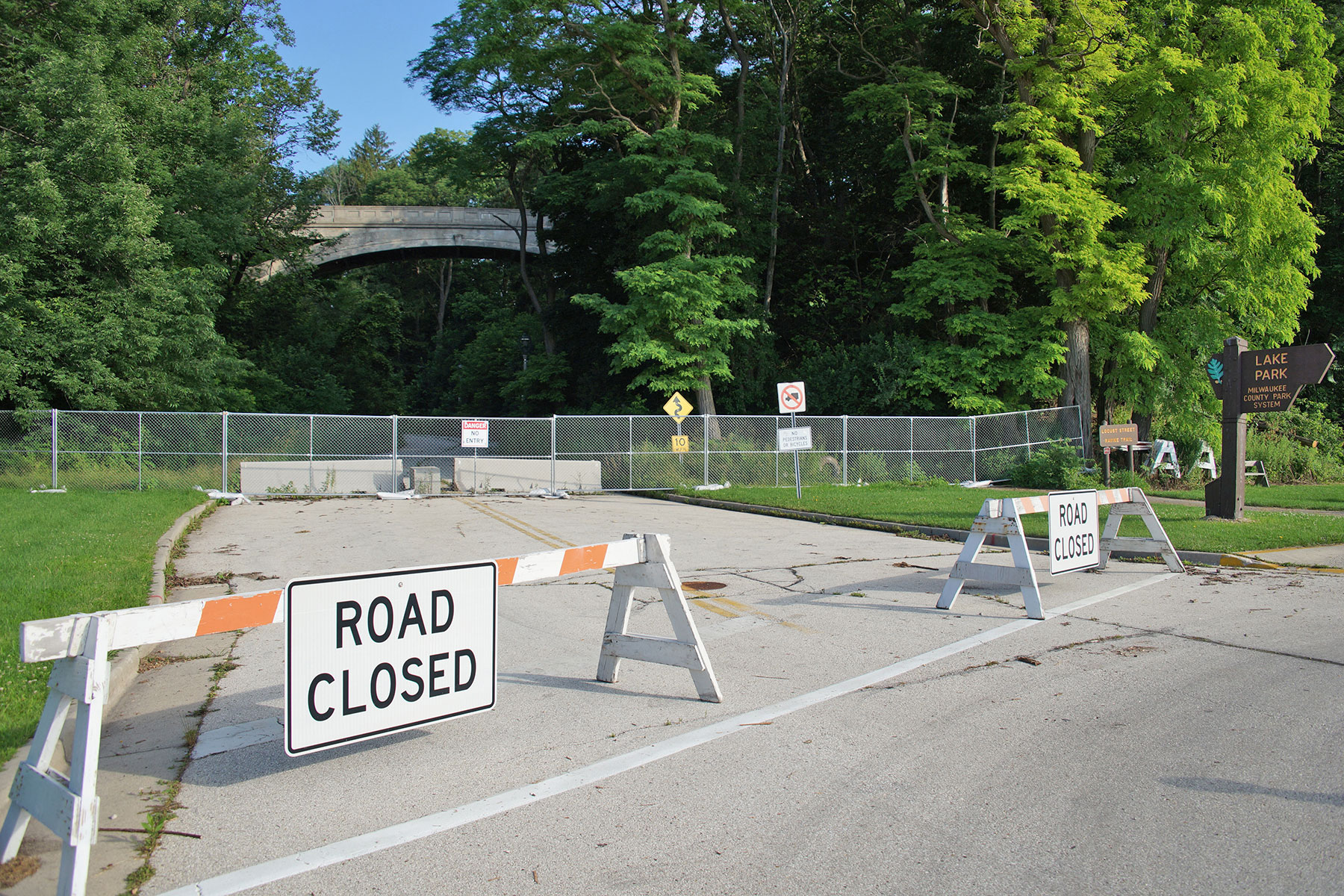 The Ravine Road Bridge project in Lake Park has taken a major step forward for Milwaukee County residents and visitors, after the State of Wisconsin awarded the County a $2 million grant for the project, County Executive Chris Abele announced on September 12.
The Wisconsin Transportation Alternatives Program (TAP) grant provides for $2 million in federal funds toward a safe and usable bridge, which connects the northern and southern halves of Lake Park for pedestrians and cyclists. Completing the bridge project will also enable reopening of the road below the bridge, which connects Lincoln Memorial Drive with Lake Drive.
"I am grateful to the State of Wisconsin for awarding a grant for this project," said Abele. "Lake Park is one of the jewels of our Parks system, with its diverse natural areas, tremendous views of the lakefront and central location. The Ravine Road Bridge is key in encouraging exploration of this beautiful park and access to recreation, both along the bridge and on the road below."
The County received two additional TAP grants to benefit Oak Leaf Trail, including $120,000 for relocation of the trail along the Little Menomonee River Parkway and $96,160 for trail reconstruction at Greenfield Park.
"Our main goals with a project like this are always protecting the safety of our residents and responsibly leaving a legacy for future generations. This grant will help us meet both of those goals in completing this project at the heart of Lake Park," Abele added.
The Ravine Road Bridge, designed by Milwaukee architecture firm Ferry and Clas, was constructed in 1906 to span one of the several large ravines in Lake Park. After a conditions assessment in 2014, which identified increased cracking in the concrete bridge, the bridge and the drive below it (Ravine Road) were closed.
"I'm very glad that we'll soon be able to move forward with this project, and I want to thank WisDOT for their support," said Milwaukee County Supervisor Sheldon Wasserman. "I'm also grateful for the work of the Parks employees who created this application.
In 2017, Milwaukee County also committed $500,000 toward an expected $2.5 million budget for the project. The TAP grant will ensure full funding of the project.
"The supporters and neighbors of Lake Park have been waiting a long time for this issue to be resolved, and they will all be appreciative when the project is complete. To me, Lake Park is the crown jewel of the Parks system, and this landmark adds to the incredible beauty of the park," Wasserman noted.