Milwaukee Independent recognized for excellence in visual journalism as finalist for 10 Press Club awards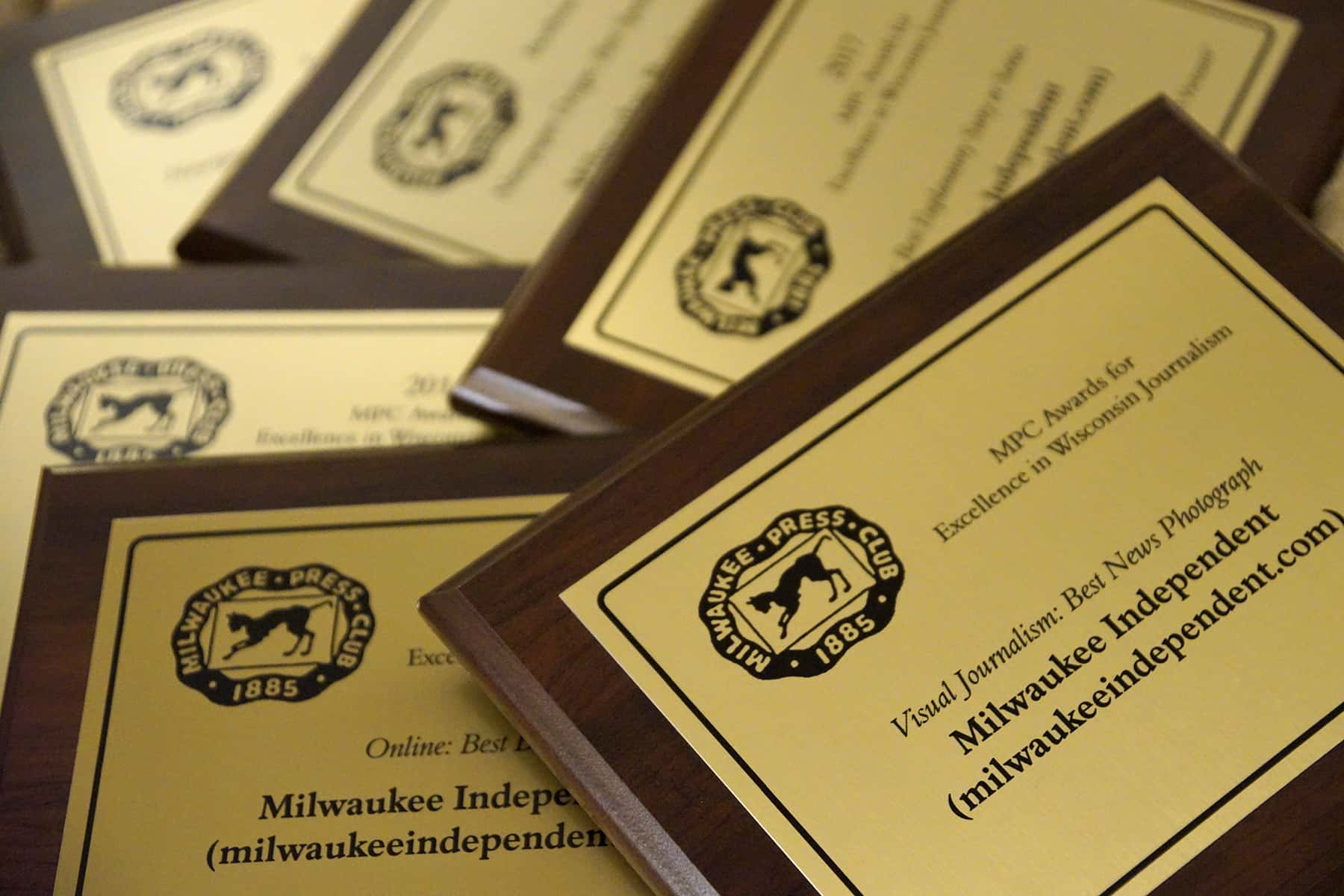 The Milwaukee Press Club announced the list of finalists for its 91st Annual Gridiron Awards for Excellence in Wisconsin Journalism, covering an unusual news year of the pandemic, social unrest, and political turmoil. Milwaukee Independent was selected for 10 features.
The journalism honors follow the third year in a row of double digit recognition for the daily news magazine, in competition against all major media outlets in Milwaukee and across Wisconsin. Competition was more notable this year as traditional broadcast media organizations partnered to combine resources, and used online platforms to offset the pandemic's impact.
Founded in 1885, the Milwaukee Press Club is the oldest continuously operating press club in North America. In the context of this competition a "Finalist" has already won an award, but the level of recognition – Gold, Silver, or Bronze – will not be announced until May at the Gridiron Awards event. Traditional that has been an awards dinner, but it will be a virtual ceremony for the second year.
The 10 pending awards for Milwaukee Independent were split over 3 main categories this year, Writing, Visual Journalism, and Online. The work of 8 staff members is recognized in 6 categories. In the "Online: Best Blog" category, all three entries are from Milwaukee Independent, so the writers are competing against each other for the top honor.
It was also an incredible year for documenting news with visual media. Half of the total number of Finalist spots in the four image categories – including the only Finalist in the "Best Sports Photograph," went to the team of Milwaukee Independent photojournalists: Lee Matz, Joe Brusky, Claudio Martinez, Rich Zimmermann, Dominic Inouye, and Dan Barrett.
Under the rules, news organizations could only enter work from last year in the Milwaukee Press Club's competition. The 2021 awards, therefore, reflect editorial produced in 2020. In May, Milwaukee Independent will have earned a total of 40 awards for work since 2016. The Finalists selected for the 91st Annual Gridiron Awards for Excellence in Wisconsin Journalism are:
01. WRITING: BEST SINGLE EDITORIAL OR OPINION
Kenneth Cole
Shorewood residents worry that proposed Atwater Beach fee could restrict recreational access
02. VISUAL JOURNALISM: BEST PHOTO ESSAY OR SERIES
Claudio Martinez, Joe Brusky, and Lee Matz
Civil Rights Murals: Local artists unite to inspire change for communities of color in Milwaukee
03. VISUAL JOURNALISM: BEST NEWS PHOTOGRAPH
Lee Matz
Marching for CPAC: Youth group chalks messages around City Hall demanding police accountability
04. VISUAL JOURNALISM: BEST NEWS PHOTOGRAPH
Lee Matz, Claudio Martinez, Joe Brusky, Dominic Inouye, and Dan Barrett
Photomosaic of George Floyd uses 2,000 images from peaceful Milwaukee marches
05. VISUAL JOURNALISM: BEST FEATURE PHOTOGRAPH
Lee Matz
Courage, Integrity, and Honor: Milwaukee pays tribute to fallen firefighters at special memorial ceremony
06. VISUAL JOURNALISM: BEST SPORTS PHOTOGRAPH
Rich Zimmermann
Vintage racers from yesteryear unlikely to rev up at the Milwaukee Mile Speedway this summer
07. ONLINE: BEST USE OF MULTIMEDIA
Lee Matz
Civil Rights groups offer words of healing to Kenosha until Mayor John Antarmian upends the effort
08. ONLINE: BEST BLOG
Lee Matz
From SARS to the frontline of tragedies: A journey of photo-documenting history in realtime
09. ONLINE: BEST BLOG
John Pavlovitz
John Pavlovitz: The loss of faith and price of our pandemic
10. ONLINE: BEST BLOG
Heather Cox Richardson
Heather Cox Richardson: Thoughts from an American