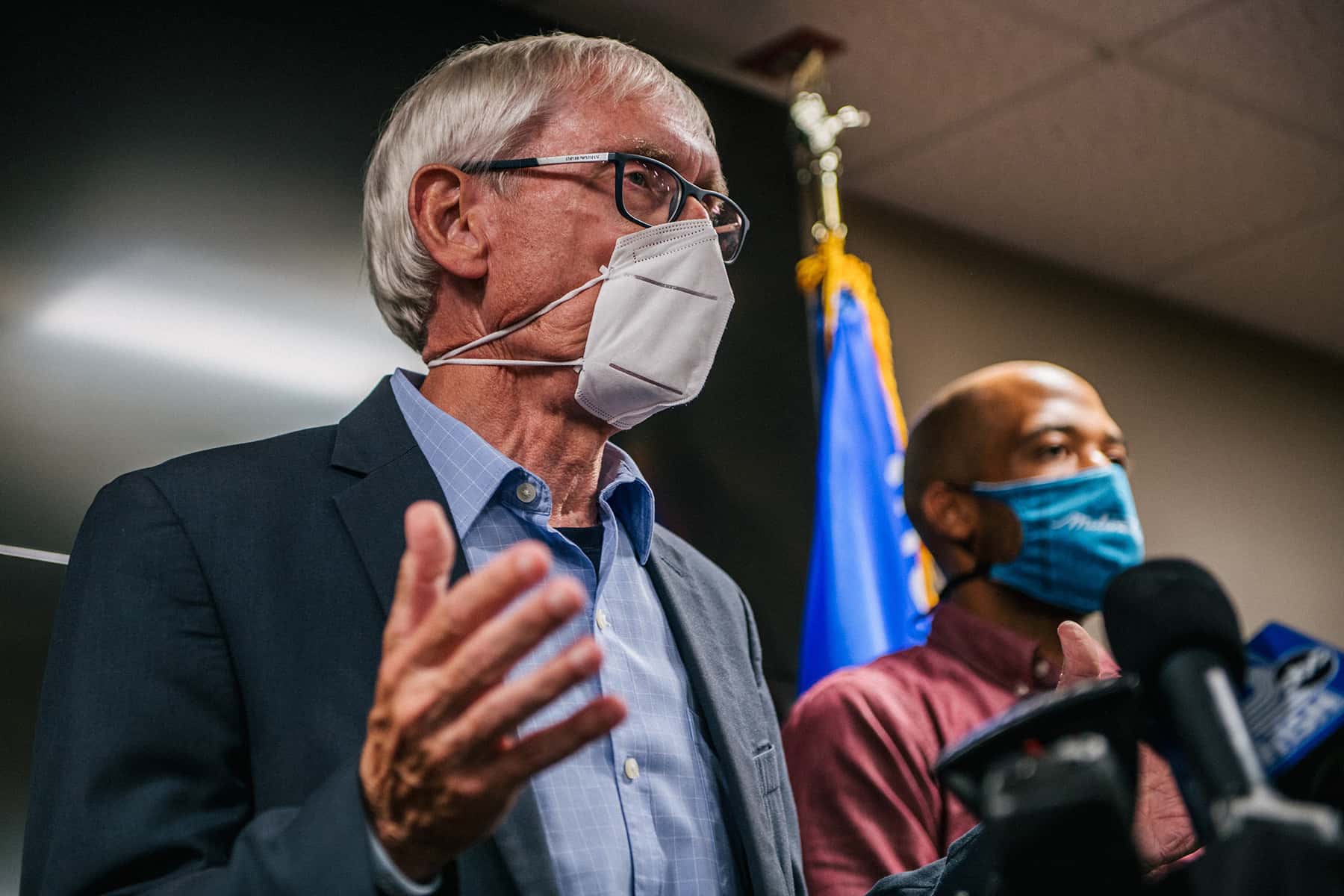 Governor Tony Evers announced two major investment programs on October 6 to aid the state's recovery from the pandemic, a $47 million investment to support for child care, healthcare navigators, and energy and rental assistance to Wisconsinites, and a $100 million investment plan aimed at providing additional economic stabilization for small businesses and communities hardest hit by COVID-19.
The efforts will be funded in part through the Federal Coronavirus Aid, Relief, and Economic Security (CARES) Act, and Coronavirus Relief Fund (CRF). The new infusion of funds includes an additional $50 million for "We're All In Grants," an economic development grant program launched by Wisconsin Economic Development Corporation (WEDC) this summer. More than 26,000 businesses received "We're all In Grants" statewide, but many continue to face economic challenges from the pandemic.
"As we continue to fight this pandemic across our state, we need to make sure folks have the support they need from housing and food security, to making sure they have access to quality, affordable healthcare," said Governor Evers. "The investment announced today will provide critically important assistance for Wisconsinites as we continue to encourage folks to stay home as much as possible."
$10 million will be directed towards the COVID-19 Out-of-School Support Grant Program aimed at assisting Wisconsin organizations who are providing care to school-aged kids during the pandemic. Administered by the Wisconsin Department of Administration (DOA), the program provides eligible organizations grant awards to cover pandemic-related impacts such as lost revenue, increased staffing costs, cleaning and sanitization, and additional costs to ensure high-quality programming otherwise impacted by COVID-19.
"Our out-of-school support providers are a critical part of the team of entities ensuring Wisconsin kids are getting what they need, whether their traditional school setting is in-person or virtual this year," said Governor Evers. "What's best for our kids it what's best for our state, and these organizations are stepping up in a big way to make sure our kids have a safe place to go during this unprecedented pandemic."
With winter on the horizon and as temperatures drop, making sure Wisconsinites have access to safe, warm housing is critical. $10 million will be invested in the successful Wisconsin Rental Assistance Program (WRAP), in addition to the $25 million previously announced. To date, WRAP has helped nearly 10,000 households across the state as of October 5th. Additionally, $10 million will go toward the Food Security Initiative in recognition of the role the program has played in combatting hunger. This investment is on top of the $15 million previously allocated to this program.
Ensuring everyone has access to quality, affordable healthcare continues to be a top priority, especially as COVID-19 surges across Wisconsin. Given the increasing number of Wisconsinites facing unemployment and the loss of employer-sponsored health insurance during the pandemic, $1 million will be invested in the statewide health insurance navigator organization to help residents purchase health insurance on the federal marketplace or to enroll in BadgerCare. For many Wisconsinites, this may be their first time selecting a plan on the exchange, which can be a complicated process.
The new small business investments include over $50 million of $5,000 We're All In Grants to more than 10,000 Wisconsin small businesses. The first phase of the program invested more than $65 million in grants for more than 26,000 businesses statewide. This round of We're All In Grants will prioritize businesses most impacted by the pandemic, including restaurants and taverns, hair and nail salons and barber shops, and other services. It will be administered by the Wisconsin Department of Revenue in partnership with WEDC.
"Wisconsin's small businesses have demonstrated unbelievable creativity and ingenuity in adapting to the pandemic," said WEDC Secretary and CEO Missy Hughes. "However, many of them are already stretched to the limit and are concerned about just surviving for the next few months."
$15 million for live music and performance venues throughout Wisconsin. Music venues, which often serve as community gathering places and cultural hubs, were among the first small businesses to close and may be among the last to fully re-open. Many owners have been vocal in expressing the need for federal assistance to further supplement the state investments already made. The investment plan by Governor Evers will help these venues that are shuttered and hopefully encourage a nationwide plan to save these businesses over the long term.
$10 million to support privately owned movie theaters. Wisconsin movie theaters have not been spared the financial strain felt by movie theater companies nationally as content has been limited and activity limited across the state. This investment will assist privately owned movie theaters while federal support remains stalled.
$10 million in additional support for non-profit cultural venues. The significant response to the original grant announcement several weeks demonstrates the challenges faced by these community centers of learning and culture. The additional support will bring the full investment in these treasures to $15 million and support local communities around the state. $4 million in additional investments for destination marketing organizations and tourism drivers, bringing the total investment by the Evers Administration to $12 million.
"Small businesses, including the tourism and lodging industries, are the backbone of our Wisconsin communities. The ongoing pandemic, combined with a lack of action at the federal level may force many of these businesses to shutter their doors for good," said Governor Evers. "That's why we're investing another $100 million in businesses and communities across our state. Our communities are in desperate need of additional federal support, but we can't wait a moment longer to do what we can here in Wisconsin."
The
Milwaukee Independent
began reporting on what was then referred to as the mysterious "Wuhan Virus" in January 2020. Other local media did not picked-up on the story until many weeks later. Our early features focused on the economic impact, social issues, and health concerns long before other Milwaukee news organizations even mentioned the coronavirus. Over the following year, we have published hundreds of articles about the pandemic and how it has affected the lives of Milwaukee residents. This extensive body of work can be found on our
COVID-19 Special Report
page, a chronological index of links by month. Our editorial voice remains dedicated to informing the public about this health crisis for as long as it persists.
For medical resources, please visit the
CDC's COVID-19 page
or the
Wisconsin Department of Health Services
. All editorial content published by
Milwaukee Independent
can be found at
mkeind.com/COVID19
. With a mission of transformative journalism, our staff is free from commercial bias and are not influenced by corporate interests, political affiliations, or a public preferences that rewards clicks with revenue. As an influential publication that provides Milwaukee with quality journalism, our award-winning photojournalism and features have helped to achieve a range of positive social impact that enriches our community. Please join our effort by entrusting us with your contribution. Your Support Matters -
Donate Now