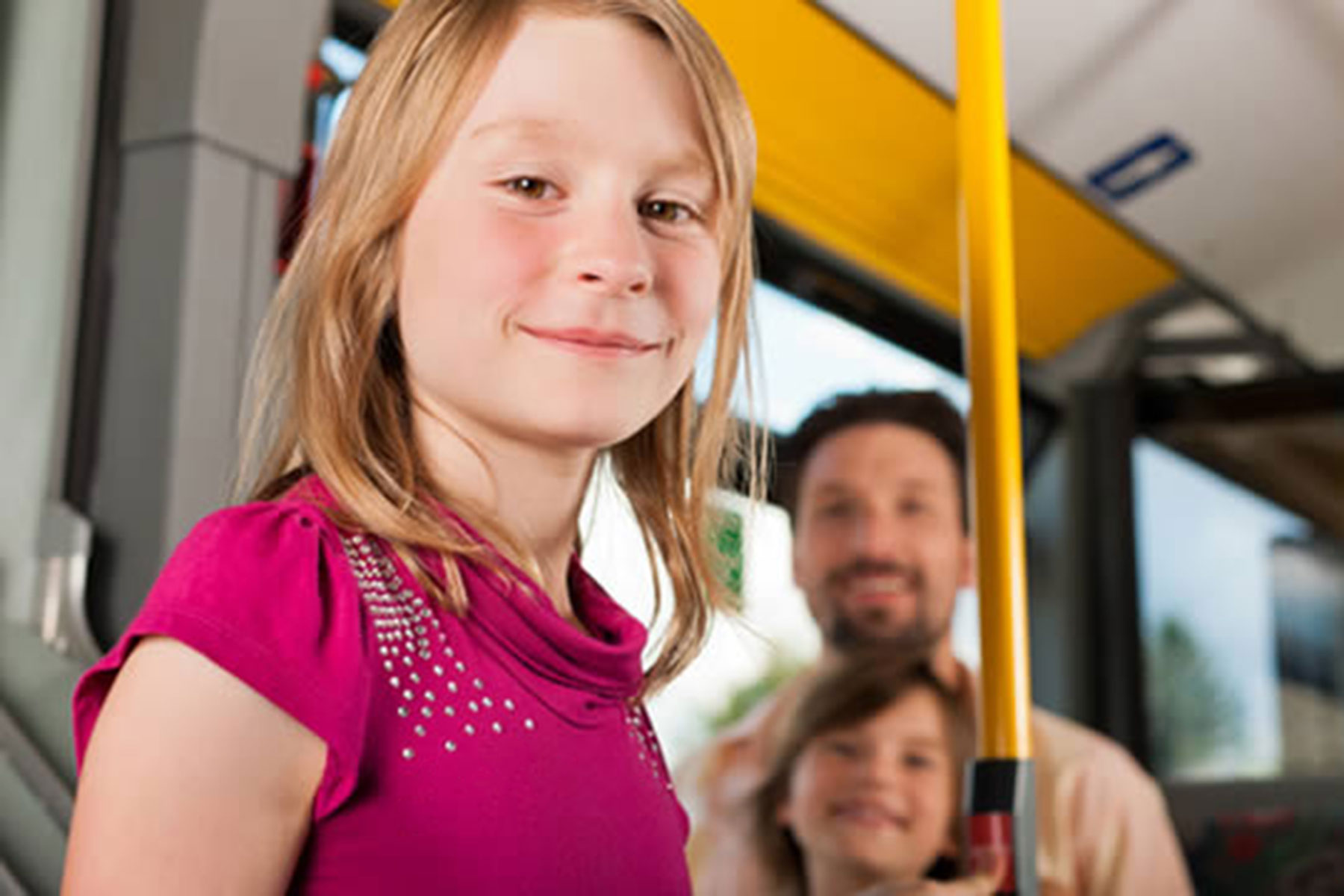 Families across Milwaukee County can leave their cars, minivans and SUVs at home on Saturday, September 23 and hop on the bus for the annual "MCTS Take Your Kid on the Bus Day."
All children 12 and under ride for free on all MCTS routes that day. The special event also includes free stickers for all young riders, promotional deals, and discounts for children and adults.
With 60 Routes and 5,500 bus stops, MCTS delivers residents to many family-focused locations in the area. The all-new RideMCTS Trip Planner also allows parents to plot the routes for taking their children to sites around town.
"As adults we realize how important MCTS is to this community. Every day they provide 150,000 rides that get people to work, school and medical appointments. For many children, the bus is fun and excitement – that's what Take Your Kid on the Bus Day is celebrating," said County Executive Chris Abele. "From the Zoo to our museums, to the parks and to special events, transit is a safe, convenient and affordable way for families to explore, and enjoy our community."
Take the GoldLine to the Milwaukee County Zoo or the Betty Brinn Children's Museum
Visit the reimagined Streets of Old Milwaukee at the Milwaukee Public Museum on Routes 30, 30X and 31
Check out the Greatest Show (& Tell) on Earth, use Routes 56 and 67 to get to the Maker Faire and Harvest Fest at State Fair Park
Use the BlueLine or Routes 21, 23 or 57 to get a rare chance to see inside MCTS during our Doors Open Event
Speaking of Doors Open, MCTS can get you to many of the behind the scenes tours at more than 150 buildings across Milwaukee
"Discovery World is very excited to partner with our friends at the Milwaukee County Transit System during Take Your Kid on the Bus Day," said Joel Brennan, Discovery World CEO & President. "With our location on the lakefront, transportation can often be the main barrier to accessing our museum, so we encourage the entire community to support public transportation and visit us on September 23."
While kids ride for free on September 23, adults can also save some money when they use the MCTS M•CARD to pay for fares. Using the M•CARD is cheaper than paying with cash ($1.75 vs $2.25), and offers special deals available only on "Take Your Kid on the Bus Day." MCTS also provided some helpful tips and safety reminders for riding with children:
Guidelines for traveling with a stroller
All MCTS buses are equipped with a special "Stroller Area." Riders are encourage to use the stroller/cart area whenever possible.
On most buses the stroller area is located on the driver's side in the middle of the bus.
MCTS recommends using a folding "umbrella" style stroller. Large and double-wide strollers are not practical for use on MCTS buses.
For public safety, strollers should be folded, if possible, and must not block the aisle or doorway.
The front seats marked with an access symbol are for seniors and persons with disabilities, so be a good citizen and offer a seat in this area as necessary.
Suggestions for general safety
Both parents and kids should keep safety in mind around buses.
Keep kids close to make sure they don't get separated.
Never cross the street in front of an MCTS bus, unless it is stopped at a traffic light, and be sure to look both ways when walking past the front of the bus to cross another lane of traffic.
Full list of the September 23 deals and discounts:
Included are free Bublr bike rides and admission deals to the Milwaukee County Zoo, Milwaukee Public Museum and Betty Brinn Children's Museum.
Bublr Bikes
Use code 92317 at Bublr stations to get unlimited free 30 minute trips, trips lasting longer than 30 minutes are $3 per 30 minute block.
Milwaukee County Zoo
One free child admission on Saturday, September 23, 2017 when an adult buys a regular admission and also shows an MCTS M•CARD.
Betty Brinn Children's Museum
One free child admission on Saturday, September 23, 2017 when an adult buys a regular admission and also shows an MCTS M•CARD.
Milwaukee Public Museum
$2 off a regular admission on Saturday, September 23, 2017 when you shows an MCTS M•CARD.
Maker Faire Milwaukee
Admission is free but you are encouraged to get your free tickets by registering in advance.
"A healthy, prosperous, sustainable community is one with multiple, convenient transit options to help people move easily from home to work to play," said Caressa Givens, Bublr's Community Engagement Coordinator. "Bublr and MCTS are great travel options alone, and even more convenient when used together. We're proud to be part of Take Your Kid on the Bus Day and we hope people take advantage of the penny Bublr rides and all the other great deals that day."