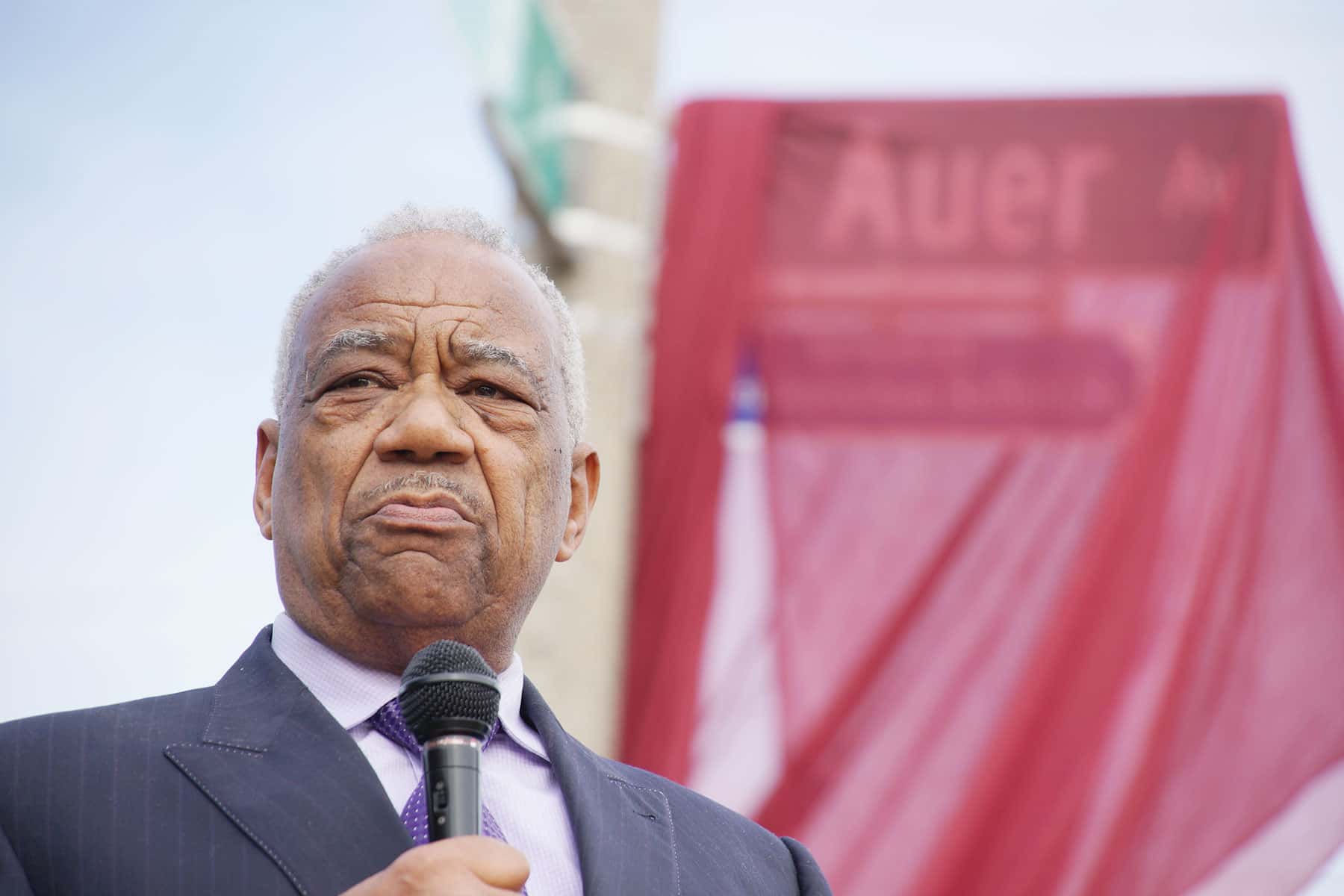 From a vacant lot full of drug needles, broken wine bottles, and rusty cans, to a thriving community of faith, the story of Ebenezer Church is one of hope and accomplishment. And in recognition of those transformational efforts, Pastor Jonathan Saffold was honored on October 21 with a street dedication in his name.
Ebenezer Church of God in Christ was conceived by Pastor Saffold in his living room during the month February of 1976. Over the following years, the church made several moves to different locations until finding its permanent home in 1988, when a new facility and permanent home was constructed.
"The trend at that time, when starting a church, was to get an old store that had been vacated. But I prayed for a big church. If God wanted me to pastor for 15 years and have only 15 members, he had picked the wrong guy for the job." explained Pastor Saffold. "So in 1975, a big church called me that seated 500 folks. And after a year, my prayer to God was, do you have a storefront you can give me?"
During the ceremony, many fond memories of the church's long history was shared by members of the congregation. Beyond a place of worship, Ebenezer provides numerous services to the community, including a resource center, prenatal teen health and nutrition program called "blanket of love," a food pantry, a health clinic with diabetes and cancer risk counseling and screenings, tax preparation services, day care, election polls, and prison ministry.
"Ebenezer plays a special part in my heart because my mother, prior to her passing away, spent a lot of time in different churches. But Ebenezer was one that she would frequent, and she loved it here," said Milwaukee's District 6 Alderwoman Milele A. Coggs who grew up a block away. "I think in life we are measured by many things. The most important of which is our service to others and mankind. Rarely do we get the opportunity to say thank you, and to honor the service which people do. This street naming ceremony is just one small way to say thank you and to honor a very special man."
The dedication of an honorary street, named after Elder Jonathan Saffold, Sr. was in recognition from the community for his service with passion and compassion for over forty years. A plaque was placed on two sign poles along W. Auer Avenue, at 3rd and 4th Streets. The dozens of Ebenezer members, who gathered at the ceremony, felt the community was a better place because of his work.
"I wish I had a 50 foot pole, because I know a lot of brave people, living and dead, that deserve to be on this pole," added Pastor Saffold, recognizing other pioneers of the church. "These faithful servants of God gave their best and gave their all to make this ministry what it is."