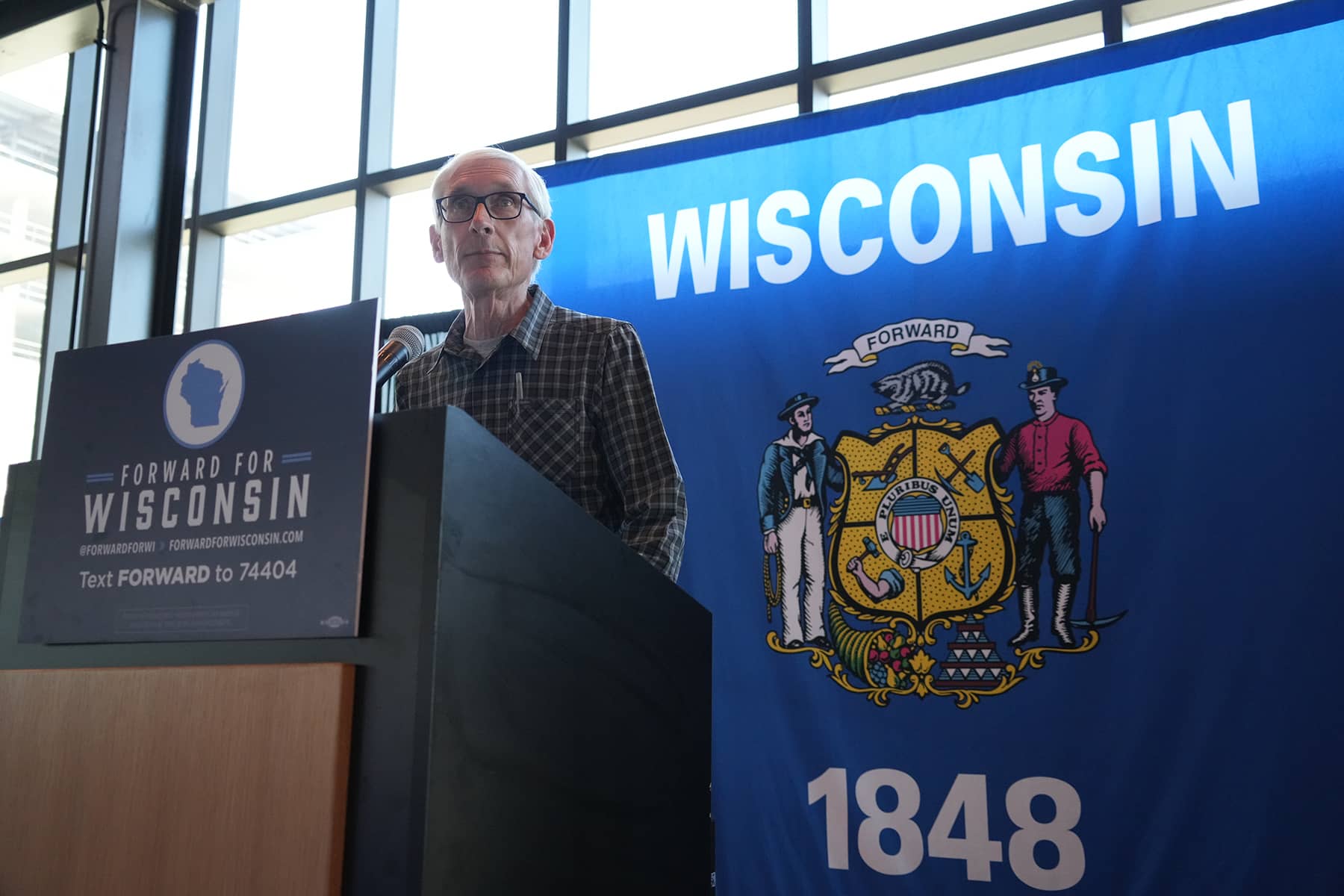 Democratic Governor Tony Evers said on August 10 that his Trump-backed Republican opponent would not be able to back away from positions he took in a contentious primary campaign, saying the relationship Michels had with the former president would define the campaign.
The comments from Evers were his first since learning he had face off against Michels on November's general election ballot, after the construction executive defeated former Lt. Governor Rebecca Kleefisch in the August 9 primary.
"Trump owns him," Evers said. "He is connected to Trump. That's his problem, not mine."
Evers largely stayed out of the fray in the last few weeks of the Republican primary as Michels and Kleefisch fought over who had the strongest conservative credentials.
There were not too many differences separating Kleefisch and Michels when it came to policy, but endorsements were another question. Kleefisch had the backing of a long list of prominent Republicans, including former Vice President Mike Pence. But Michels had the x-factor with Trump.
The endorsement was everywhere in the primary as Michels bragged about it in TV ads and Trump visited Wisconsin for a campaign rally the week before the election.
"Donald Trump continues to be a real change-maker in the Republican Party," said University of Wisconsin-Madison political scientist Barry Burden. "His endorsement of Tim Michaels probably helped put Michaels over the top."
But Burden said things would be different now that the primary is over.
"Now that we move into the general election phase, Trump is probably a drag on many Republican campaigns, at least statewide ones," Burden said. "This is a competitive state where the winner might win by a slim margin. Trump is not viewed well by the public."
In a June survey by Marquette University, Trump was viewed favorably by just 39 percent of Wisconsin voters compared to 56 percent who view him unfavorably. By comparison, Evers had a net positive rating, with 44 percent holding a favorable view of the governor compared to 42 percent who viewed him unfavorably.
Evers said Michels' support of the president came with an embrace of unpopular policies. During the primary, Michels questioned the results of the 2020 presidential election, a position Evers said was out-of-step with most residents.
"He's not going to be able to stand in front of all these microphones today … and say, 'Oh, I forgot to tell you folks, I'm really a moderate Republican,'" Evers said. "That's just not in the cards. He's taken positions that clearly he cannot back off of. And his relationship with Trump is going to drive his campaign."
Evers also criticized a claim by Michels that, partly because of his background in the construction business, he represents the views of blue-collar workers.
"He can wear a blue shirt so that he can have a blue collar," Evers said. "But at the end of the day, I'm not quite sure someone that is of his status with houses all across the country could say, 'Well, I'm just one of you.'"
Although Michels' main residence is in Wisconsin, he also owns multi-million-dollar homes in Connecticut and Manhattan.
Michels' campaign responded to Evers' attacks with a new TV ad tying Evers to Democratic President Joe Biden. The campaign also issued a statement accusing Evers of trying to distract people from issues like inflation and crime.
"Tony Evers and Joe Biden are going to desperately attempt to do everything they can to distract the people of Wisconsin from their massive failures," said Michels advisor Chris Walker.
The back-and-forth between Evers and Michels could be a sign of things to come in a state where Biden's favorability could also be a drag for Democrats, though it is not quite as low as Trump's. Marquette's June survey found 42 percent of voters had a favorable view of Biden compared to 54 percent who view him unfavorably.
Donate: Wisconsin Public Radio