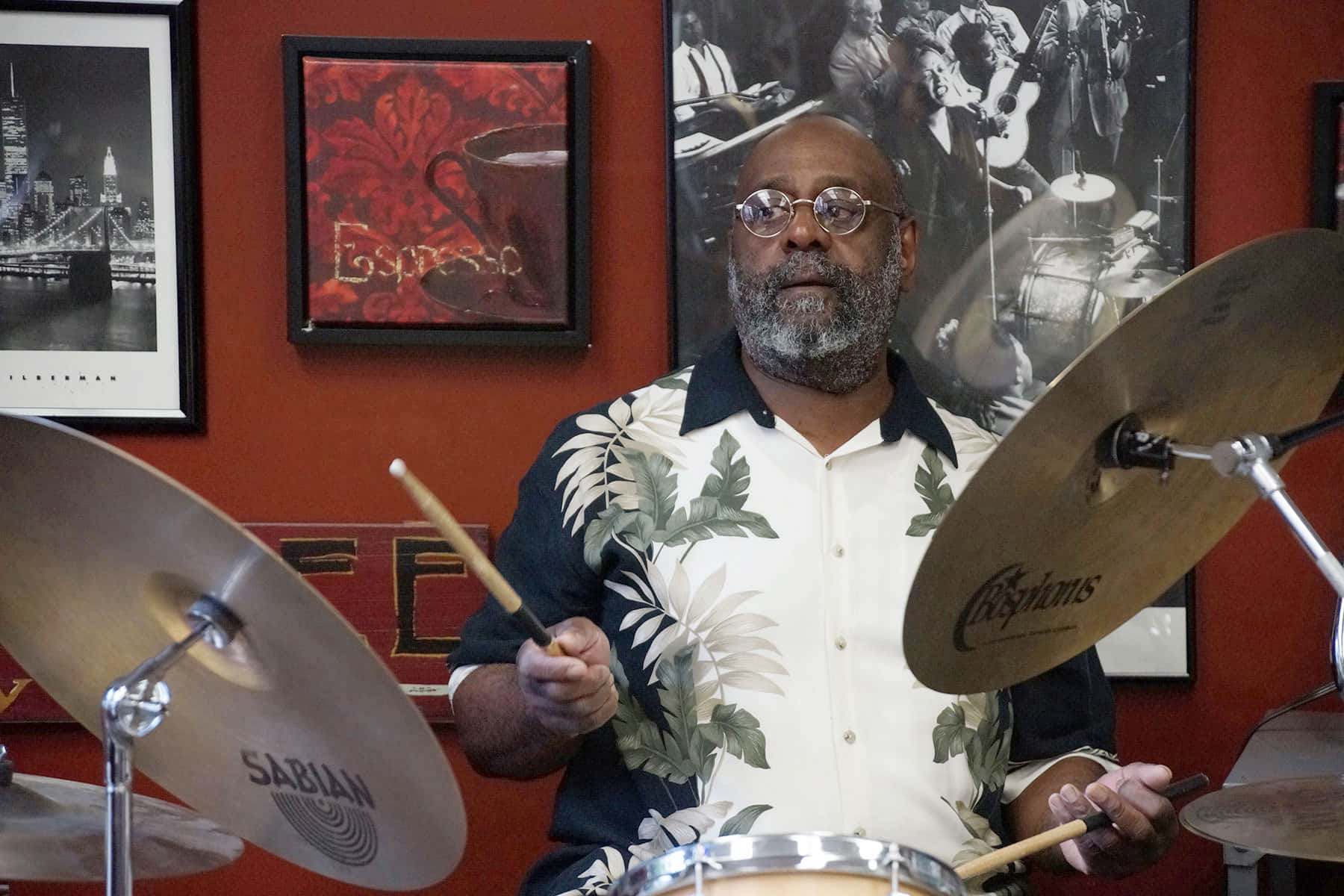 City.Net Cafe, owned and operated by community leader Sam Belton, hosts live jazz events that reflect its mission to create a welcoming environment and encourages Milwaukee's youth to play jazz.
On every second and fourth Friday of the month, a small crowd gathers at City.Net Cafe's Wisconsin Avenue location to hear live jazz from 6:00 to 8:00 pm. Regulars take their seats and newcomers file in to hear the jazz group, which consists of a cellist, saxophone player, keyboardist, guitarist, and featuring the cafe's owner Sam Belton on the drums.
The City.Net Cafe is the perfect place for such an event with its intimate seating, pictures of jazz legends and records adorning the walls, and its endless array of coffee drinks. Belton's drum set remains a fixture of the cafe even when it's not time for Friday night's live jazz.
At age 63, Belton has been playing jazz since he was 12 years old. Before becoming a small business owner, he was a music teacher in the Milwaukee Public School System for 11 years. He founded the cafe to merge his two major interests: coffee and jazz.
"I've been a jazz musician here for 20 years," said Belton. "I've played with many of the greats around here and in the United States as well. So I wanted a place that would be comfortable where kids could come to as well. And I love coffee. I got into coffee about 12 years ago. Then I said, 'why not put it all together?'"
WIth the cafe's inception, Belton created a place where he can continue his educational mission and encourage Milwaukee's youth to play and expand their love of jazz. During the Friday night live jazz events, he often invites young musicians up to play with his group.
"It's important for us here, especially for musicians at my age, to keep encouraging young musicians," said Belton. "We're hoping, myself and a lot of other musicians, to try to keep it going, to keep jazz alive and accessible to the younger generations. I had the opportunity when I was still a teenager to play with professional musicians. We'd like to see the same kind of thing happen with our young people today. They may not be able to get into a club and play, but they can come to a place like this and be exposed to musicians."
Belton is also a pastor for Spirit of Truth World Ministries, which has given him the freedom to travel to many places, including Europe and Africa. He gained both his love for coffee and the inspiration for the cafe from his journeys.
"The biggest idea I gained is the blending of coffee with a social gathering. People can come in, chat, socialize, and get to know each other. It's a place where you can talk about a lot of different topics. It's a place that invites everyone," said Belton.
The CITY.NET cafe is a family-friendly environment where all are welcome to sit and enjoy their coffee and signature SAMiche. The welcoming atmosphere makes it a fixture of the community, and the same is true of jazz.
"What I like most about it is that I have the opportunity to make people feel good experiencing the music," said Belton. "It's a universal language. I've been in Russia and I've played there. They love this music. It's a music that crosses cultural barriers, language barriers. I love it because it's the only true American art form."
The next live jazz event is Friday, September 9 at 6:00 pm. The cafe will open early for dinner and coffee.