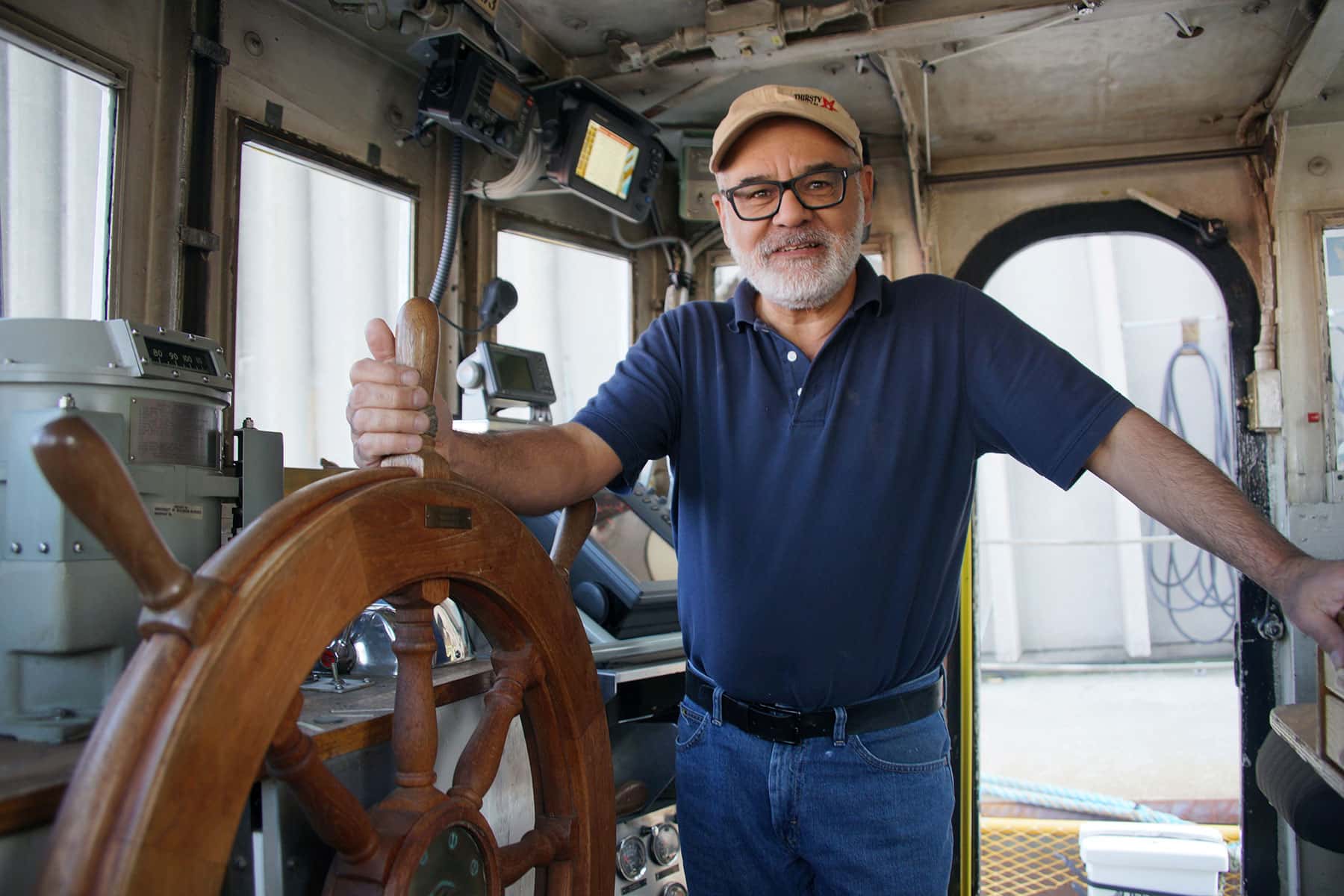 The Great Lakes is a living laboratory, and the UWM School of Freshwater Sciences operates the only research vessel that continuously explores the inland seas.
The R/V (Research Vessel) Neeskay derived its name from the Ho-Chunk language, a Wisconsin Native American tribe, and translates as "pure, clean water." Greg Stamatelakys has been its caption for 22 seasons. He got the sailing bug from the experience on his father's fishing boat, which led to his enlistment in the Navy and a livelong career on the water.
Originally the Neeskay was a T-boat, a small cargo vessel for the military. The US Army used it for ship-to-shore cargo transport in the Korean War. The University of Wisconsin-Milwaukee acquired it in 1970 and converted it to a scientific research ship.
"Depending on what sort of work the scientist are after, we will make different kinds of voyages," explained Captain Stamatelakys. "It can go out day or night to the middle of the Lake, for looking at water chemistry, towing measurement instruments, and studying anything from plankton to geophysics. Right now we are involved in a multi-year project that tracks how toxins in the water get spread around. It helps understand issues like the affect of hypoxia, nano-plastics, pharmaceuticals, and even mercury."
The Great Lakes watershed is so small that it takes a very long time to fill up and exchange itself. The turnover time on Lake Michigan alone is close to 100 years. The lack of rain and snow, added to evaporation, causes the water level to drop substantially. Because it is a closed ecosystem, whatever is put into Lake Michigan stays in Lake Michigan, whether it is an invasive species, or a toxin, or even diverting the water.
"As for voyages within the Great Lakes, I wish we had more work up on Lake Superior," said Captain Stamatelakys. "It is the largest body of freshwater in the world. It is a creature of its own character, it has a lot of history, and it is our frontier. Compared to the industrialized Southern end of these Great Lakes, the wilderness up there is fantastic."
There is a wealth of freshwater around Milwaukee, compared to the rest of the world, and the city's commerce has always dependent on it. Having the resource also means the area does not need to draw drinking water from groundwater or rivers that can be easily contaminated. It is a big deal for recreation and hydro-electric production. The Great Lakes are also a fantastic marine highway for the transportation of domestic trade, such as iron ore and fuel. Being a connected route to the ocean, foreign ships can come in with cargo to the middle of the United States.
"The Great Lakes are an unknown component to many people, of what value and resources we have thanks to them," said Captain Stamatelakys. "My biggest concern is that we stop learning. We have to keep asking how do we improve our Great Lakes resource for the generations to come."
By the Numbers: R/V Neeskay
Length 71'
Beam 18'
Draft 8'
75 Gross Tons
60 net Tons
96 Tons Displacement
U.S. Army T-495
Built by Higgins
New Orleans, Louisiana
1953
Extended Coverage of Milwaukee Water Week includes articles, photo essays, and interactive location mapping:
Learn more about the
Water Centric City
of Milwaukee
Lee Matz