Milwaukee-based education program works with men and boys to take a stand against human trafficking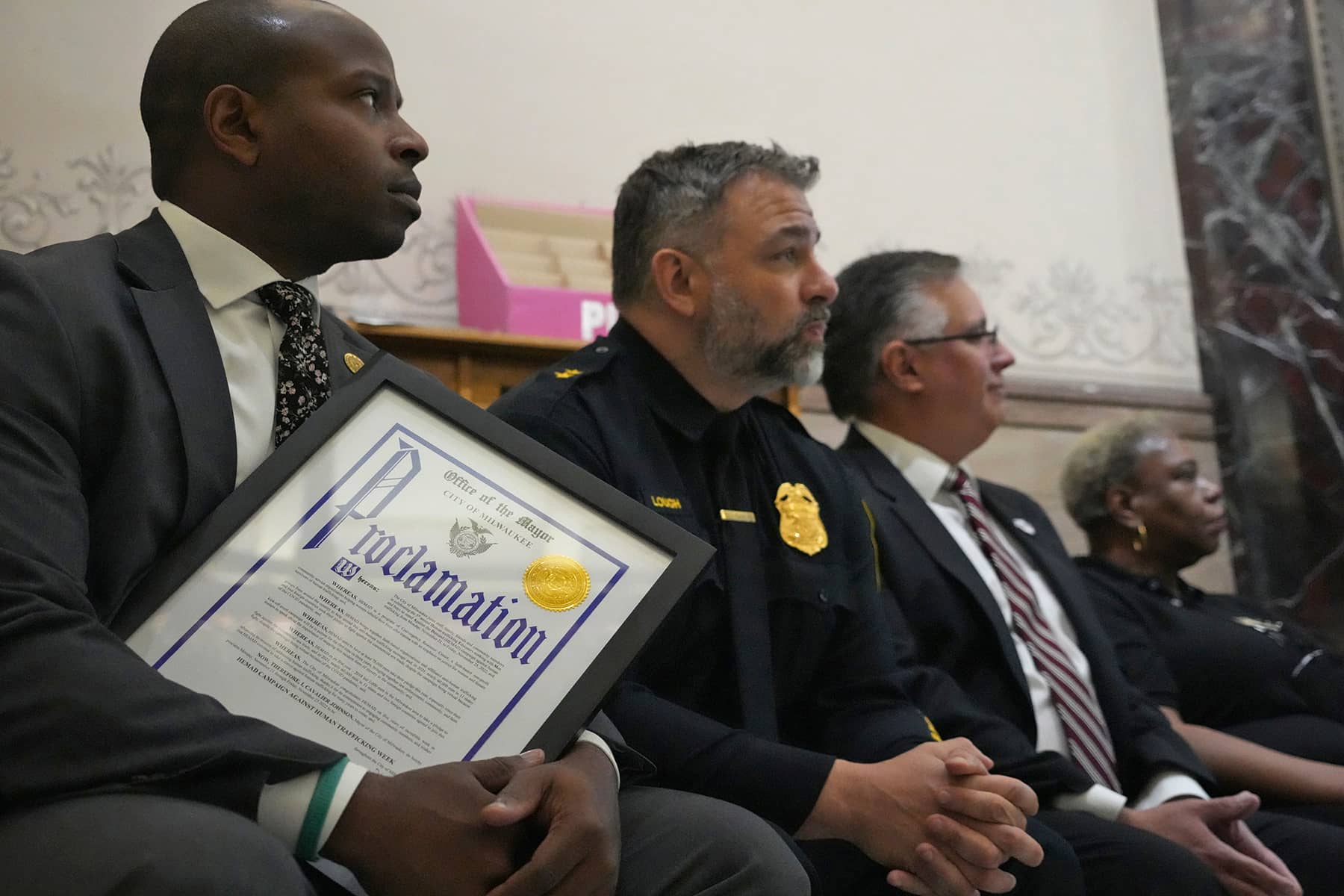 HEMAD Milwaukee launched its five-week campaign to educate men about how they can end human trafficking, during a press conference at City Hall on November 21.
The HEMAD (Human trafficking Educators working with Men and boys to stand Against the Demand) project was designed primarily to push men to take a stand against the demand of sex trafficking. It is the fifth year of the Milwaukee-based campaign, lasting until December 28.
"Human trafficking is a crime. It exploits young children, teenagers, men, and women alike of all races. They're subject to force, fraud, or coercion for the purpose of sexual exploitation and forced labor," said Arnold Cifax, associate pastor at New Testament Church of Milwaukee. "Human trafficking is a multi billion dollar industry. It is the second largest criminal enterprise in the world. It occurs every day and in all 72 counties across Wisconsin. Sex trafficking is a modern day form of slavery that targets youth under the age of 18. If we can stop the demand, we can stop the trafficking."
To date, several states and countries have become involved with the HEMAD campaign, with more than 65,000 men taking the pledge in past years to eradicate the terrible atrocity. The goal for 2022 is 75,000 men worldwide.
"Most of the leaders in this program are men on purpose, because we need men to help other men take a stand," said Debbie Lasseter, CEO of the convergence Resource Center. "I want to thank you for doing that. And I want to remind you that it is important not only for me, but for every woman that you know, for every man to take this pledge so that we know who our protectors, our leaders, our men out there are standing with us to fight for us."
HEMAD is an award-winning campaign to motivate men to take a public stand against the commercial sex trade and human trafficking. The campaign has spread across the country and around the world through social media.
Human sex trafficking has been a growing problem in Wisconsin. A study from the Medical College of Wisconsin found that in the City of Milwaukee alone there were 340 people believed to be victims between 2013 and 2016. The National Trafficking Hotline also reported 134 cases in Wisconsin in 2018.
HEMAD is a program of Convergence Resource Center (CRC), a faith-based nonprofit community service organization helping women rebuild their lives after trauma with an emphasis on justice involved women and female survivors of human trafficking.
About 300,00 children are at risk of being sex trafficked each year in the United States. For perspective, that is the combined populations of Madison, Marshfield, and Kaukauna or Green Bay, Eau Claire, Sheboygan, Oak Creek, Mequon, and Germantown or Kenosha, Racine, Waukesha, and Wauwatosa.
Mayor Cavalier Johnson proclaimed that from Monday, November 21, to Friday, November 25, to be HEMAD campaign against human trafficking week throughout the entire city of Milwaukee.
"There are advocates on the ground in our neighborhoods who are working every day to stop this terrible plight that's happening, in terms of sex trafficking in our community," said Mayor Johnson. "Men stepping up to be a part of the solution to stop the demand for sex trafficking. not just in Milwaukee County, but in counties across the state of Wisconsin and indeed elsewhere around the globe."
Mayor Johnson has previously noted that a two-year study by the city's homicide review commission suggested the area's sex trafficking problems could be much larger than suspected. The city's Office of Violence Prevention and the Milwaukee Commission on Domestic Violence have been working with CRC and other groups to reduce the demand and eliminate opportunities for human trafficking.
"The work Convergence Resource Center is doing helping human trafficking survivors is making a very real difference in the community," added Mayor Johnson. "More importantly, I salute them for their work in reducing the demand for sex trafficking. I encourage all men in the community to join me and others by taking the HEMAD pledge to stand against human trafficking and the commercial sexual exploitation of adults and children."
In its first year of 2018, HEMAD led 3,000 men in the Milwaukee area to take a pledge to fight against the commercial sex trade, and in 2021, nearly 60,000 men in 11 states and two foreign countries agreed to join this fight, despite the campaign being virtual because of the COVID pandemic.
"As we spend the holidays with family at home, sharing memories with loved ones, there will be millions across Wisconsin who are falling victim to some of the most heinous crimes possible," said Darryl Morin, National President of Forward Latino. "These crimes are truly an attack on the human dignity of each one of these individuals. They'll be forced to work in an underworld, where love is not love. A world where everything is purely about dominance, and violence. Where it's about humiliation, and profit. A world were made up mostly of women and children who are exploited for the sexual gratification of one individual and for the profit of another."
There are many forms of exploitation. Approximately 80% of human trafficking today involves sexual exploitation, while 19% involves labor exploitation. There is a staggering number of enslaved people today. Right now, there are approximately 20 to 40 million slaves in the world.
"That is why today I stand before you asking each one of you to take the pledge with me a pledge not to participate in the darkest corners of humanity," added Morin.
Human trafficking is extremely profitable. While $15.5 billion generated in industrialized countries from slave trading is already horrifying, the industry reportedly generates a profit of $32 billion yearly, worldwide.
Trafficking disproportionately affects women. Though men can and are trafficked and exploited for labor, it is far more common for women to be trafficked, as they are far more often exploited for sexual reasons.
Finding trafficking red flags can save lives. Some signs that a teen might be involved in human trafficking include but aren't limited to: not coming home at night, new tattoos – of cherries, roses, dollar signs, or crowns, excessive crying, depression, exhaustion, secrecy, having older significant others, having many unknown adults on social media, STIs/STDs, or no longer engaging in regular social behaviors.
"Most of the buyers are men. Most of the sellers and traffickers are men. Even if we're not doing this, it's happening and we're allowing it to happen. It's on us to take a stand and say "no more – not on my watch!,"" said Alan Smyth of Saving Innocence." Take that pledge, bring as many men as you can into it, and let's end this thing once and for all!"
According to the U.S. State Department's Trafficking in People Report, eighty percent of human trafficking cases in the U.S. involve sex trafficking, and this is a crime being committed in every county in our state.
A study on sex trafficking of juveniles and young adults by the Medical College of Wisconsin found that 55 percent were under age 18 when they were first trafficked for sex and one in four had been trafficked multiple times.
"It's important for every woman to hear every man take this pledge," said Dr. Debbie Lassiter, CEO and co-founder of the Convergence Resource Center. For nearly 20 years she has seen the trauma human trafficking survivors have experienced as well as their resiliency in rebuilding their lives and being able to trust other people."