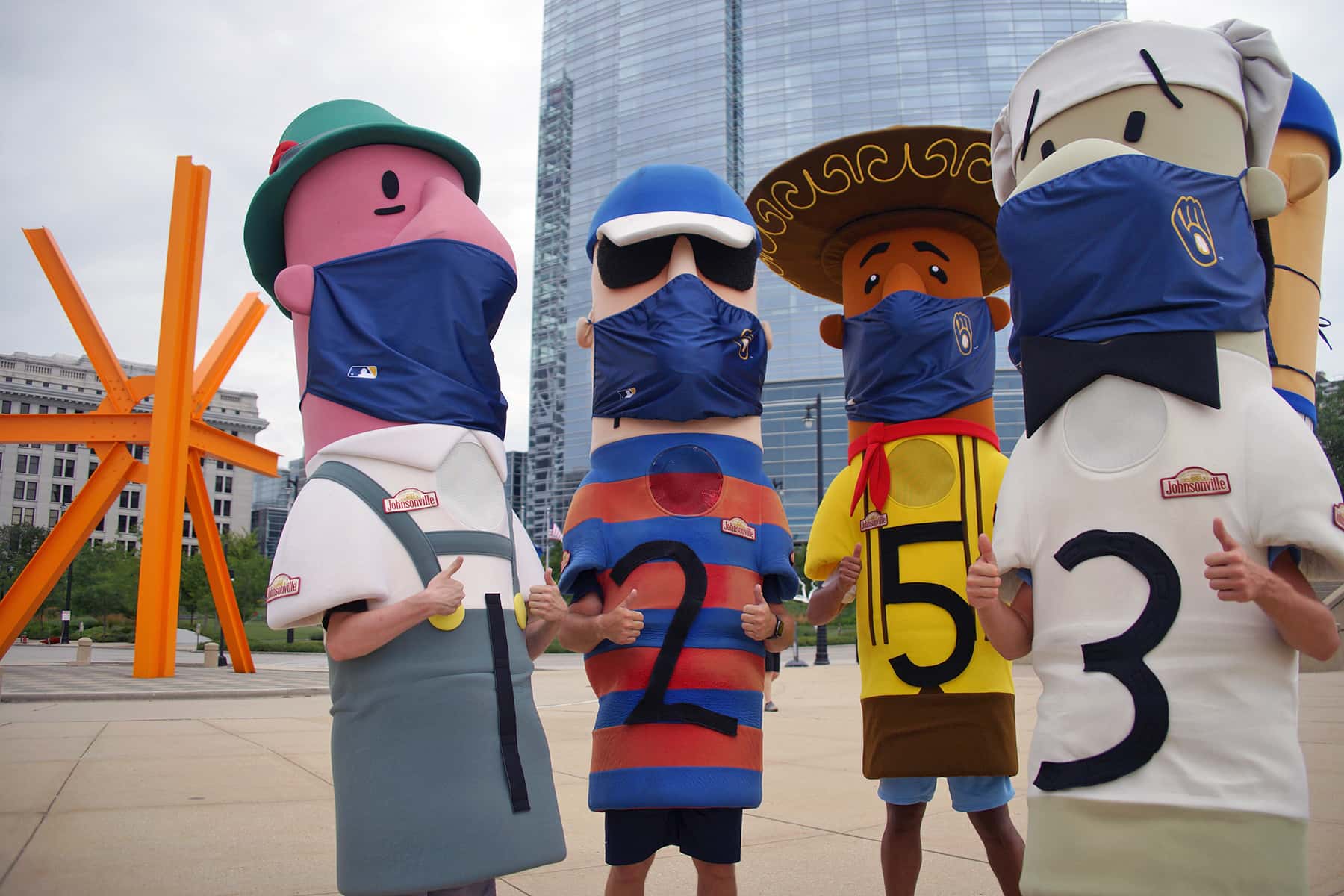 The Milwaukee Brewers announced on July 17 that the beloved Johnsonville Famous Racing Sausages would adopt a travel schedule to start the 2020 season, showing up at a variety of surprise locations throughout the Milwaukee-area. The effort was designed to continue the cherished 6th inning tradition amid safety restrictions in place due to the coronavirus.
On select home game dates, a sausage race from a unique location around town will be shown on the scoreboard in the middle of the 6th inning, and also shared via Brewers social media.
"We can't bring fans to games right now, but we can take the races to the community," said Rick Schlesinger, Brewers President of Business Operations. "It's not Brewers baseball without the Johnsonville Famous Racing Sausages, and this is a tradition that has to keep running."
Even though fans will not be able to see Bratwurst, Hot Dog, Polish, Italian, and Chorizo at Miller Park on Opening Day, when the Brew Crew plays against the St. Louis Cardinals on July 31, the whole gang will be traveling around the city to compete for speed on off-road courses.
The Polish Sausage won bragging rights in the 2019 season with a total of 21 wins. The 2020 season will bring challenges to the racers with new terrain and no home field advantage.
Fans can also participate by visiting the official web page of the Racing Sausages and suggest venues. Race locations must be within an hour's drive of the City of Milwaukee and accommodate an outdoor race of a minimum 300 feet. Submission deadline is July 31.
The Famous Racing Sausages began in the early 1990s, appearing as a cartoon running a virtual race every home game on the giant scoreboard in center field at County Stadium.
As the racing weenies grew in popularity, costumed sausages representing Bratwurst (#1), Polish (#2), Italian (#3), and Hot Dog (#4) began to race during every game from the 2000 season, the final year that the Brewers played in County Stadium. In 2007, Chorizo (#5) permanently joined the Racing Sausages after a one-game debut in 2006.
Because of the impact from COVID-19, there was doubt that Major League Baseball would have a 2020 season. However, a heavily modified schedule was developed with only 60 games instead of the regulation 162. Even with safety protocols in place for players and staff, one team is already struggling to contain an outbreak, as 11 members of the Miami Marlins recently tested positive for the coronavirus.