MCTS lists Milwaukee's 12 most festive holiday destinations to visit by bus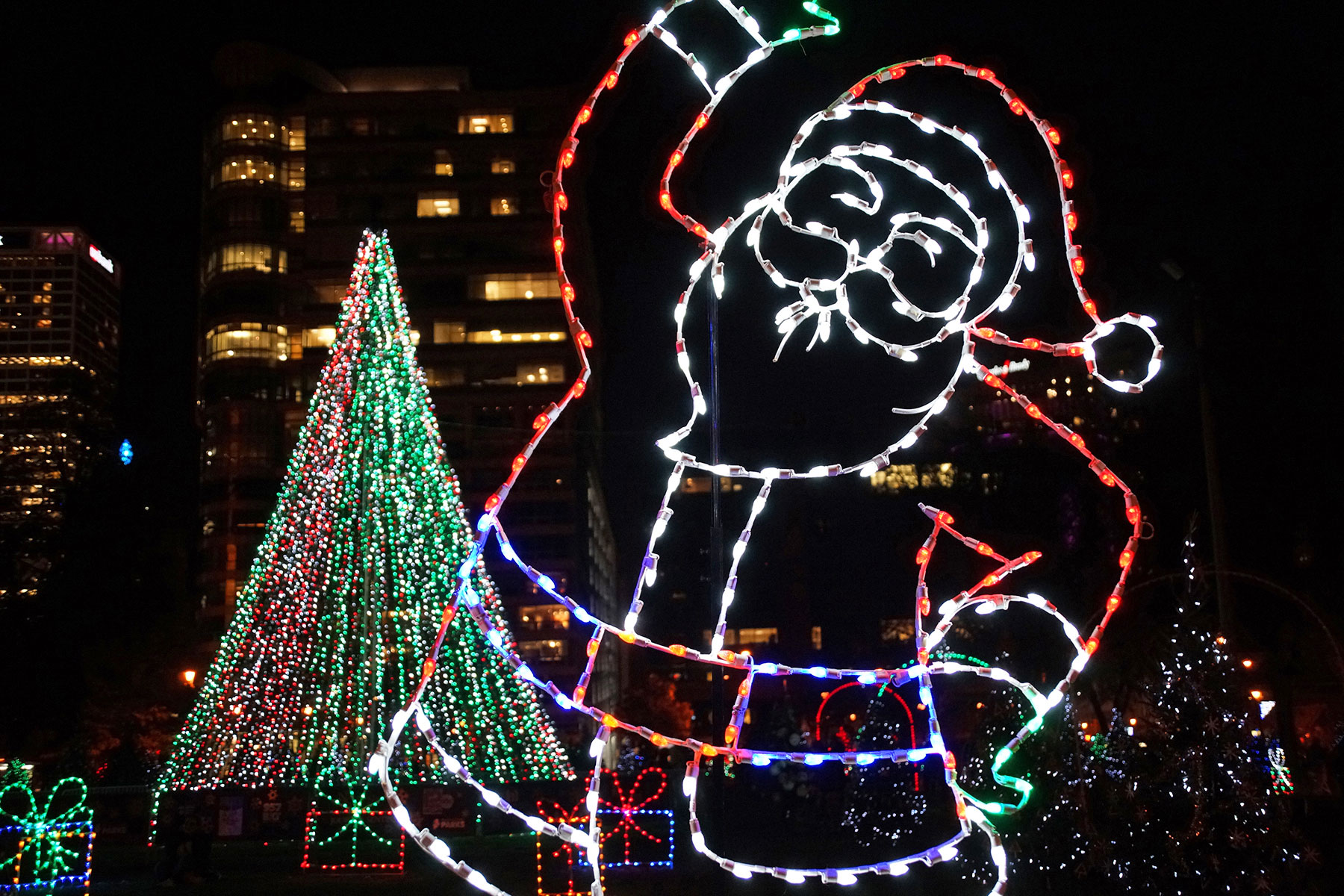 Few places shine brighter than Milwaukee during the holidays. Whether the public spends time outside in the cold or prefers to stay warm indoors, the city offers plenty of ways to experience the sights and sounds of the season.
Following its curated list of Halloween locations to visit by public bus, the Milwaukee County Transit System (MCTS) recently released a dozen destinations around town for the December holidays. The self-guided bus tour list features some of the most festive holiday displays and activities in Milwaukee County. Using a 24-Hour ticket on the Ride MCTS app, travelers can visit multiple sites without the hassle of parking and navigating street slush.
01. Milwaukee Holiday Lights Festival
The Milwaukee Holiday Lights Festival is back for its 20th year. Check out the festive displays at Cathedral Square, Pere Marquette Park, Zeidler Union Square & Burns Commons Park. And don't miss the beautiful chandeliers hanging along Wisconsin Avenue.
Ride Route 30 to Cathedral Square, Route 19 to Pere Marquette Park and Route 57 to Zeidler Union Square. Routes 30, 30X & GoldLine stop near Burns Commons Park. Routes 14, 19, 30, 30X & GoldLine all run along Wisconsin Avenue.
Where: Cathedral Square, Pere Marquette Park, Zeidler Union Square, Burns Commons Park & Wisconsin Avenue
When: Through January 1st
More Info: Milwaukee Downtown BID #21
Miller Valley is celebrating its 15th year of Holiday Lites. The Holiday Lites experience is an outdoor/indoor walking tour that consists of an opening video, a stop at the famous Miller Caves, and an exciting stroll past the Holiday Lites show itself.
Route 31 makes several stops along the decorated portion of State Street, including a stop directly in front of the Miller Brewery Visitor Center.
Where: 4251 W. State Street
When: Friday/Saturday nights through December 22nd
More Info: MillerCoors
03. Canadian Pacific Holiday Train
The Canadian Pacific Holiday Train will once again be rolling through southeast Wisconsin ahead of the holidays. It is scheduled to stop at the Intermodal Station in downtown Milwaukee on December 6th and the Harwood Avenue crossing in Wauwatosa on December 7th.
It's free to see the 14-car train decorated with thousands of lights, but Canadian Pacific is asking visitors to bring nonperishable food items to donate to local food banks.
Ride Routes 12 & 57 to get to the Milwaukee location. Route 31 takes you to the Wauwatosa location.
Grab your ice skates and head to Red Arrow Park for some outdoor fun this winter. Downtown Milwaukee's ice rink is free to use when you bring your own skates. Skate rentals are also available.
Routes 19, 57 & GreenLine all make stops along Red Arrow Park, which is decorated for the season.
05. Christkindlmarket Milwaukee
Milwaukee's brand new Christkindlmarket, outside Fiserv Forum, is modeled after the classic German holiday market in Nuremberg, Germany, with traditional candy-cane striped huts. The outdoor event hosts vendors from Germany, Europe and around the world who display hand-crafted ornaments, toys and unique holiday gifts, as well as traditional German foods and beverages.
Ride Routes 19, 33, 80 to get to the Christkindlmarket, Bucks games, concerts, or any other special events held throughout the year at Fiserv Forum.
Where: 1111 Vel R. Phillips Avenue
When: Through December 31st
More Info: Fiserv Forum
"Scrooooge!" the holiday floral show at Milwaukee's Mitchell Park Domes, will surely put families in the holiday spirit. The display, which is inspired by the storyline of "A Christmas Carol," even features trees that represent the four ghosts who visit Ebenezer Scrooge.
Ride Route 27 and PurpleLine to get to Domes to see the festive show for yourself.
Generations of families have visited Milwaukee's Pabst Mansion to celebrate "A Grand Avenue Christmas." The mansion's halls are decked for the holidays and open for self-guided tours throughout the season.
Just hop off Route 30 to visit the historic landmark.
Where: 2000 W. Wisconsin Avenue
When: Holiday decor up until January 6th
More Info: Pabst Mansion
One of southeast Wisconsin's most popular holiday traditions, Candy Cane Lane is a fundraiser for the MACC Fund. Every year, dozens of decorated homes in a West Allis neighborhood draw long lines of cars and pedestrians excited to check out the sights and sounds.
Ride Routes 51 and 67 to get to the festive neighborhood.
Where: The official participating area is from Montana Avenue on the north to Oklahoma Avenue on the south; 96th Street on the West to 92nd Street on the east.
When: Evenings through December 26th
More Info: Candy Cane Lane
09. Milwaukee Public Museum
Celebrate the season at the Milwaukee Public Museum. The Streets of Old Milwaukee and the European Village exhibits are both transformed into a holiday wonderland where you can discover traditions of the past and make new holiday memories with your family.
Routes 12, 14, 23, 31, 80 and BlueLine all have stops near the museum.
10. BMO Harris Bank Holiday Display
BMO Harris Bank is once again transforming its downtown Milwaukee bank lobby into a winter wonderland. This year's theme is "A Seussified Season," bringing the beloved children's author's works to life for all to see.
The display, which is free and open to the public, is along Routes 15, 57 & GreenLine.
Where: 770 N. Water Street
When: Through January 2nd
The Milwaukee Rep's hit adaptation of the Charles Dickens classic, "A Christmas Carol" runs through December 24th at the historic Pabst Theater in downtown Milwaukee.
The production, which broke box office records last year, has a dazzling blend of music, lively dancing, stunning sets and eye-popping special effects.
Ride Routes 15, 57 & GreenLine to get to the theater.
Where: 144 E. Wells Street
When: Through December 24th
More Info: Milwaukee Rep
Step off the GoldLine and spend some quality time this holiday season at the Milwaukee County Zoo. Stroll across the festive grounds to celebrate the season with some of the 3,100 mammals, birds, fish, amphibians and reptiles that call the zoo home.
Whether you have tickets for Breakfast with Santa or are just looking to enjoy the great outdoors this winter, the zoo is a perfect place to bring the whole family.
© Photo
Milwaukee County Transit System, Visit Milwaukee, Fiserv Forum, Canadian Pacific Railway, Milwaukee Downtown BID #21, Milwaukee Public Museum, BMO Harris Bank, Milwaukee County Zoo, Fête De La Musique, and Lee Matz