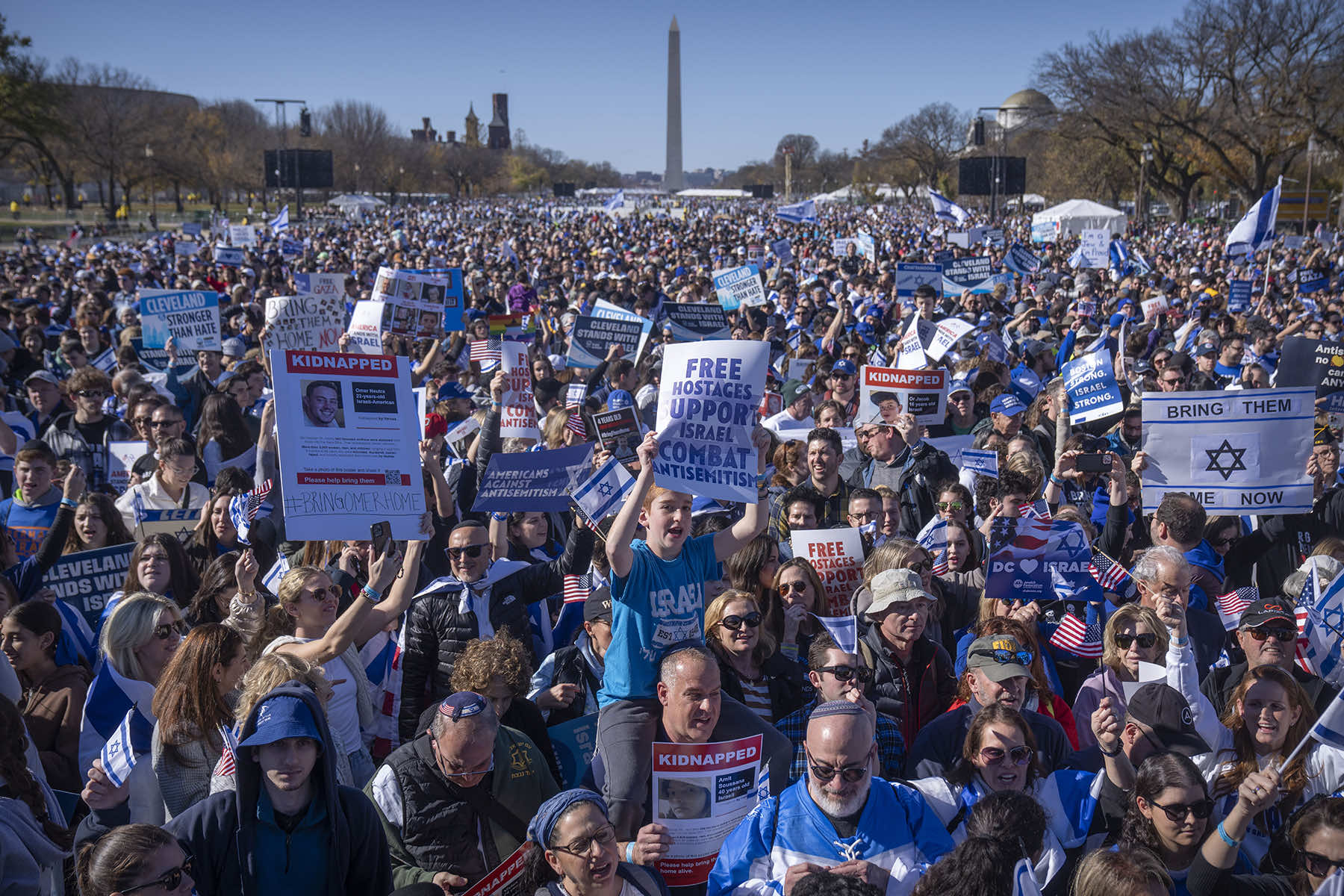 Almost 200 residents from the Milwaukee area traveled to Washington DC on November 14 to participate in the "March for Israel." They joined an estimated 290,000 others from across the nation, calling for the release of the hostages held by Hamas in Gaza.
Organized by the Milwaukee Jewish Federation, the group left General Mitchell International Airport on the morning of November 14 to take part in the historic event, and returned later the same day in the evening.
Supporters of Israel rallied by the tens of thousands on the National Mall under heavy security, voicing solidarity in the fight against Hamas and crying "never again."
The "March for Israel" offered a rare, and controversial, bipartisan endorsement of one of America's closest allies in the Middle East, as criticism has intensified over Israel's brutal offensive against civilians in Gaza, set off by the bloody Hamas incursion on October 7.
"The 'March for Israel' was quite emotional," said Darryl Morin, Co-founder of Milwaukee's Latino Jewish Alliance. "Family members who had loved ones still being held hostage spoke to the crowd, along with Jewish leaders and congressional leaders from both parties."
Morin said the event was not about anger or rage, but about unity. And also the need to secure the release of the 240 hostages and curb anti-semitism.
Overlooking a sea of Israeli and U.S. flags, the top Democrats in Congress — Senate Majority Leader Chuck Schumer and House Democratic leader Hakeem Jefferies — came together on the stage with Republicans Mike Johnson, the House speaker, and Senator Joni Ernst of Iowa. They joined hands as Schumer chanted, "We stand with Israel."
Yet underneath that projection of unity, Democrats are sharply divided over Israel's course and its treatment of Palestinians. President Joe Biden has strongly urged a defiant Prime Minister Netanyahu to restrain some of his tactics to ease civilian suffering in Gaza, after voicing full-throated solidarity with the Israelis in the war's early weeks.
A succession of speakers took the stage to denounce the Hamas attack and what they said was a virulent spread of antisemitism internationally, "an embarrassment to all civilized people and nations," in the words of Israeli President Isaac Herzog, who addressed the crowd by video from the Western Wall in Jerusalem.
After "the largest massacre since the Holocaust," he said, "let us call out together, never again. No one will break us. We will rise again. … There is no greater and just cause than this."
Hamas militants stormed into Israel from Gaza in the surprise incursion on October 7, killing more than 1,200 people and taking more than 200 hostages. Israel has responded with weeks of attacks in Gaza, which have killed more than 11,000 Palestinians.
"There was no doubt in my mind that I had to be here, to be a united voice. Because we have to bring home those children. I'm a mother, and I can only imagine how much their parents are suffering," said Patricia Ruiz-Cantu, a member of Milwaukee's Latino Jewish Alliance. "We are all children of God and we must stick together with a united voice to make sure everyone knows that the love of God is for everybody."
Rachel Goldberg, mother of Hersh Goldberg-Polin, who was taken hostage while attending a music festival attacked by Hamas, said the days since the attack have been "slow motion torment."
"These children of God range in age from 9 months to 87 years," Goldberg said of the hostages taken to Gaza. "They are Christians, Muslims, Jews, Buddhists, and Hindu. Why are they being left underground in the dirt?"
The Homeland Security Department designated the march a "level 1" security event, the highest classification in its system and one usually used for the Super Bowl and other major events. The designation means the event required substantial law enforcement assistance from federal agencies, the officials said.
The FBI and Homeland Security sent a joint bulletin to law enforcement officials in Washington warning about the potential for violence or an attack inspired by the Israel-Hamas war, the officials said. But the bulletin said clearly that federal officials haven't identified any "specific, actionable threat" to the march, they said.
The officials were not authorized to discuss details of the law enforcement bulletin publicly and spoke to The Associated Press on condition of anonymity.
More than 300 people were arrested for illegally demonstrating, and three people were charged with assaulting police after protesters descended on Capitol Hill to call for a cease-fire between Israel and Hamas.
Many of the demonstrators wore Israeli flags wrapped around their shoulders, flowing behind them, or held small Israeli flags in their hands. They also held placards with names and photos of the people who had been taken hostage in Gaza, often holding them up as the crowd shouted, "Bring them home!" Security was tight, with dump trucks blocking access to the mall and police dispersed throughout the area and on horseback.
"We have a few goals, but the first is to stand in solidarity with Israel. The second is to ask for our hostages back. The third is to stand united against antisemitism," said Miryam Rosenzweig, President of the Milwaukee Jewish Federation." And the fourth is that, at a time when the Jewish community has felt very isolated, to come together as a national Jewish community, as an American Jewish community, and stand together with each other."
Just a day before on November 13, hundreds of Jewish peace activists and their allies converged at a major train station in downtown Chicago during rush hour, blocking the entrance to the Israeli consulate and demanding U.S. support for an Israel cease-fire as battles rage in northern Gaza.
"We will not let a genocide happen in our name," said Clara Belitz of IfNotNow Chicago during an Instagram livestream of the protest. "Our Jewish values compel us to speak out." IfNotNow describes itself as a movement of American Jews organizing to end U.S. support of "the Israeli government's apartheid system."
Midwestern Jews and allies traveled to Chicago from Iowa, Missouri, Minnesota, Michigan, Indiana, Wisconsin, and Illinois for the demonstration, organizers said.
Advocacy group Jewish Voice for Peace led a similar sit-in in New York City's Grand Central Station on October 27, where a sea of protesters filled the main concourse during evening rush hour, chanting slogans and unfurling banners demanding a cease-fire as Israel intensified its bombardment of the Gaza Strip. At least 200 demonstrators were detained by New York police officers.