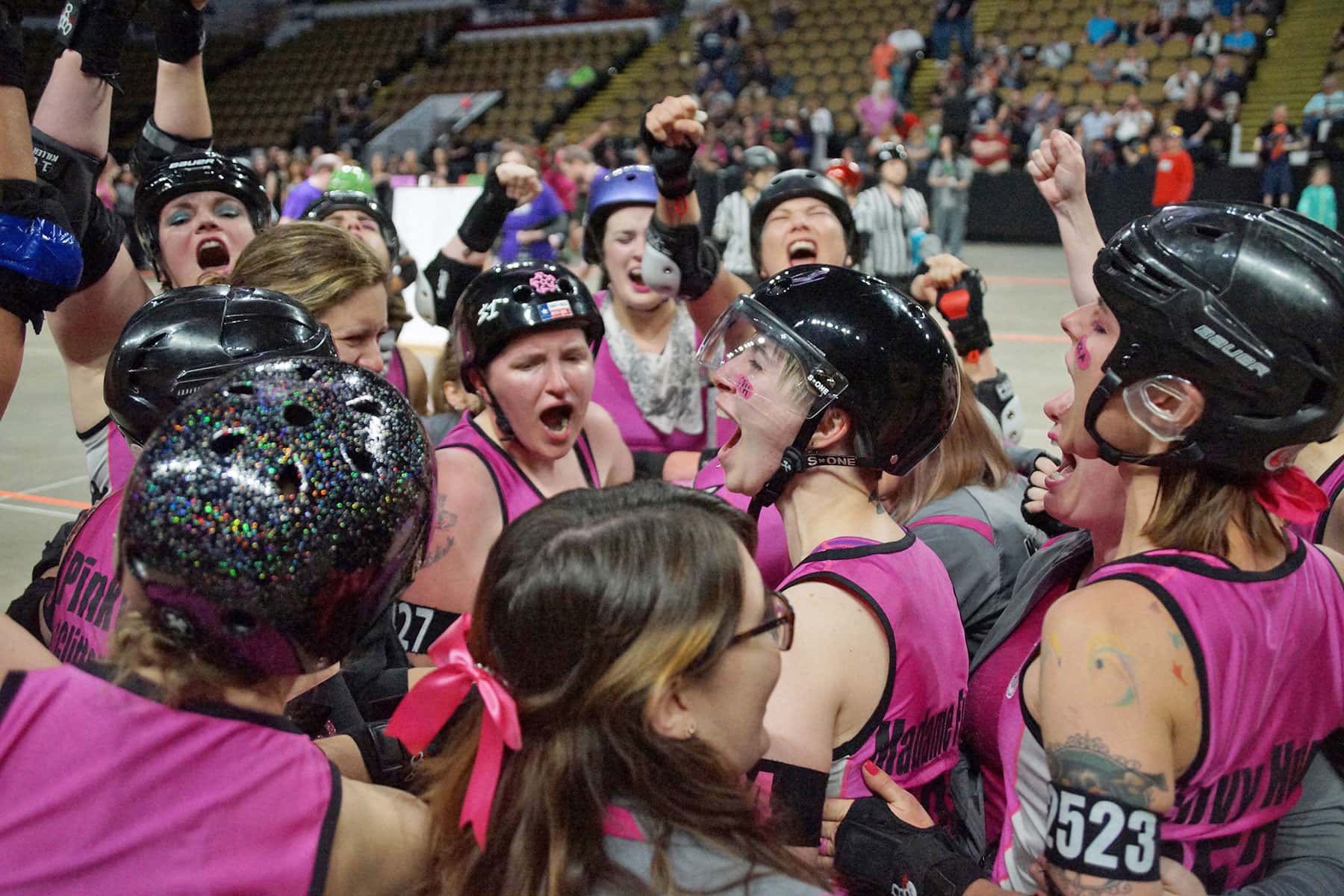 The 2017 roller derby season for the Brewcity Bruisers (BCB) came to a climactic finish on May 27 at the UW-Milwaukee Panther Arena, when Maiden Milwaukee won the championship bout for the first time in the team's 11 year league history.
The Maidens won 122-120 in overtime against the Rushin' Rollettes, in a highly emotional bout that saw an outpouring of support from opposing team members and fans alike. The Maidens had not clinched a championship title since the league was formed in 2005.
Close to 100 active players are a part of the Brewcity Bruisers, with many of the women having little or no skating experience prior to joining. They are divided into four local teams, the Crazy Eights, Maiden Milwaukee, Rushin' Rollettes, and Shevil Knevils. The league also has an internationally ranked travel group.
The basic object of roller derby is for one player from both of the five member teams, known as a jammer, to skate around the track and earn points by passing the four opposing blockers. To get a better understanding of the sport with more details, watch the video segment filmed by the Milwaukee Independent during the championship match.
Roller Derby offers a great deal of action, not just from the speed of skating but also the skill and techniques from the players. The first bout between the Crazy 8s and the Shevil Knevils was to determine third place ranking for the season. The Shevil Knevils were considered the underdog team, coming close many times but never winning a Brewcity Bruisers championship. Even though they showed their teeth often during the bout, the Shevil Knevils were dominated by the Crazy 8s in the second half and spiraled to a 198-133 loss.
In the second bout between Maiden Milwaukee and the Rushin' Rollettes for first place, one of the teams was also an underdog with no championship trophy to its credit. Maiden Milwaukee displayed a night of talent and passion to win, keeping the score close to the very end.
BCB has other Inter-league bouts scheduled through the summer around the midwest, but the skaters will not return for home season play in Milwaukee at Panther Arena until January 2018, marking the eighth year at the downtown venue. For highlights from both bouts of the 2017 championship, view the companion Photo Essay.