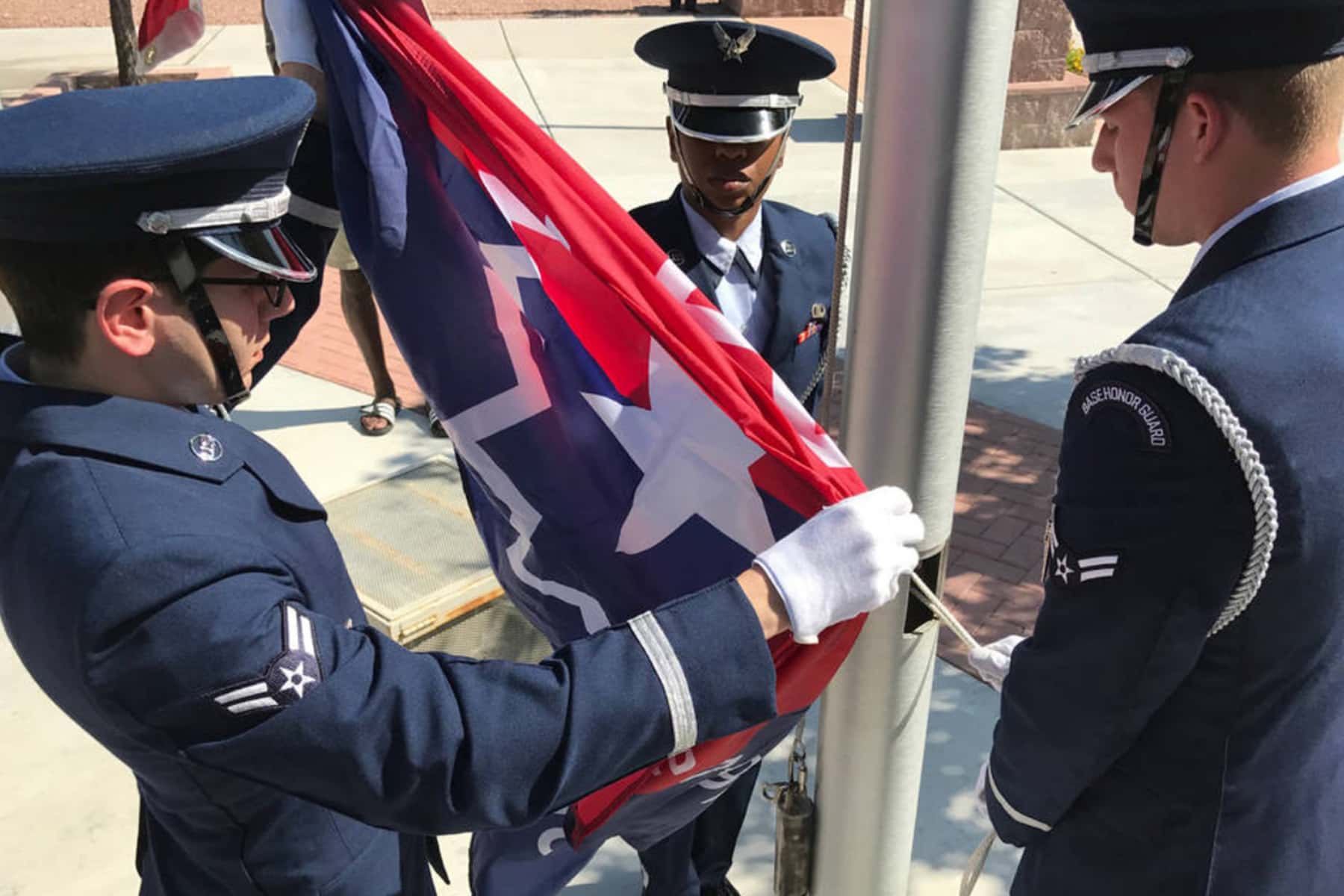 A flag that celebrates Juneteenth, the day that commemorates the end of slavery in the United States, will fly over the Wisconsin Capitol for the first time in state history. It will also be displayed at a City of Milwaukee building for the first time.
Governor Tony Evers announced the state's decision on June 17. The Juneteenth flag will fly over the Capitol's east wing on June 19, replacing the rainbow gay pride flag for one day. That flag has been up all month, flying for the first time in Wisconsin history last year.
"As a state that sees some of the most disparate outcomes for Black Wisconsinites, it is as important as ever that we recognize and reflect on our history, celebrate Black resiliency, and move forward in solidarity and strength toward a more racially equitable and just society," said Governor Evers. "It is a symbolic reminder of the injustices of our past, our current moment, and hope for our future."
The U.S. flag and Wisconsin state flag will continue flying on the same flagpole above the Juneteenth flag. The POW-MIA flag will continue flying on a different flagpole as it does every day.
Juneteenth, also called Emancipation Day and Freedom Day, is formally recognized and celebrated in 47 states and the District of Columbia, with Wisconsin joining as the 32nd state to recognize this day in 2009. Although it is a state holiday only in Texas, there is a movement nationally to bring more recognition to the day, including making it a holiday in more states and nationally.
"This year, Juneteenth has particular significance as we find ourselves in the midst of a movement for racial justice and an end to systemic racism," said Lt. Governor Mandela Barnes, Wisconsin's first black lieutenant governor. "We have won significant freedoms since 1619, but our work will not be over until all Black lives matter by way of equity and the opportunity to thrive."
Juneteenth commemorates June 19, 1865, when news finally reached African Americans in Texas that President Abraham Lincoln had issued the Emancipation Proclamation freeing slaves living in Confederate states two years earlier. When Union soldiers arrived in Galveston to bring the news that slavery had been abolished, former slaves celebrated.
The flag was created in 1997 by Ben Haith, the founder of the National Juneteenth Celebration Foundation. It was later revised in 2000 and 2007. The red, white and blue design with a star in the middle is meant to represent the history and freedom of American slaves and to declare that they, along with their descendants, are all Americans, according to the foundation's website.
Milwaukee has one of the oldest and longest-running Juneteenth Day Celebration in the nation, with events, a parade, pageants, and a festival on King Drive. Due to the COVID-19 pandemic, those public festivities have been canceled for 2020. The Juneteenth Day flag will be raised over the City of Milwaukee's 809 N. Broadway building.
"It is very reassuring to know the Juneteenth Day flag will be flying over downtown for everyone to see and enjoy," said Alderwoman Chantia Lewis. "I am working to see if it can be flown next year on the flag pole high atop the bell tower of our historic City Hall."
During the Milwaukee Common Council on June 16 a resolution was passed directing the Department of Administration – Intergovernmental Relations Division to seek introduction and passage of legislation establishing Juneteenth Day as a federal holiday.
"Several years ago the City passed a resolution recognizing Juneteenth Day as a local holiday and I believe it is time now for this important day to be recognized at a federal level," said Alderwoman Milele A. Coggs. "Just as we celebrate the 4th of July as a day of independence, so should we celebrate Juneteenth Day as it represents a significant moment in history for many in this country. I want to thank my colleagues for their overwhelming support of this file and recognition of the importance of Juneteenth Day."
Milwaukee County Executive David Crowley and County Board Chairwoman Marcelia Nicholson announced on June 15 that Milwaukee County employees will have a floating holiday on June 19 in recognition of Juneteenth Day.
"Beginning this year, Milwaukee County will officially recognize this important day in American history," said County Executive Crowley. "Juneteenth is a day to celebrate the rich history and culture of the African American community. It is also a day to appreciate the long struggle for civil rights that Black people in America have faced for centuries. I am hopeful that our employees will be able to take June 19 as a day 'on' not a day off in order to fully support Black lives, liberation, and the vision of Milwaukee County to achieve racial equity and become the healthiest county in Wisconsin."
These headline links feature the daily news reports published by Milwaukee Independent about the George Floyd protests, the revival of the Black Lives Matter movement that followed, and their impact on the local community in for 8 months from May to December of 2020.