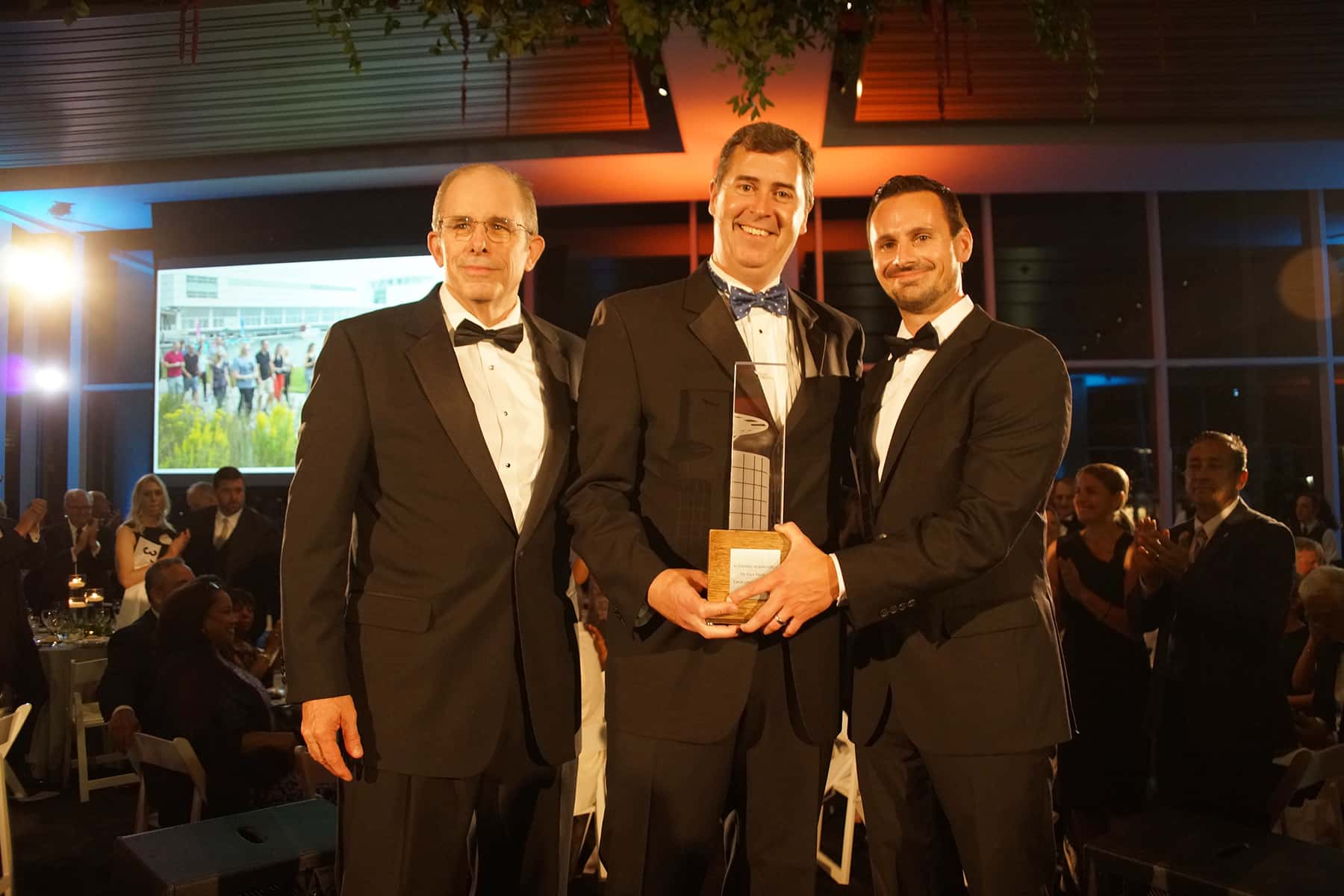 Discovery World celebrated 13 years along the lakefront with its 2019 Ignite the Spark Gala fundraising benefit on July 27, and gave a special tribute to the late restaurateur and philanthropist Joe Bartolotta.
Former CEO of Discover World, Joel Brennan, was honored for his years of service in making the museum into the vibrant and nationally recognized institution it is today. Brennan left his position late last year to accept the position to work with the Governor Tony Evers administration as Secretary of the Department of Administration for State of Wisconsin. It was the first time for the public to welcome the museum's leader, Bryan Wunar.
Jennifer Bartolotta offered a moving tribute to her late husband Joe, who had been a long time friend to Discover World and the Brennan family and passed away in April.
The event also marked the formal announcement of the Pilot House to be renamed the Roger and Judy Smith Family Pilot House. Community benefactors Roger and Judy Smith made a gift of $1 million to improve Discovery World's overall visitor experience and expand the visibility of Wisconsin's largest science and technology center.
Roger Smith, a lifelong Milwaukee resident who was introduced to the world of science and engineering alongside his father in the A.O. Smith factory, has served on the Discovery World Board of Directors for more than decade.
"Discovery World is really an important asset to the community because of what they're teaching young kids and adults," said Smith, retired Director of Community Affairs for A.O. Smith Foundation. "I love it and it is my number one non-profit. It's a real honor for me to give a large gift in order to make this Pilot House and all of Discovery World a better place."
The Pilot House was also fitted with a brand new LED lighting system to increase the visibility of the science center situated on Milwaukee's lakefront. The technology allows the venue to shift its color illumination, and would be an unofficial companion to the proposed Light the Hoan initiative, an effort to bring more vibrant lights to port spaces at night. The Smiths hope that their gift will help Discovery World shine even brighter and reach new audiences beacon in the city.
Originally conceived as a center for science, economics, and technology by a group of business leaders and academic professionals in 1983, Discovery World started in the basement of a Boys & Girls Club located on Milwaukee's East Side just off Brady Street.
Discovery World is where local children can take their first steps on a path toward STEM (Science, Technology, Engineering and Math) careers and brighter futures. The facility operates without any public funds for financial assistance, and depends on donations and fundraising to provide programs that augment the local educational system.