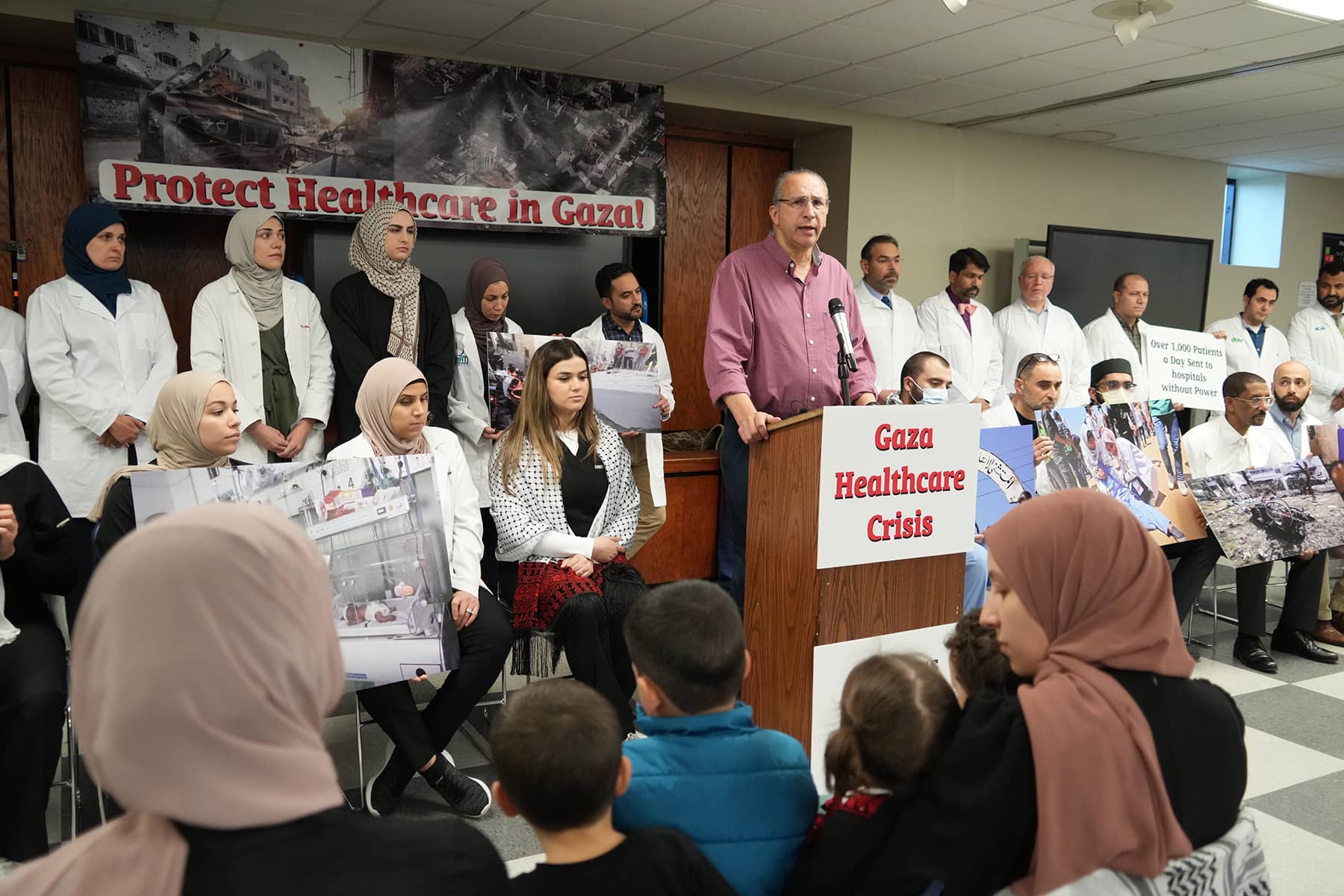 Medical professionals from across Milwaukee County gathered at the Islamic Society of Milwaukee on October 20, to voice their growing concerns about the ongoing humanitarian crisis in war-weary Gaza.
The crisis, marked by a lack of essential medical supplies, an overwhelmed healthcare system, and increasing civilian casualties, prompted the local healthcare professionals to join the global plea for immediate aid and intensified peace efforts in the region.
"As concerned health care workers in the Milwaukee area, we are deeply disturbed by the current Israeli war on Gaza, and the large toll of civilians that have been killed and injured – particularly children," said Hashim Zaibak, CEO of Hayat Pharmacy, reading from a joint statement at the press conference." The Israeli government has cut off all food, water, electricity, and fuel to the entire population of Gaza. They have also prevented the entry of all goods – including necessary medical supplies and medicines – from entering Gaza."
Cutting off food, water, electricity, and medical supplies to a civilian population is illegal under international law. Known as "collectively punishing," such acts are considered as a war crime.
Compounding the difficulties encountered by Gazans, as a result of the total blockade, has been the relentless bombing of the civilian infrastructure, including internationally protected healthcare facilities.
The historic Saint Porphyrius Greek Orthodox Church, which had been sheltering displaced people, was hit by an Israeli airstrike on October 19, according to church officials and witnesses. Mostly Christian families had taken refuge at the Greek Orthodox church, the oldest in the city. Located in the Zaytoun neighborhood, it has traditionally served as a sanctuary for both Christians and Muslims during Israel's periodic wars against Gaza.
"I was born in a hospital called Shifa. It is not just Gaza's largest medical facility, but the nerve center of its entire healthcare system," said Zaibak. "We learned that they were warned about being targeted by the Israeli military. If they do bomb it, then residents are really going to be out of luck when it comes to health care."
More than a dozen hospitals have been damaged by Israeli bombs, with a number of them no longer able to function. Scores of health care workers have been killed, including physicians and paramedics. Dozens of ambulances have also been targeted and destroyed by the Israeli military.
"We are witnessing a humanitarian catastrophe as it unfolds before our eyes. We cannot remain silent. Those hospitals that are still able to operate are functioning under extreme, inhumane conditions. Almost all have run out of fuel and medical supplies. We have witnessed videos of innocent civilians having surgeries performed without anesthesia using the lights from cell phones. This is inhumane and must be addressed immediately. Our president's claim that he will make sure that civilians are treated according to the laws of war are empty, false words. By supplying Israel with much of its arms and giving Israel the green light to attack a civilian population of more than 2.3 million people, our government is complicit in the violation of international laws and treaties that are considered war crimes. We are also extremely concerned about the risks of disease spreading throughout Gaza. Due to the Israeli cutoff of water, residents of Gaza are resorting to drinking unclean or contaminated water, because that is all that is available. The spread of diseases is inevitable. Just as problematic is the fear of disease from the massive number of dead men, women and children who are being killed throughout Gaza, including in their homes (with entire apartment complexes being destroyed with the occupants inside), on the streets (as they are fleeing Israel's aerial attacks) and in their vehicles (as they seek any place of refuge). Thousands of dead and decomposing bodies is a nightmare that will heavily impact those who are lucky enough to live through the Israeli bombardment." – Statement by Milwaukee area health care workers
Zaibak said that one of his uncles had just passed away a few days ago, while he was trying to get out of his home during the bombardment.
"What kind of warning is there? They'll call the civilians and then they'll say, you need to evacuate the house within five minutes," added Zaibak. "If you're not fast enough, or if you are bedbound, you're stuck. A lot of time that's what causes those people to die, because they can't get out of their home within a few minutes."
The group of medical professionals demanded that food, clean water, electricity, and medical supplies be supplied quickly to the entire population of Gaza. They also condemned the attacks against health care facilities and health care personnel, calling for an immediate end. They believed that a lasting solution to the crisis could only be achieved through diplomatic negotiations, and a commitment to finding common ground.
"As health care workers in the Milwaukee area, it is our mission to help protect and save lives. This is a human right that applies to all people, regardless where they reside. Our government must act now."
Milwaukee's healthcare workers join a growing chorus of voices from around the world, including international organizations, governments, and humanitarian groups, calling for an end to the violence in Gaza and an urgent humanitarian response.
"These healthcare workers provide services all over the Milwaukee area. They came here to say that they're deeply troubled and want our government to do something about the situation," said Othman Atta, Executive Director of the Islamic Society of Milwaukee. "Our healthcare workers want to preserve life because that's what they are trained to do. They believe everyone should be entitled to the same care, treatment, and protection."
As the crisis in Gaza continues to unfold, healthcare workers in Milwaukee said they remained dedicated to their mission of providing care and relief to those in need. Their advocacy serves as a reminder of the importance of global solidarity in addressing humanitarian crises and working towards a more peaceful world.