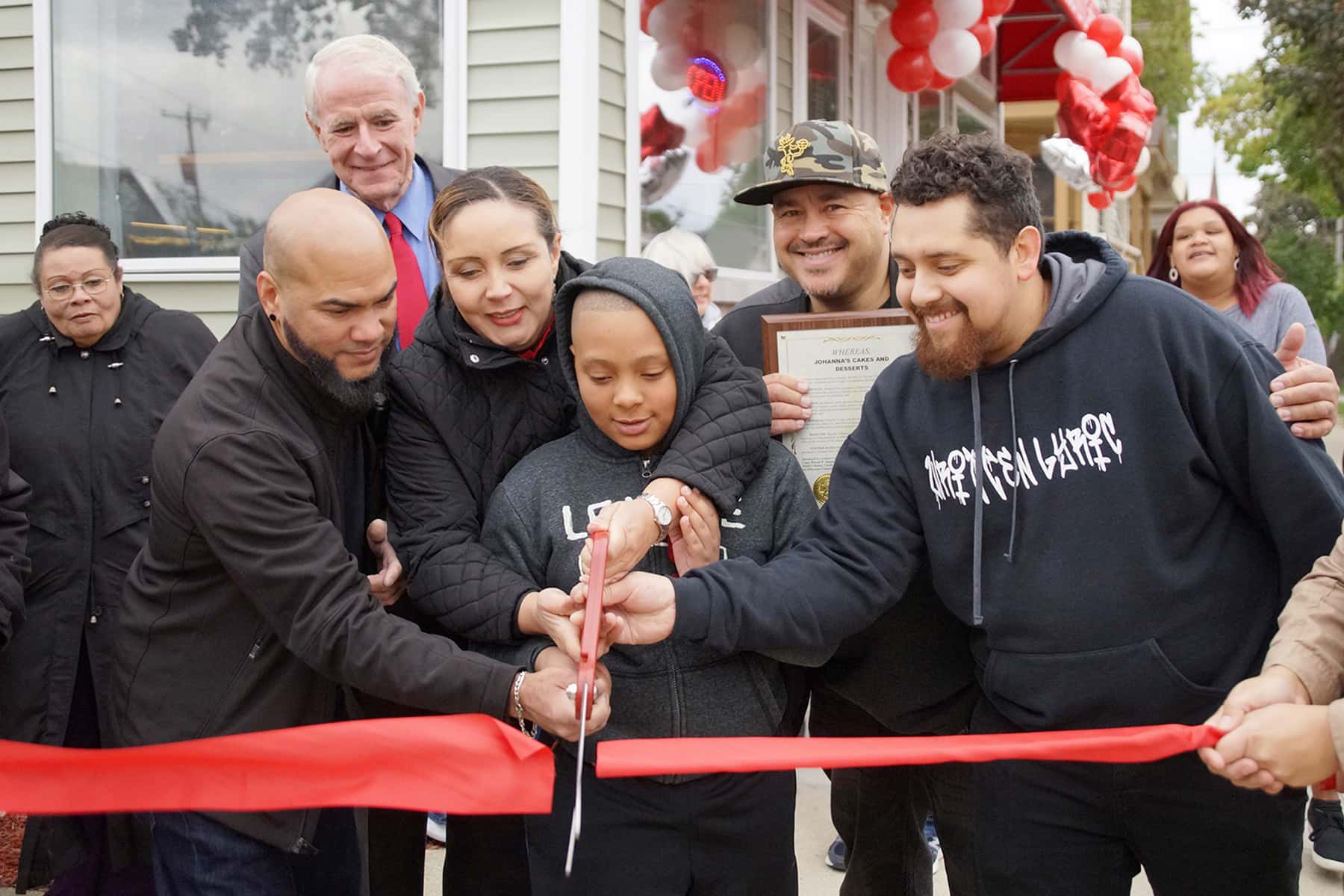 Milwaukee's Southside residents joined Mayor Tom Barrett to celebrate the long-awaited arrival of Puerto Rican treats to the neighborhood, with the official ribbon cutting and opening for Johanna's Cakes and Desserts on October 13.
Johanna Ortiz had always enjoyed baking because her family was enthusiastic about preparing food. Instead of just cooking for the holidays, they would make a feast that included all kinds of desserts.
"My mom makes all kinds of desserts and so did my grandma, it was tradition," said Ortiz. "We used to cook all the time and baking was a big part of my life growing up."
As an adult Ortiz started baking cakes at home for potlucks at work and birthdays for friends and family, "and then it just got out of control" with the amount of requests she got for desserts.
Ortiz used to own a licensed daycare, but she decided to close it to go work for MPS (Milwaukee Public Schools). The decision offered steady financial support while giving her the summertime off to bake cakes. Then about 8 years ago, after she started a Facebook page for her cakes, the business exploded.
"That's when we started looking for a storefront location. Originally we wanted to rent, but the costs were outrageous and nothing fit my vision," said Ortiz. "So we started looking for properties in the neighborhood, and a high school friend mentioned driving by this location every day."
In fact, Ortiz grew up a few blocks away. She rode her bike to school and would always pass what had once been a tavern at 1239 S. 11th Street. With business booming and no longer able to produce the volume of Puerto Rican sweet treats and cakes from her home kitchen, Ortiz decided to purchase a vacant City-owned property for $30,000 back in 2016 to expand her growing business.
She and her husband Juan Ortiz spent the last few years working to rehabilitate the property, which was in poor shape. The process took some time and ran into many delays, due to unexpected issues from its condition.
Ortiz received assistance from Dwayne Edward with the City of Milwaukee Department of City Development, through the purchase process. Natanael Martinez from the Commercial Corridor Team offered financial assistance through the Commercial Foreclosure Property Renovation Fund, and a Whitebox Grant for the over $320,365 in project costs.
The neighborhood warmly welcomed the opening of Johanna's Cakes and Desserts during the ribbon cutting ceremony, and Ortiz talked about how overjoyed she was to have so much support and acceptance from the community. Many customers told her how much the area needed her shop, and saw Ortiz's effort as a very positive contribution to the area's wellbeing.
While Ortiz sells a variety of cakes and is expanding her breakfast and lunch menu, the Quesito, a cream cheese-filled pastry twist from Puerto Rico, is by far her biggest selling item. Another popular item is her bread. Both styles, sweet and regular, are authentic Puerto Rican recipes baked daily from dough prepared in Puerto Rico and shipped to Milwaukee.
"A little boy came up to me and said this place feels like home. And that meant the world to me, because we put so much work into remodeling this location," added Ortiz. "I wanted this shop to be cozy and simple, so people from all over the city feel comfortable here."
© Photo
Lee Matz and Milwaukee Department of City Development