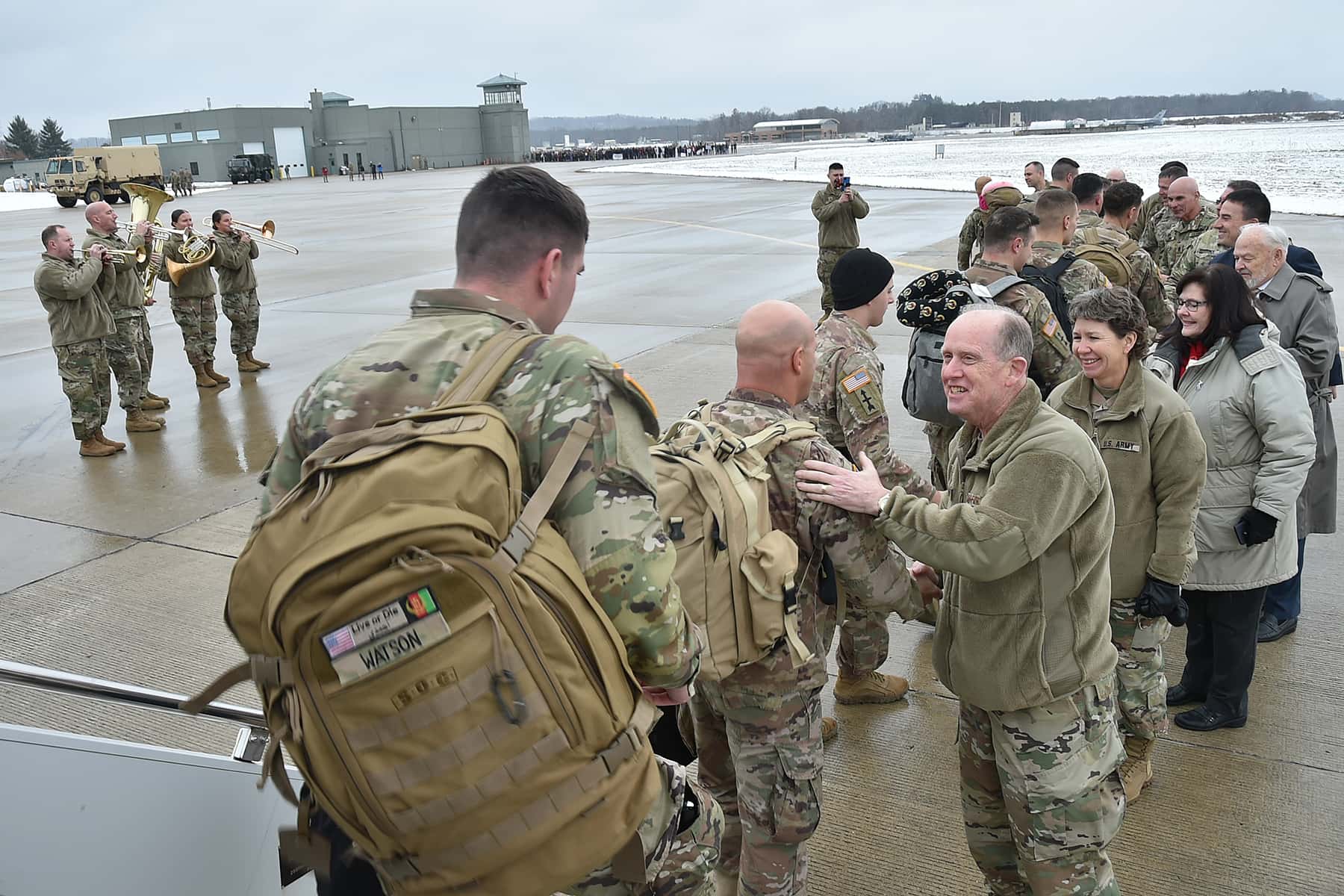 Senior Wisconsin National Guard and state leaders joined families and friends in welcoming 190 Soldiers from the Wisconsin Army National Guard's 2nd Battalion, 127th Infantry Regiment back to Wisconsin on November 29 — exactly one year after the battalion's sendoff ceremony at Lambeau Field.
The deployment to Afghanistan concluded in much the same way as it was carried out — with troops spread across the country, arriving at different times, but still accomplishing the mission. The remainder of the battalion's 400 mobilized Soldier arrived in the United States a week ago, and will return to Wisconsin in the next week after completing post-deployment requirements at Fort Bliss, Texas.
"To say this deployment went as planned would be a tremendous understatement, as you're all aware. Having 389 Soldiers spread amongst 14 different locations within eight provinces in Afghanistan is no easy thing. However, each and every one of you remained focused, ready to fight and professional throughout the deployment," said Captain Lonnie Roy, commander of the battalion's headquarters company. "So not only as a company commander but as a fellow Soldier. I thank each and every one of you for your time, your service, and for making the 2/127th the best infantry battalion in the state."
The 127th Infantry is the first National Guard battalion to partner with an Army security force assistance brigade, serving in a "guardian angel" role by providing force protection for countless engagements between Army advisors and other coalition forces, contractors and Afghan troops.
The guardian angel mission aimed to reduce insider threats by being with the Army advisors as they conducted their training. The Soldiers of the 127th monitored body language and posture among those involved in the training event to detect if a threat was imminent.
Sgt. Jacob Montie, a Suamico resident, was one of the guardian angels from Company D in Marinette, Wisconsin. He said the intense training they received before heading to Afghanistan was helpful. Specialist (SPC) Trevor Bader, a New Franken, Wisconsin resident and member of Company B in Green Bay provided base defense on the deployment.
"It was definitely interesting," said Specialist Bade. "A lot of bumps in the road, but that's okay. We moved on."
Bader's parents Heidi and Chris, of Champion, Wisconsin, and his sister Dakota formed a military outreach project during his deployment. The project partnered with three area churches, and sent care packages to everywhere the 2nd Battalion, 127th Infantry was located in Afghanistan. They said they intend to continue to send care packages to deployed troops even after their son came home.
"The goal is to grow big enough to outgrow the room we're in," Heidi said.
To accommodate protecting advisor engagements, the battalion organized itself into small teams and dispersed across Afghanistan.
"It's certainly challenging," Lt. Colonel Matthew Elder, battalion commander, said in a Sept. 4 article, "but we have excellent leaders doing outstanding things in every corner of the country."
Elder will return to Wisconsin with the remainder of the battalion. Senior Wisconsin National Guard leaders acknowledged that the Soldiers were returning to Wisconsin on the day after Thanksgiving.
Brigadier General Joane Mathews, Wisconsin's deputy adjutant general for Army thanked the families for their support, patience and understanding. To the Soldiers, she said, "Awesome job. Thank you for your professionalism. You've made the Wisconsin Army National Guard proud, the Army proud, and our state proud."
Major General Don Dunbar, Wisconsin's adjutant general and commander of the Wisconsin National Guard, apologized that the returning troops were not home in time for Thanksgiving, despite the Army's best efforts.
"I know it's a tough thing to say goodbye to your Soldier," Dunbar said. "I want you to know the mission was important, and they did the mission exceptionally well for our nation and for our allies," said General Dunbar. "You did a great job. Once again you are adding another chapter to the history of the 2/127th. You are exceptional at what you do."
General Dunbar urged the returning Soldiers to thank their employers for their support during the deployment.
Lt. Governor Mandela Barnes, whose grandfather served in World War II, praised the returning troops.
"Welcome home. Congratulations on a job well done. Your service to our state and our nation makes our entire state of Wisconsin proud. I'm forever grateful for your service and sacrifice to ensure the freedom of our nation and our way of life," said Lt. Governor Barnes. "You are Soldiers from Wisconsin, and in all lines of work you embody the values of our state," Barnes continued. "You serve the people of Wisconsin and our nation in the most noble way possible. Thank you for representing Wisconsin wherever you go, and thank you for representing it well."
© Photo
Vaughn R. Larson and Katie Theusch, Wisconsin National Guard