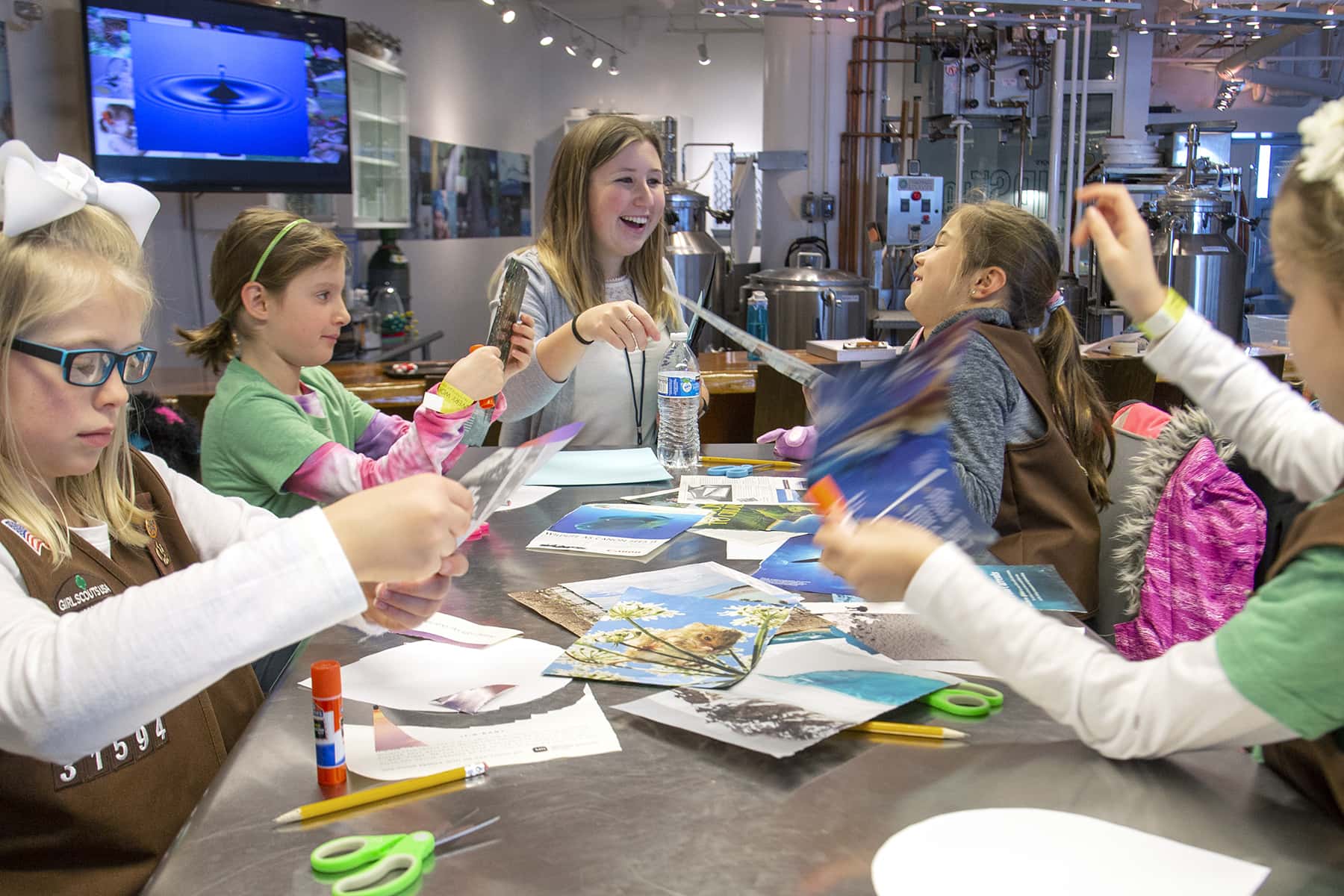 Discovery World's third annual Girls & STEM event introduced young women to local female professionals and careers throughout the science, technology, engineering, and math fields on November 10.
In total, more than 1,700 attendees connected with nearly 200 industry professionals on a day aimed at inspiring the next generation of engineers, designers, architects, innovators, entrepreneurs, and leaders.
More than 30 enthusiastic organizations packed The Pavilion at Discovery World on Milwaukee's lakefront providing science experiments, interactive experiences, and industry expertise in a celebration of women and their roles in the workforce. Most importantly, Girls & STEM offered young girls the chance to see and meet role models with whom they could identify.
Highlights included an engaging brick building engineering challenge from Rockwell Automation, an exercise showcasing the technology of social media filters with Northwestern Mutual, making batteries out of limes and pennies alongside Johnson Controls, and a musical challenge in which visitors made their own instruments in the Kohl's Design It! Lab while learning how to deejay alongside Discovery World's own Shaq Matthews, also known as DJ 88.
"Girls & STEM was an energetic and heartwarming event where both presenters and guests told us that this was their favorite day of the year," said Shannon Atwood, Discovery World's Senior Manager of Audience and Community Engagement. "It was amazing to see all of the smiling faces on the young girls, but even more special is the fact that all of these organizations came together in order to provide identifiable role models for our youth that needs it the most."
Never Too Early for STEM
There is not a more crucial time than now to provide STEM role models for young women. Decisions about whether or not STEM fields are "for them" can be made by young women as early as 2nd grade. And as a recent report from the United Nations estimated that full gender equality in the workplace may not be achieved until 2095, it is imperative for cultural institutions, businesses, and families to introduce young women to careers at an early age.
"Technology is transforming the job needs across every industry and students today will need STEM skills more than ever to succeed in the careers of tomorrow," said Karl Gouverneur, vice president of digital workplace, corporate solutions and head of digital innovation, Northwestern Mutual and Discovery World Board Member. "Academic interests begin at an early age so it is important to provide young students with inspiring and impactful STEM education and hands-on learning opportunities. We're proud to partner with Discovery World's Girls & STEM day, to show bright minds how fun and empowering technology can be."
Excitingly, Girls & STEM was part of the largest joint project ever launched by the world's science centers and museums, as Discovery World joined more than 300 other institutions and hundreds of thousands of people that celebrated International Science Center & Science Museum Day on November 10.
Discovery World's Girls & STEM activities represented a united international effort to raise awareness and encourage action toward global sustainability, focusing on the UN's 17 Sustainable Development Goals, which seek to end poverty, fight inequalities, tackle climate change, and transform our world – while ensuring that no one is left behind.
Girls & STEM will take place at Discovery World every year until it is no longer needed. But the public does not need to wait until the fourth annual event on November 9, 2019 to become involved. Options include participating in local robotics or coding clubs and mentor interested girls. Volunteering at non-profits. Joining forces with local science enthusiasts, like Milwaukee Area Science Advocates. But most importantly, encouraging young women to see themselves as the next generation of leaders.
Girls & STEM was sponsored by Northwestern Mutual and Rockwell Automation, along with media sponsor 88Nine Radio Milwaukee.