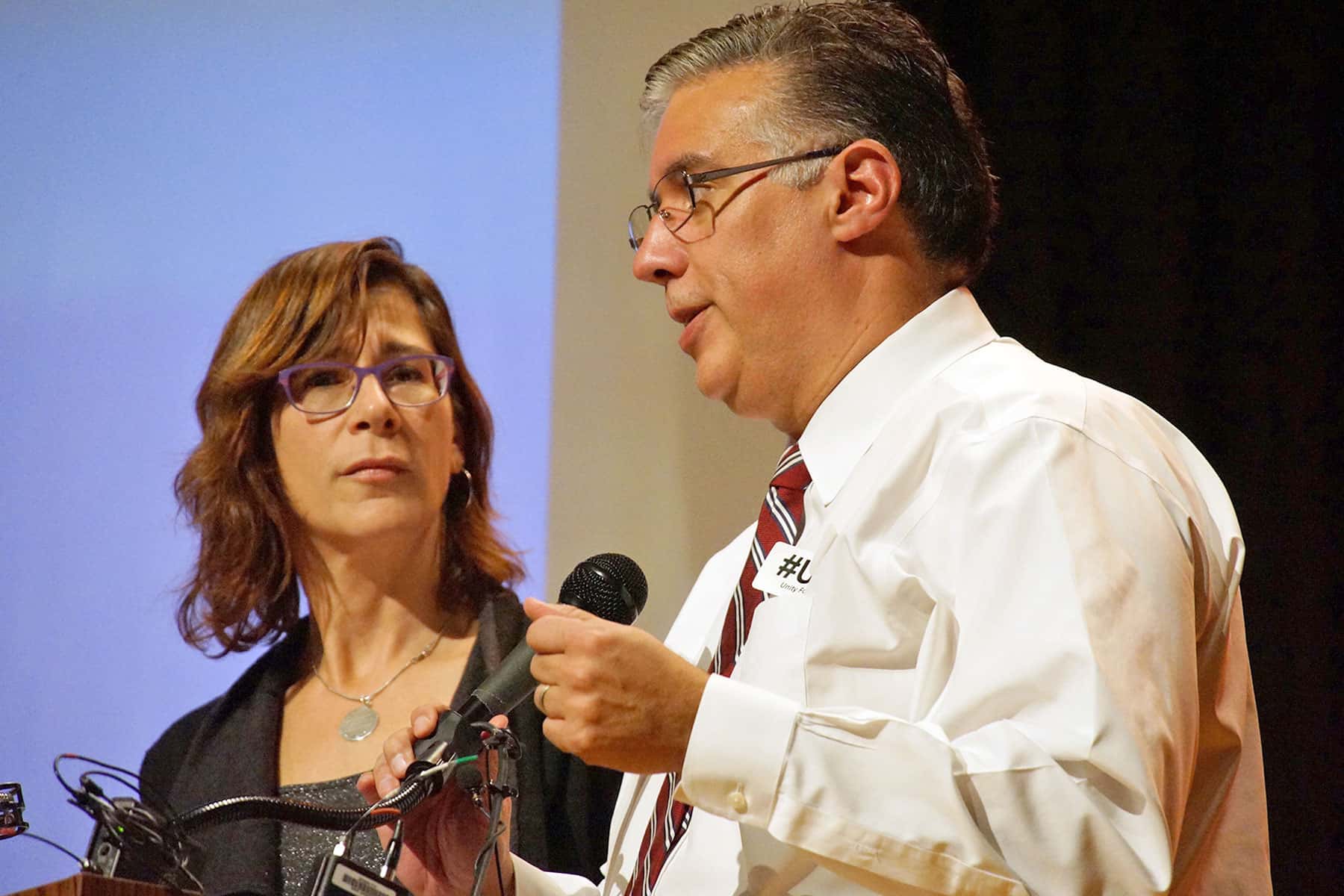 "It doesn't matter what political party you belong to when you see something is wrong, you say it's wrong, and you come together, and you do something about it." – Darryl Morin, League of United Latin American Citizens (LULAC).
The Unity for Human Dignity Coalition (U4HD) held a community gathering at Carmen High School of Science & Technology on February 7, in defense of immigrants and refugees coming to America and making Milwaukee their home. Several hundred people attended the public meeting.
Comprised of more than fifteen faith-based, advocacy, refugee services, and local organizations, the event partners shared their many serious concerns regarding President Trump's travel ban. The executive order has had a direct impact on immigrants, refugees, and their support community in Milwaukee.
"Immigrants and refugees from the seven countries, who arrived at airports because the travel ban went into effect while they were in transit, were detained and threaten with deportation," said Angela Lang, ACLU of Wisconsin. "These people were made to show their social media accounts, and asked about their loyalty towards President Trump. The ACLU and its partners stepped forward to legally challenged that executive order."
Hmong veterans led the pledge of allegiance that began the event. During the Vietnam War, Hmong soldiers fought along side Americans, and often in place of them, during the decade-long conflict in Southeast Asia. During the speeches that followed, one of the main issues highlighted was how the travel ban was justified by using irrational fear as an excuse to increase security. And while every member of the coalition wants a safe community, the executive order would not offer real protection for our country.
"So what are we really protecting?" asked Milwaukee County Executive Chris Abele. "America is the only country in the world founded not on what country you came from, what religion you believe, what the color of your skin is. It was founded on embracing a common idea. That's individual liberties, where all people are equal under the law. That is what we need to protect."
Long before the Constitution was written, the founding idea of America was the freedom of religion. That was enshrined in the Bill of Rights, and what the citizens of the country have fought for more than two hundred years to protect.
"There were a number of people who wanted to attend our event but could not," explained Darryl Morin, co-organizer of the U4HD gathering. "They were afraid of what could happen here, by other private citizens as well as our government."
The personal threat extended, in many cases, back to an immigrant's homeland. A Syrian refugee who shared his story was not identified in order to protect his safety. He gave a heart wrenching account of how his aunt was burned alive in her home by government soldiers.
Sharing a similar fear, many supporting organizations and individuals also asked that their names not be mentioned. Speakers included refugees from Africa, Asia, Central America, the Middle-East, Europe, as well as various religious leaders, legal experts, elected officials, and advocates.
A decade after fleeing the Democratic Republic of Congo for the United States, having endured rape, imprisonment, and torture in her homeland, Regina Bakala found herself locked in a U.S. prison facing deportation to almost certain death. She spoke about her struggles and experience with injustice in America's frighteningly arbitrary asylum process.
Lee Marnett survived World War 2 as a young boy, but lost his parents in the Holocaust. He shared details of his journey, and said no one should have to experience what he did. His family was taken from their home with only two hours notice to pack. They were placed in the ghetto, in a small room where "30 people were on top of each other like rats."
"I was very young, and I didn't realize what was happening. Every week in the ghetto they would take hundreds of people outside and shoot them. We went to a camp in Estonia which was a labor camp, then we went to concentration camp near Peenemünde where they built the V2 rockets," Marnett told the silent audience.
He went to several concentration camps after that, but did not tell the crowd about what happened to his parents. He still felt the pain of their loss after decades. Eventually Marnett was saved by American soldiers. When he arrived in New York as an orphan, they suggested Milwaukee to him because he spoke German.
"My orphanage was on 21st and Vliet, and I attended North Division High School," Marnett said. "I decided this was the greatest place on earth, where a guy who could not speak a word of English, could come here to make a living. I didn't have to worry about being prosecuted or tortured any more."
During the event, Mayor Tom Barrett signed a Common Council resolution expressing the City of Milwaukee's opposition to the Presidential Executive Order 13769: Protecting the Nation from Foreign Tеrrоrist Entry into the United States.
"I'm proud to sign this with the help of people who love this country," Mayor Barrett said. He also took time to address the very real issue of local fear he had witnessed, particularly from the Hispanic community. "Our city government is here to let you know that we understand your fears, and we don't want you to be fearful."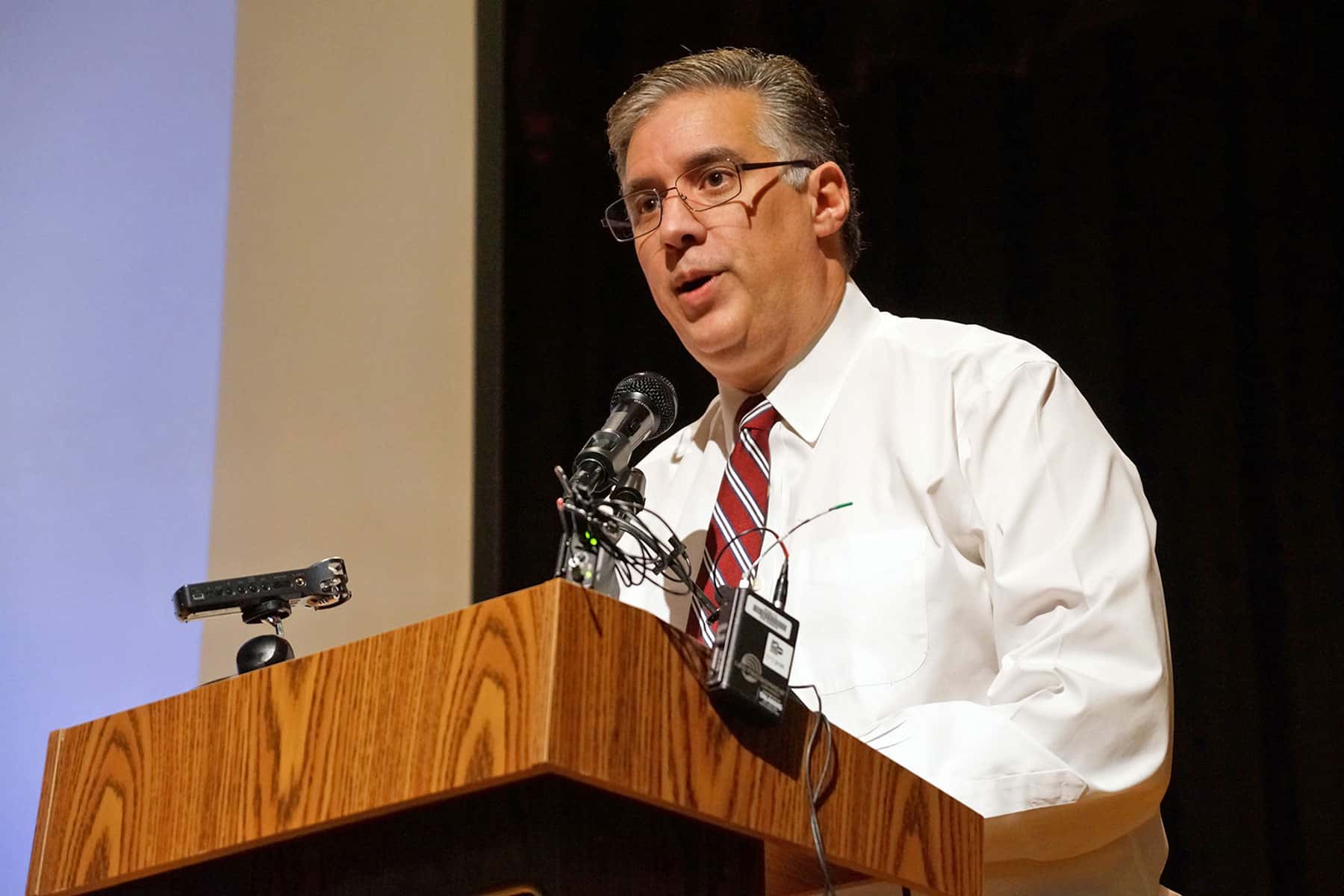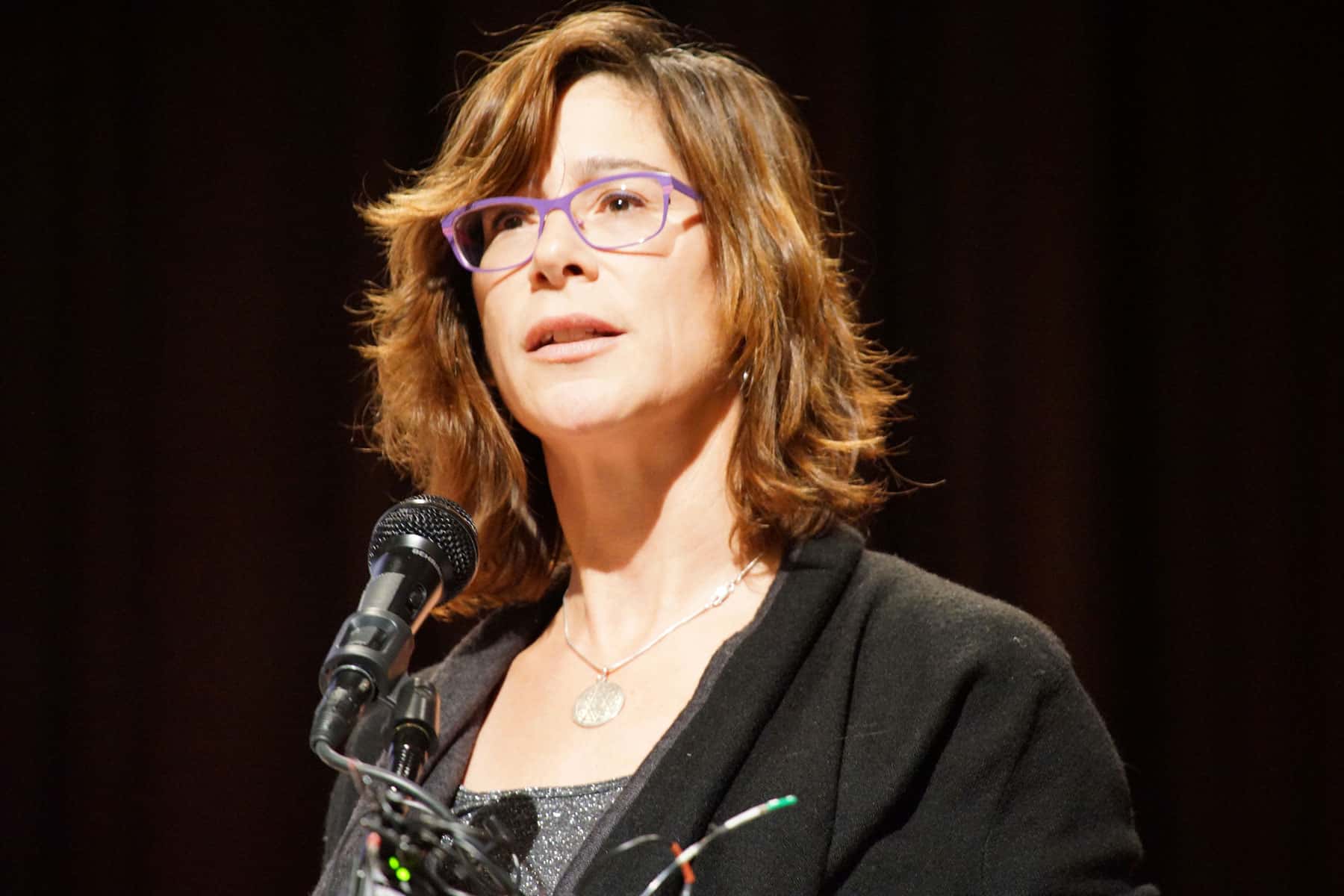 About the U4HD coalition partners
About JCRC of Milwaukee Jewish Federation
Founded in 1938, the Jewish Community Relations Council (JCRC) advocates for the rights and values of Jews individually and collectively, here and abroad. The Council implements a coordinated program of education, action, and advocacy for the Jewish community. On March 1, 2010, the Council became a core function of the Milwaukee Jewish Federation.
About LULAC of Wisconsin
The League of United Latin American Citizens (LULAC) is the nation's largest and oldest membership based organization with over 1,100 councils and 135,000 members in the United States and Puerto Rico. The Mission of political influence, housing, health and civil rights of the Hispanic population of the United States.
ACLU of Wisconsin
Since 1920, the ACLU has been the nation's guardian of liberty, working daily in courts, legislatures and communities to defend and preserve the individual rights and liberties that the Constitution and laws of the United States guarantee everyone in this country. The ACLU is best known for litigation efforts as the country's largest public interest law organization, many of the ACLU's ground-breaking cases have changed lives and made history.
Centro Hispano – Milwaukee
In 1964 Centro Hispano Milwaukee became the first Latino serving non-profit community based organization in Milwaukee. A few years later, Centro Hispano evolved into the Council for the Spanish Speaking, Inc. Today, the Centro Hispano Milwaukee. has grown into a larger, more comprehensive organization, thanks to the support of the community, the good work of its staff, and a committed board.
Felmers O. Chaney Advocacy Board
As of March 3, 2015, the Felmers O. Chaney Advocacy Board (FCAB) is an independent body and is not affiliated with the Wisconsin Department of Corrections or any other governmental body or institution. FCAB is an advocacy board comprised of private citizens guided by a shared concern for social justice, corrections policy, and the successful re-entry of former inmates as they return to their communities. All documents on this site pre-dating March 3, 2015 are historical and in reference to FCAB's prior incarnation as a Wisconsin Department of Corrections affiliated citizens advisory board.
Interfaith Conference of Greater Milwaukee
Founded in 1970, the Interfaith Conference of Greater Milwaukee is a non-profit organization through which the regional leaders and adherents of 17 member denominations and faiths dialogue to build relationships, conduct educational programs to foster public understanding and tolerance, and work together on social-justice issues to improve the quality of life for everyone. Several non-member faiths also participate in the planning and running of many of our events and activities. The Conference's underlying emphasis is "to uphold the dignity of every person and the solidarity of the human community."
MA'RUF Milwaukee
Ma'ruf is an organization aimed at helping humanity in anything that is good on a consistent and respectable manner. We have made great strides by working tirelessly to help refugees get settled, educated, and on their feet ready to face the future of their new home.
Milwaukee Inner-city Congregations Allied for Hope (MICAH)
MICAH is a multi-racial, interfaith organization committed to addressing justice issues that have an impact on the community and on the members of MICAH congregations. MICAH's goal is to empower people to act together in pursuit of justice, and to organize so that people of many traditions can come together to speak with one voice for justice. MICAH deals with many issues.
NAACP Milwaukee Branch
The mission of the National Association for the Advancement of Colored People is to ensure the political, educational, social, and economic equality of rights of all persons and to eliminate race-based discrimination.
Refugee Congress
The Refugee Congress is an advocacy and advisory organization comprised of refugees, asylum seekers, and stateless persons from each of the 50 states and the District of Columbia. Our mission is to promote the well-being, integration, and dignity of all refugees, asylum seekers, and stateless persons in the U.S. and beyond by bringing our voices and experiences to inform decision makers on domestic and international issues and policies
affecting our lives.
Roberto Hernandez Center at UW-Milwaukee
The mission of the Roberto Hernández Center is to provide academic services that promote Latino student success, to engage in outreach to the Latino community and beyond and to support applied research pertinent to Latinos.
Sam and Helen Stahl Center for Jewish Studies at UWM
The Stahl Center serves the UWM campus and the Milwaukee community with courses and public events covering a wide variety of topics in the field of Jewish Studies. Our courses range in time from the biblical period to the present, and embrace disciplines throughout the humanities and social sciences, including history, literature, theatre, film, cultural studies, Hebrew language, and religion. UWM offers a major and minor in Jewish Studies.
Serve 2 Unite
In the wake of the Sikh Temple of Wisconsin shooting on August 5th, 2012, Serve 2 Unite emerged in a spirit of defiance. The hate behind the murders was met with an ongoing practice of fearless, creative, compassion. Rooted in the principles of service to others, and relentless optimism in the face of adversity, Serve 2 Unite today engages young people of all backgrounds to value humanity and the aspiration of living a genuine, honest life as a peacemaker.
United Community Center (UCC)
The United Community Center is a comprehensive social service agency serving the families of Milwaukee's south side. Programs range from education to elder programs, meeting the needs of three year olds to 93 year olds and everyone in between.
Voces de la Frontera
The membership-based community organization is led by low-wage workers, immigrants and youth whose mission is to protect and expand civil rights and the rights of workers through leadership development, community organizing and empowerment.
View the extended coverage of this complex event, with a full package of news features.