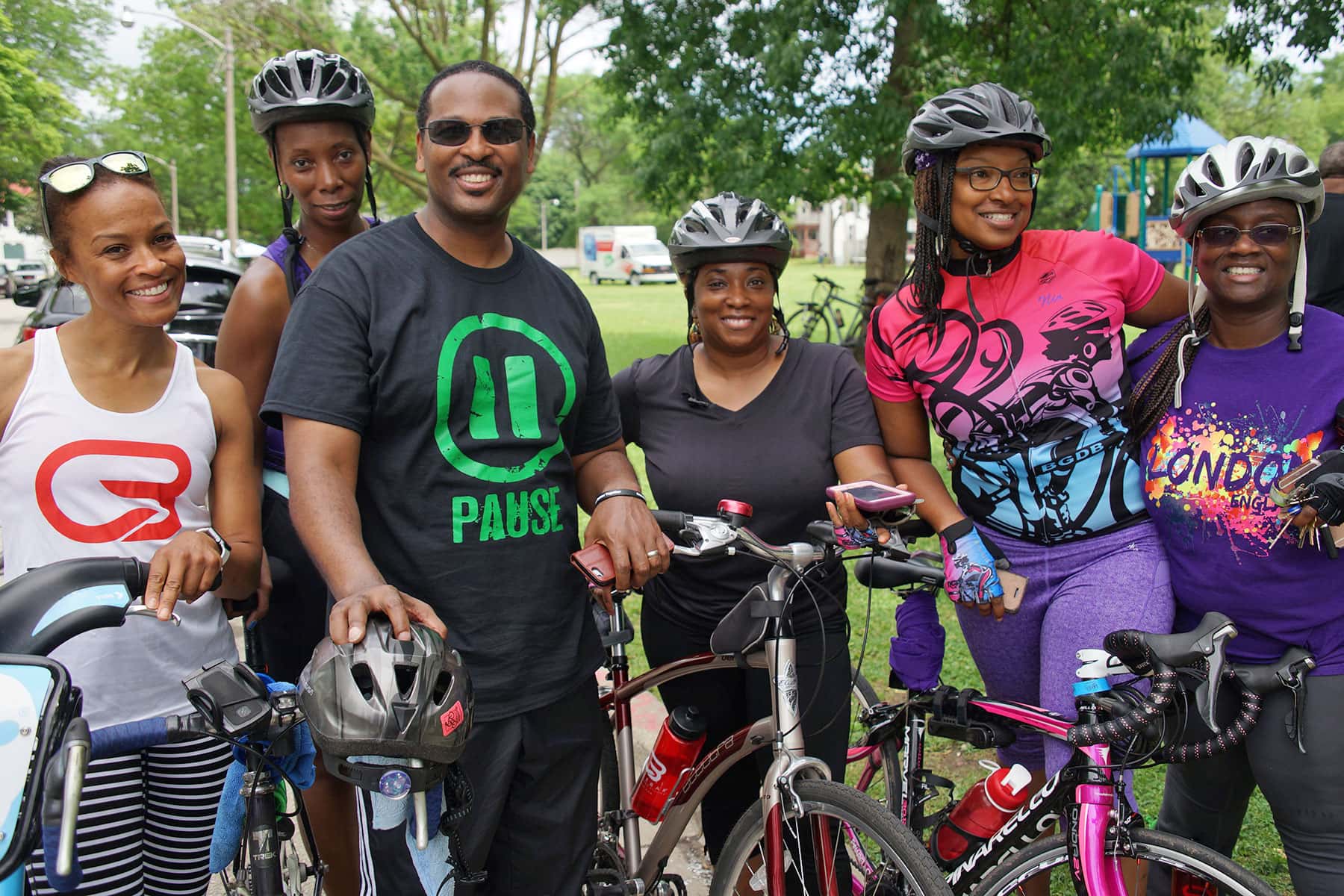 The first Promise Zone Bike Ride was held on June 17, starting and ending at Garden Homes Square Park, in an effort to help connect communities and improve access to public resources.
The 5-mile ride was a slow paced excursion that encouraged families to join. The route went through historic neighborhoods, past the Century City Tower and Century City I development, near major employers including DRS Power & Control Technologies and Integrated Mail, near schools including Samuel Clemens, Milwaukee Collegiate Academy, and Hope Christian School, and along natural environmental amenities including Lincoln Creek and the Oak Leaf Trail.
"Families are my passion and I will continue to serve them by promoting connectivity and safety this summer. I am extremely honored to provide residents the opportunity to share a ride of unity, and the Promise Zone Ride aims to provide awareness of resources and assets block-by-block in our community," said Alderman Khalif J. Rainey.
The event launched a discussion about summer activities in the city's four Milwaukee Promise Zones, and showcased the broad coalition of community organizations, faith community partners, and government agencies, and others that are part of the effort. The ride partnership was comprised of the Northwest Side Community Development Corporation (NWSCDC), Common Council President Ashanti Hamilton, Alderman Khalif Rainey, Black Girls Do Bike, the Wisconsin Bike Federation and Bublr Bikes.
"The partners are having the opportunity to facilitate significant positive change, while working closely with residents, their Alderperson, city officials, and other key stakeholders," said Ashanti Hamilton, President of the Common Council and NWSCDC board member. "I am proud to help shine a bright light on the important projects that are moving forward in the Promise Zones, and to help build the momentum and energy that can be so important to facilitating positive change and action across areas of Milwaukee that are truly hungry for some positive action and community building."
President Hamilton said Promise Zone partners are dedicated to nurturing quality of life improvements and building positive energy in each of the city's four Promise Zones where, combined, more than 45% of households make less than $25,000 annually compared to 36% citywide and 22% statewide. More than 56% of the local population and more than 71% of children in these areas live in poverty.
The goal of the Promise Zone Bike Ride was to connect northwest side community members to one another in order to improve access to local resources. The event was also part of the City of Milwaukee's multifaceted effort to revitalize four 'promise zones' of Washington Park, Division / Harambee, Near South Side, and the Greater Old North Milwaukee where the ride took place.
"I am excited that the event will inspire residents and families to get active this summer," added President Hamilton "This Promise Zone bike ride was a great opportunity to bring the community together and highlight the importance of health, being physically active, and increasing the awareness of the assets we have right here in our community that support healthy living."
A series of city resource fairs in the four Promise Zones around Milwaukee have helped to bring hundreds of residents help with key life management issues, including child support, driver's license recovery, job training, employment, health screenings and expungement counseling.
"These are the partnerships that are helping move our community forward," said Howard Snyder, Executive Director of NWSCDC. "We look forward to sharing the opportunities that can transform the northwest side into a preferred destination for businesses and residents to have successful businesses and live healthy lives."
Following the bike ride, celebrations at Garden Home Square included games, free refreshments, and educational activities organized by the Wisconsin Bike Federation's "Share and Be Aware" community ambassadors. Crossing Jordan Ministries also held its annual Garden Homes Praise 4 Peace March & Rally.
The Promise Zone initiative was approved by the Common Council to help underserved and disadvantaged neighborhoods and residents.
About the event coalition
The Promise Zone Bike Ride partnership was comprised of the Northwest Side Community Development Corporation (NWSCDC), Common Council President Ashanti Hamilton, Alderman Khalif Rainey, Black Girls Do Bike, the Wisconsin Bike Federation and Bublr Bikes.
About NWSCDC
The Northwest Side Community Development Corporation has served the economic development needs of Milwaukee's low-income communities since 1983. Their mission is to enhance the standard of living on the northwest side by improving the business environment for low-income communities through community economic development. The Northwest Side CDC assists with neighborhood strategic planning to improve safety, land use planning and development on the Northwest Side to spur retail growth, and numerous business and workforce development programs.
About Milwaukee Promise Initiative
The Milwaukee Promise Initiative is a multifaceted city effort to address systemic poverty, joblessness, poor health, crime and low educational achievement in city neighborhoods. Authored by Alderman Ashanti Hamilton in 2014, the initiative seeks to address conditions in four city "Promise Zones" where combined, more than 45% of households make less than $25,000 annually, the median household income is less than $26,000, and where in some areas more than 56% of the total population and more than 71% of children live in poverty.
About Wisconsin Bike Fed
The Wisconsin Bike Fed is a nonprofit organization that represents thousands of members and the interests of the 2.5 million residents and visitors who ride bikes in Wisconsin every year. Their mission is to cultivate, motivate and unite a strong community of citizens as well as business and political leaders to move bicycling forward in Wisconsin – through education, legislation and involvement.
About Black Girls Do Bike
Black Girls Do Bike is a community of women of color who share a passion for cycling. They champion efforts to introduce the joy of cycling to all women, but especially, black women and girls. They work to create a comfortable place where female cyclist can support, advise, organize meet-ups/rides and promote skill-sharing. Ultimately, Black Girls do Bike seeks to share positive images of ladies and their bikes to affirm the truth that black girls do indeed bike.
About Bublr Bikes
Bublr Bikes is Milwaukee's bike share program that connects riders to various locations in the city and suburbs with over 50 stations across Milwaukee. Their mission is to deliver a sustainable, excellent bike share system for all and make bicycles an accessible, convenient and integrated travel option for everyone.
About Praise for Peace March & Rally
The Praise for Peace March & Rally is an annual event organized by Crossing Jordan Ministries which aims to promote non-violence in communities by providing the necessary resources to enrich lives. They do this by hosting marches and rallies which provide entertainment, free food, and resources in a safe environment.