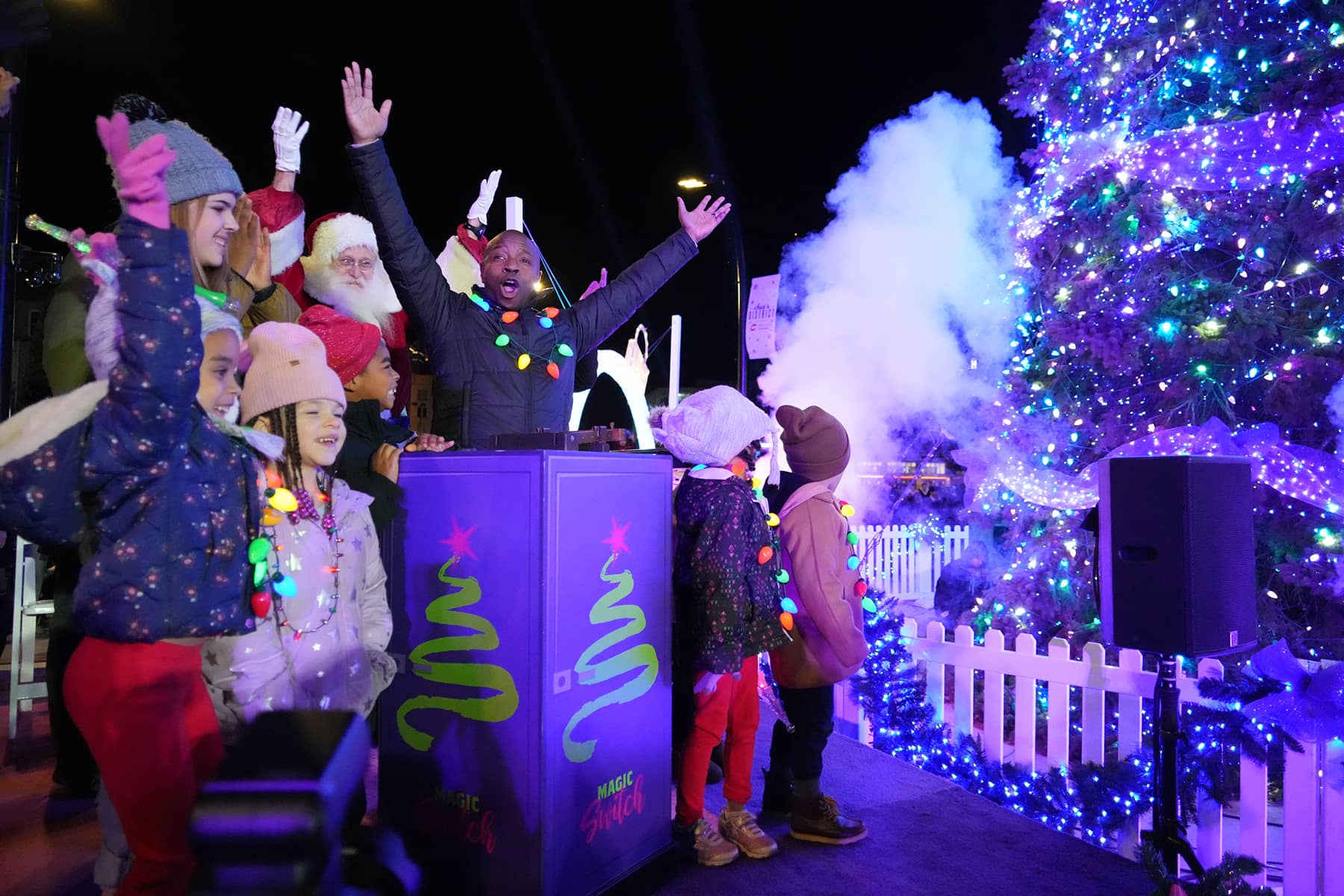 The City of Milwaukee ushered in the holiday season with its 110th annual Christmas Tree lighting ceremony, on November 17 at the Fiserv Forum's plaza in "Cheer" District.
The City of Milwaukee's City Christmas Tree in the Cheer District was illuminated by the We Energies Foundation, adorned with 18,000 lights.
"The transformation of Deer District into Cheer District, illuminated by the We Energies Foundation, was the perfect start to the holiday season, and we are excited to celebrate the 110th City of Milwaukee Christmas Tree Lighting," said Michael Belot, Senior Vice President of Bucks Ventures and Development.
The event is among the longest-running tree-lighting events across the United States. Each year the Milwaukee Department of Public Works Forestry division harvests a Christmas tree donated by a local resident. This year's 38-foot Colorado Blue Spruce was donated by Denise Blue and comes from Alderman Mark Chamber's, Jr. 2nd District.
"With both tradition and enthusiasm, Milwaukee is ready to officially launch the holiday season. We have lit a City Christmas tree for 110 years, and it's an event that brings together people from all across the city," said Mayor Cavalier Johnson. "I am so pleased that, once again, we have great partners who have stepped up to make our celebration spectacular."
In addition to producing the lighting ceremony, media personality David Caruso took on the tall task of decorating the tree.
"The vibrancy and energy that it will showcase is important for so many reasons as we focus on uplifting the spirits of everyone who visits Cheer District, illuminated by the We Energies Foundation during the next few months," said Caruso.
"We hope illuminating the Cheer District brings a little extra joy to our friends and neighbors during this holiday season," said Beth Straka, President of the We Energies Foundation. "We are delighted to carry on this special tradition."
The family-friendly entertainment was presented by the United Performing Arts Fund (UPAF), and featured special guests that included DJ Quadi, Bango, Santa Claus, Dancer, Vixen and Cupid of Reindeer Games. Complimentary hot chocolate was also provided to the first 500 guests.
The 110th Annual City of Milwaukee Christmas Tree in Cheer District, illuminated by the We Energies Foundation, was made possible by local sponsors and partners.
Located at the intersection of Vel R. Phillips Ave. and Highland Ave, the Deer District is Milwaukee's newest neighborhood and has redefined the city's downtown. Anchored by the Fiserv Forum, home to the NBA's Milwaukee Bucks, the 30-acre Deer District was created as one of Milwaukee's premier locations for people to live, work, and play, serving as a hub for the city's vibrant future.