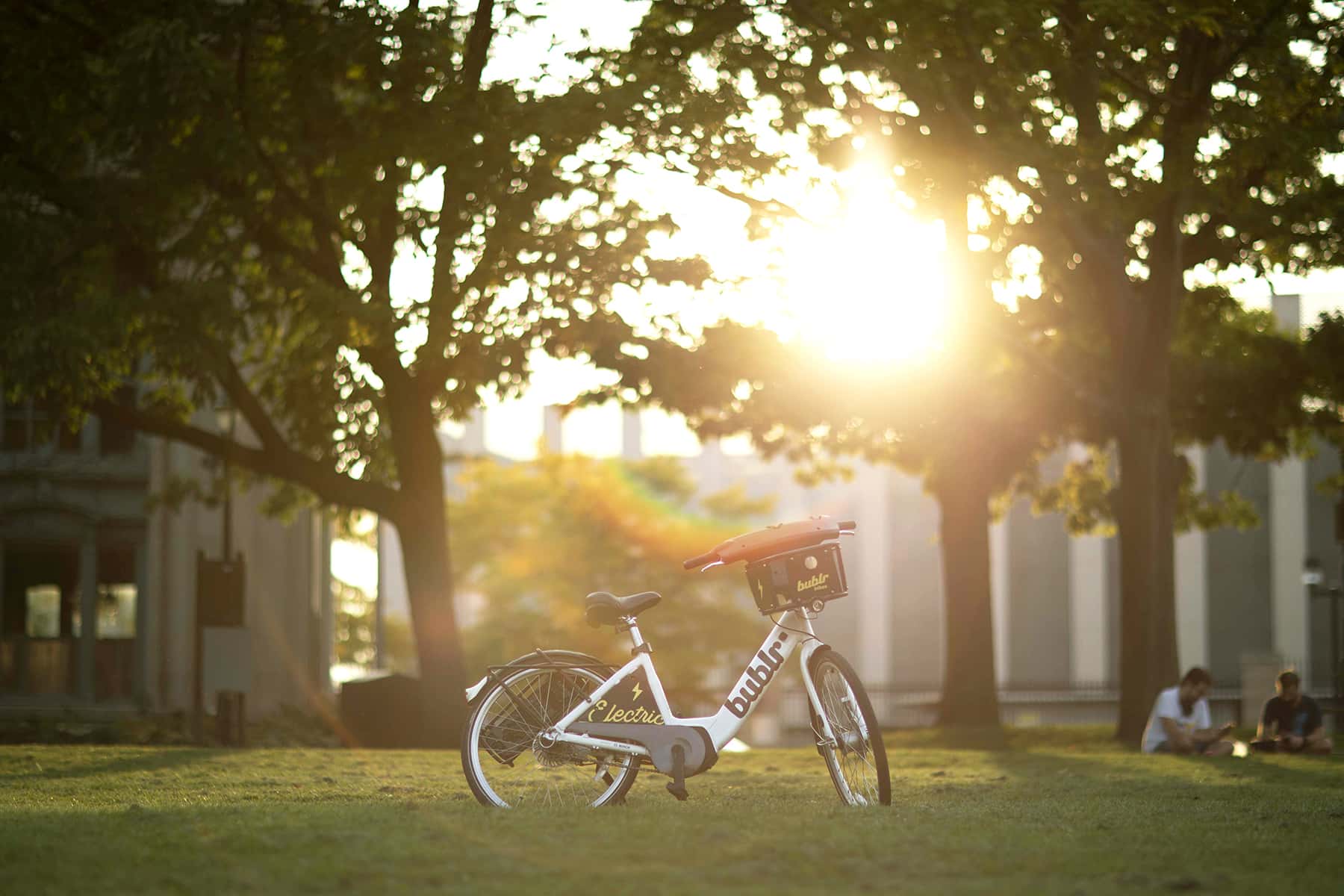 Greater Milwaukee's bike share program unveiled its new e-bike (electric-assist) program on May 19 at Indeed Brewery. Nearly 200 of the e-bikes will be integrated into the Bublr Bikes network later this season.
The City of Milwaukee and Bublr Bikes hope to improve public access to bike sharing by expanding into neighborhoods, increase ridership through strategic station placement, and reduce trips made by single-occupancy vehicles.
"The introduction of e-bikes is going to expand the transit opportunities for the greater Milwaukee community, helping people of various abilities go further, faster, with less effort. We are so excited to preview this new resource at Indeed Brewing, and bring affordable, safe transit options to more communities, in greater Milwaukee," said James Davies, Executive Director of Bublr Bikes.
The event also served as a fundraiser to support Milwaukee's popular bike share service. Through the "Indeed We Can" program created by Indeed Brewing, 100% of the tap room and curbside net proceeds from the May 19 gathering were donated to Bublr Bikes. "Indeed We Can" is Indeed Brewing's charitable initiative, which donates to a local nonprofit each Wednesday. Indeed is an all-ages venue and their taproom is open with COVID-19 precautions in place.
"Having safe and affordable transit options is one of our core beliefs. We want all of our neighbors in Milwaukee to be able to explore the city, get to work, or run their errands with transportation that is good for the earth and good for their health," said Jeff Gray, Milwaukee Sales and Market Manager for Indeed Brewery.
Statistics have shown that people bike more when they have access to e-bikes, increasing both the number of trips per day and distance traveled. When Madison B-Cycle shifted its bike share fleet over to e-bikes, they experienced a 166% increase in trips taken.
E-Bikes provide an opportunity to promote bicycle use among differently abled populations and
older adults. Since e-bikes offer a motor-assisted ride, they are an excellent choice for riders with a wide range of mobility issues who may not be able to use a bike without an e-assist.
"People with access to e-bikes are also more likely to use those e-bikes to commute to work because of the lower effort required, and the ability to keep up with city traffic. Adding e-bikes to the Bublr fleet will increase bicycling in Milwaukee and increase usage of the Bublr system," added Davies.
E-Bikes also have a positive impact on a bike share system's bottom line. After Madison B-Cycle transitioned to e-bikes they saw a 181% increase in revenue. Bublr is expecting that deploying e-bikes in Milwaukee will help the bike share program be more sustainable.
Bublr also announced a new expansion project recently, thanks to a federal Congestion Mitigation and Air Quality Improvement (CMAQ) grant. The funding allows for the installation of 26 new stations and the deployment of 250 bikes.
The program is coordinated with the City of Milwaukee Department of Public Works (DPW), which has been working with local partners and residents to identify sites for expansion. Two public meetings were held in spring 2019 for community feedback, and an online form was available for those unable to attend the meetings. While some stations will be used to fill in gaps in the existing bike share system, the majority of the stations will be placed in neighborhoods that currently have no access to Bublr.
The northwestern portion of the expansion will take place in primarily Black neighborhoods, while the southwestern portion of the expansion will be in Latinx neighborhoods. Planned station locations include 8 spots on the North and East side of Milwaukee, 2 in the Downtown area, 8 across the West side, and 8 in the South.
Bublr plans to hire one neighborhood ambassador from each area for the summer to provide engagement support. After the stations are installed, Bublr, the neighborhood ambassador, and the Bicycle Federation of Wisconsin will host ten Urban Bicycle Skills classes to ensure people know how to check out a bike from the system, and to help riders develop safe riding habits.
Bublr has also worked closely with the Milwaukee County Transit System (MCTS). Eighty percent of Bublr's stations are co-located with MCTS stops, and Bublr stations are announced on MCTS buses and visible in their app. Bublr and MCTS also developed the "Buslr Pass," an RFID sticker that is applied to MCTS's M-Card to create an integrated pass.
In addition, Anthem Blue Cross and Blue Shield partnered again with Bublr in May to make the bike share program's Access Pass FREE to qualifying individuals. Because May is Mental Health Awareness Month, the organizations wanted to highlight the connection between physical activity and better mental health.
It has been important for individuals to take care of their emotional well-being, especially during the pandemic, which includes physical activity that increases energy, reduces stress, boosts the immune system, and improves an overall mood. Bike riding is also an activity that maintains physical distancing. Anthem sponsored 100 Bublr Bikes with artwork and the hashtag #RideBlue4MentalHealth to increase awareness around the important issue of mental health.
Bublr's Access Pass program is open to anyone who is living in Housing Authority of the City of Milwaukee properties, receiving FoodShare or WIC benefits, receiving SSI, or enrolled in Medicaid. The Access Pass provides riders with unlimited 60-minute rides for 365 days. Last year 512 people signed up for a Free Access Pass sponsored by Anthem and took more than 1,600 trips.
Since launching in 2013 with one dock at Discovery World on the lakefront in downtown Milwaukee, Bublr Bikes has grown to include 83 stations in the Greater Milwaukee area, including Milwaukee, West Allis, and Wauwatosa.