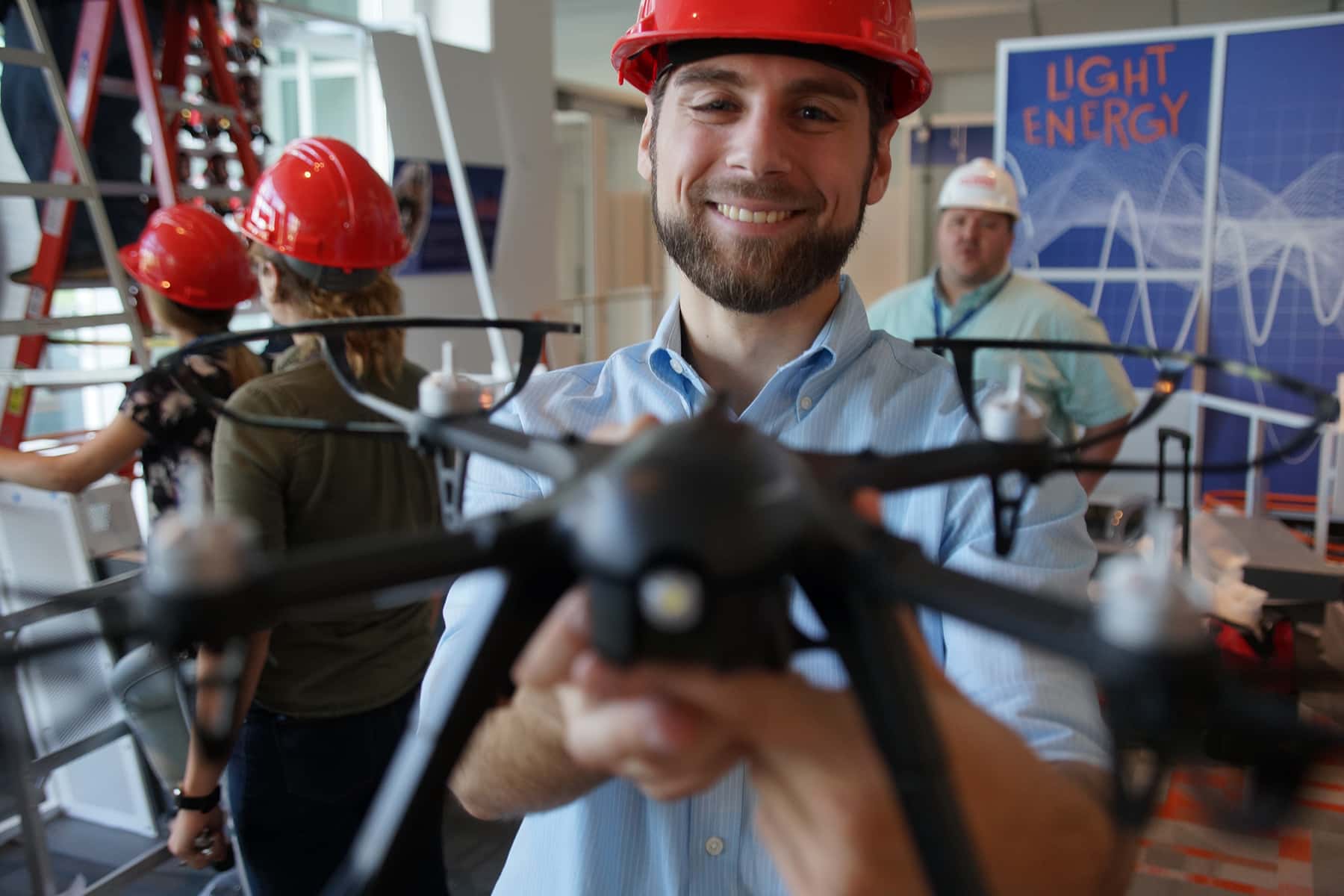 On October 27, Discovery World flipped a switch to "Power On!" its new $2 million exhibit, transforming an underused space into a new education center to meet the growing demands of its public mission.
Joel Brennan, President and CEO of Discovery World, and Kevin Fletcher, President WEC Energy Group welcomed students to the new exhibit, that will allow students and families to touch lightning, explore wind turbines, experiment with gravitational potential energy, and encounter amazing energy transformations.
Presented by the We Energies Foundation, "Power On!" provides a unique experience for school groups. It engages them directly with science experiments and activities designed to inspire a lifelong interest in STEM (Science, technology, engineering, and mathematics), as well as the potential career opportunities associated with the energy industry.
"There is nothing like children to remind us that things evolve over time. When I started at Discovery World, my daughter was an infant and my son had not even been born yet. And now they are 11 and 12, and so that's a great reminder," said Joel Brennan, President and CEO of Discovery World.
Brennan said that organizations and buildings were no different, they both evolve overtime to meet their changing needs. The new exhibit space had previously been used as a theater, which was dark, static, and a place that did not foster a lot of activity, and the idea for "Power On" fit Discovery World's expansion plans.
One of the key features with the new exhibit is a self-guided drone. The development started when Discovery World spoke with the Astronautics Corporation in Milwaukee about the idea for its "Power On!" display. There has been ongoing talk about companies using drones with autonomous capabilities, like Amazon wanting to use them for home and business deliveries.
"We were asked if we could come up with a way to design a drone to fly autonomously. So we started looking at this in the Engineering Prototype Shop, about how to integrate it not only mechanically but also getting the whole electrical team involved," said Thomas Servais, Manager of the Engineering Prototype Shop at Astronautics Corporation of America. "So it was a real collaboration of multiple departments within Astronautics Corporation. We consider it a small scale portion of our normal business. We do this sort of thing to demonstrating autonomous flight, but here it's at a much smaller scale."
Established in 1959, Astronautics Corporation of America is a supplier, designer, and manufacturer of avionics equipment to airlines, governments, commercial and defense aircraft manufacturers, and other avionics systems integrators.
Interns come from UW-Milwaukee, MSOE (Milwaukee School of Engineering) and Marquette University. All the skills sets the students have learned on this project will be easily transferable to what the company does for its day-to-day business. They are learning in steps, and it is a confidence building process, so they can take on something bigger each time.
"Part of why we are involved with Discovery World for this project is because we want middle school students to know that there is a world-class aerospace company right here in Milwaukee. So when they see this drone, they realize it is a dream they can reach for right here in their hometown," said Mary Loomis, Corporate Communications Manager at Astronautics Corporation of America. "They work for a period of time in an internship, and what we are excited about is that they are staying on in a part-time capacity."
Astronautics Corporation is a supplier to aeronautical manufactures like Boeing and Airbus. Their servers are on every 787 flying in the world, and the company has been doing state-of-the-art work in Milwaukee for the past 60 years.
"Access for interns and students on project like this lab for us is invaluable. We are proud to be a platform for public dissemination of student projects, in particular with local universities," said John Emmerich, Vice President of Exhibits and Audience Engagement at Discovery World. "The experiences that the students have here, who work with a team of experts like the Astronautics Corporation and collaborate with builders from Discovery World, it provides them direct access to our audience. I think that is a really valuable tool to have, not just in a corporate setting but in a school setting, and a collaborative environment as well."
Holly Fortener was one of the student interns on the drone project. A junior at Marquette University, her major is in Applied Physics with a Computer Science minor. She wants to go into the renewable energy field for the research and development of storing clean energy.
"I've coded a lot in classes but to see something happen physically from the programming was very satisfying," said Fortener. "I've never taken something apart to understand it, so it was really awesome to be a part of this project."
Mechanical engineering projects like the autonomous drone makes it easy for an education team to use the exhibit as a reference platform. Students in the local community see what can be done right now within Milwaukee's educational system. That can help direct their educational path.